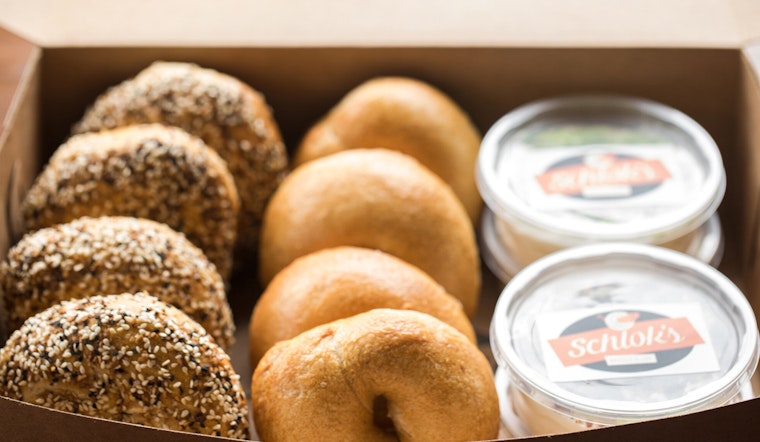 Published on April 14, 2021
After months of operating a wildly popular bagel pop-up, Schlok's is getting set to open a brick-and-mortar shop at 1263 Fell Street, in a former laundromat off Divisadero in NoPa (in the same complex as RT Rotisserie and Nopalito).
"We're really happy to finally lock something down," says co-founder Zack Schwab, speaking to Eater. "The plan is a takeout counter situation. We're really just trying to keep it as simple as possible. Bagels are highly complex in their simplicity, and … we want to have a small menu, and do the things we do really really well."
Schwab launched Schlok's with friend and fellow restaurant industry vet James Lok (Meadowood, Benu), combining their two last names for the name. And it's one of a number of businesses launched in the Bay Area during the pandemic out of necessity, and a surplus of time and talent.
The bad news for lovers of Schlok's oversized and perfectly chewy bagels is that their pop-ups at The Snug in Pacific Heights have ended, and the bagels won't be rolling out of the ovens at the new shop until September at the earliest. Schwab and Lok are purchasing a rotary tray oven, which is a signature piece of equipment for New York bagelrys.
As Schwab tells the Chronicle, "It's the classic holy grail of bagel ovens in terms of consistency and quantity," Schwab said. "We thought our bagels were excellent toward the end of the pop-ups, but we think they can be even better with proper bagel equipment."
Given the limitations of the pop-up, with production and transportation of their product, quantity was limited to 450 each weekend day that the pop-up ran, and the bagels got to selling out within minutes in online presales. The rotary tray oven will be able to produce thousands of bagels in a given day.
View this post on Instagram
Lok, the chef in the pair, has been perfecting a method of bagel-making along old-school lines, as he explains to Eater. He's using conventional yeast as opposed to the sourdough starter favored by some other local bagel upstarts, and he puts toppings on the bottoms of the bagels first for better adhesion, flipping once during baking using bagel boards for even browning.
Speaking of those upstarts — the New York Times Food section recently published a practically incendiary article declaring that the best bagels in the country right now are on the West Coast, naming names like Berkeley's Boichik Bagels and the pop-up-turned-Ferry Plaza Farmers' Market stand Midnite Bagel as among the best that critic Tejal Rao has found. The response to the article has meant that bagel maker Nick Beitcher's pre-orders are now sold out through June, according to his website — and such is the Bay Area's ravenousness for good bagels after decades of a dearth. But fans can still find the bagels at Linnea Caffe (3417 18th St. and 1125 Mariposa St.), Pinhole Coffee (213 Cortland Ave.), Manny's (3029 16th St.), and Hedge Coffee (498 Alabama St.).
This recent boom is bolstered by the openings, in recent years, of Wise Sons Bagels, which now boasts multiple locations on both sides of the Bay and last year merged with Oakland's equally well loved Beauty's Bagel Shop; and Daily Driver in Dogpatch, which garnered a mention in the NYT piece.
Schlok's didn't manage to catch Rao's attention, but for local fans it's all the better — at least for a bit after the NoPa shop opens, they might stand a chance of scoring some on Sunday morning before the hordes descend.