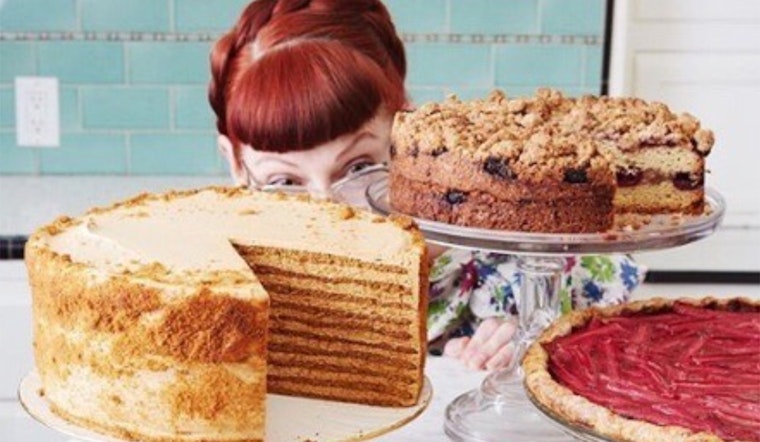 Published on April 29, 2021
Get your ten-layer Russian honey cake while you can. After eight years on Gough Street, pastry chef Michelle Polzine's ode to the cafe culture of Vienna and Prague, 20th Century Cafe (198 Gough St.), is calling it quits. Polzine had a more intense 2020 than most, with a surprise health scare that had nothing to do with the pandemic, and on top of that stress, and various hate mail from neighbors while the business was closed last year, she says she's done being a business owner in a city that doesn't make things easy.
As she tells Eater, "San Francisco is not hospitable to small business owners. I love this city as a citizen. I still want to live here. But I no longer have any interest in owning a business here."
She said that 20th Century Cafe shutting down "is not some sort of COVID sob story." But she did lose her mind a bit when she received a bunch of angry emails from Hayes Valley neighbors about homeless people camped in the cafe's doorway. And when she invested money and time to get approval for a front gate, she got equally angry emails from people accusing her of being anti-homeless. As she says sarcastically to Eater, "I'm a terrible capitalist."
But the larger issue may just be that Polzine's labor of love, which involves painstaking, time-intensive pastry work and expensive ingredients, has simply become too much of a burden with not enough payoff, and, she says, she got tired of telling people to put their laptops away — because her cafe wasn't that kind of place.
She will now be winding down the cafe over the next two months, so you still have a chance to get some of her bagel sandwiches, honey cakes, and more. But by sometime in June, the cafe will close.
"I've been through a lot, I know we all have, and I dragged my half-dead body in here week in and week out and made the best damn food I could for years, pushing myself so hard, every day, but enough is enough," she wrote in an email to customers. "I haven't done everything I set out to do, but I have done most of it, and to a very high standard, and now I ask no more of myself."
Currently, you can pre-order or get to-go boxes of pastries on Fridays and Saturdays only. This Saturday, May 1, you can get mix-and-match boxes of five pastries of your choosing for $30, starting at 11 a.m.