Around this time last year, Santa Clara County was approaching 2,000 COVID-19 cases and San Jose officials were predicting the county would see 2,000 deaths within 12 weeks. This week, the county has reached that unhappy milestone, albeit just over 12 months from the original prediction.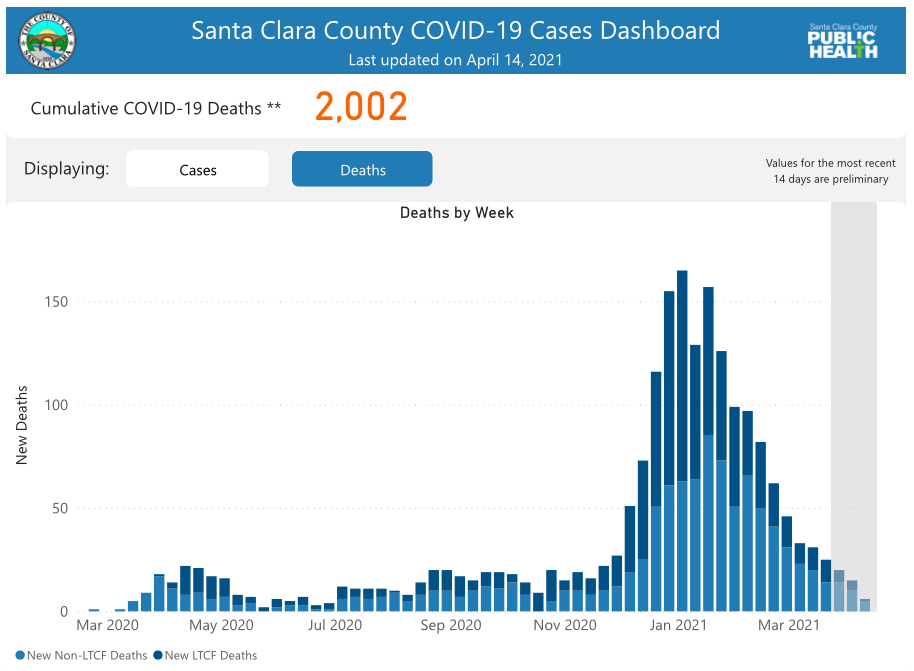 Source: County of Santa Clara Emergency Operations Center
At the end of March 2020 — as the U.S. was scrambling to start testing and tracking cases, and local governments were putting social distancing measures into effect — San Jose Deputy City Manager Kip Harkness shared dire projections from the city's Office of Emergency Management. Harkness said that the models predicted 2,000 deaths in three months if the county put in place strict shelter-in-place orders, and up to 6,000 if they did not, a forecast that was widely reported at the time and which was unusually high compared to other predictions.
"Even in the best-case scenario, we're looking at the order, in the next 12 weeks, of 2,000 potential deaths directly from COVID-19," Harkness told city officials at the time.
By April 24, 2020, the Mercury News was reporting that more than 2,000 people in Santa Clara County had tested positive for what was then still being called "the novel coronavirus." At the time, the county's death toll was 98, one of the highest around.
Of course, officials did implement shelter-in-place and distancing measures — much stricter and for much longer than most people could have imagined in those early days of the pandemic. Many individuals began using masks, too, despite official statements at first discouraging the use of face coverings, and soon masking mandates were implemented that have remained in place largely unchanged ever since.
Now, county data shows that 2,002 people countywide have died from COVID-19 as of Wednesday. There were 25 deaths from the disease recorded during the week ending March 21, down from a surge of fatalities in January, when the county recorded a peak 165 deaths during the week ending Jan. 3. The vast majority of COVID deaths in the county occurred between late December and early February.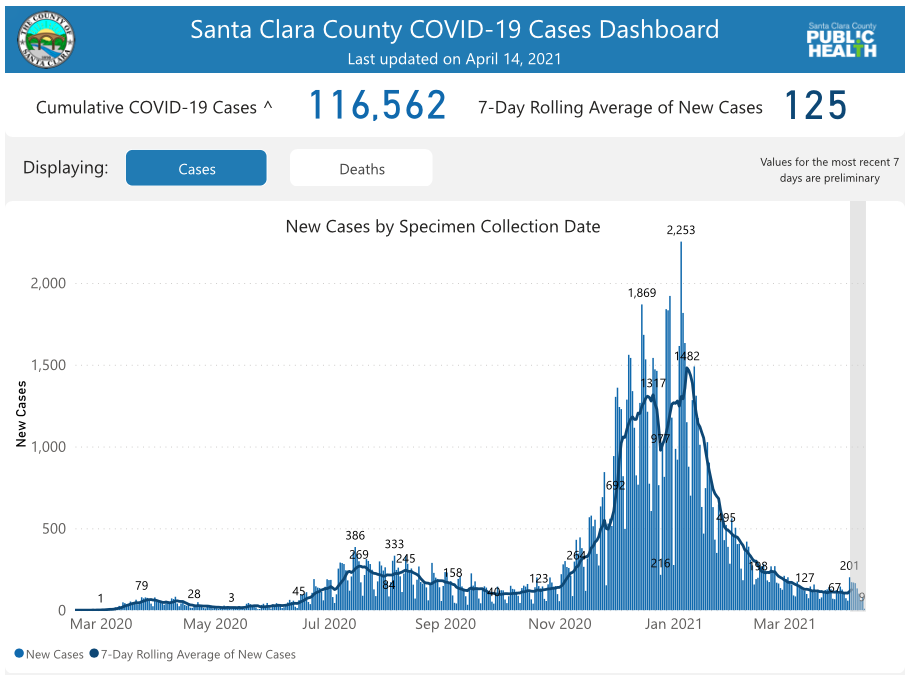 Source: County of Santa Clara Emergency Operations Center
Also as of Wednesday, the county has seen 116,562 total cumulative confirmed cases, averaging 125 new cases each day over the past week.
On March 24, the California Department of Public Health moved Santa Clara County back to the "Orange" tier, the third-lowest of the state's four-tiered pandemic guidelines, representing a "moderate" risk level.