What will Silicon Valley's post-pandemic office landscape look like? Will occupancy return to pre-pandemic levels, or has the workforce become accustomed to remote, commute-less working? A recent announcement by Google — who just received approval by the city of San Jose to expand their facilities in the downtown area — has announced plans to return to "campus-focused" employment, and may serve as an example of the "hybrid-approach" of returning to the office.
"People are beginning to open up their lives and think about returning to the office," Google CEO Sundar Pichai wrote in a company blog post in early May. "In fact, in places where we've been able to reopen Google offices in a voluntary capacity, we've seen nearly 60% of Googlers choosing to come back to the office." Pichai said that for more than 20 years, Google's unique office environment has been the epicenter of problem-solving.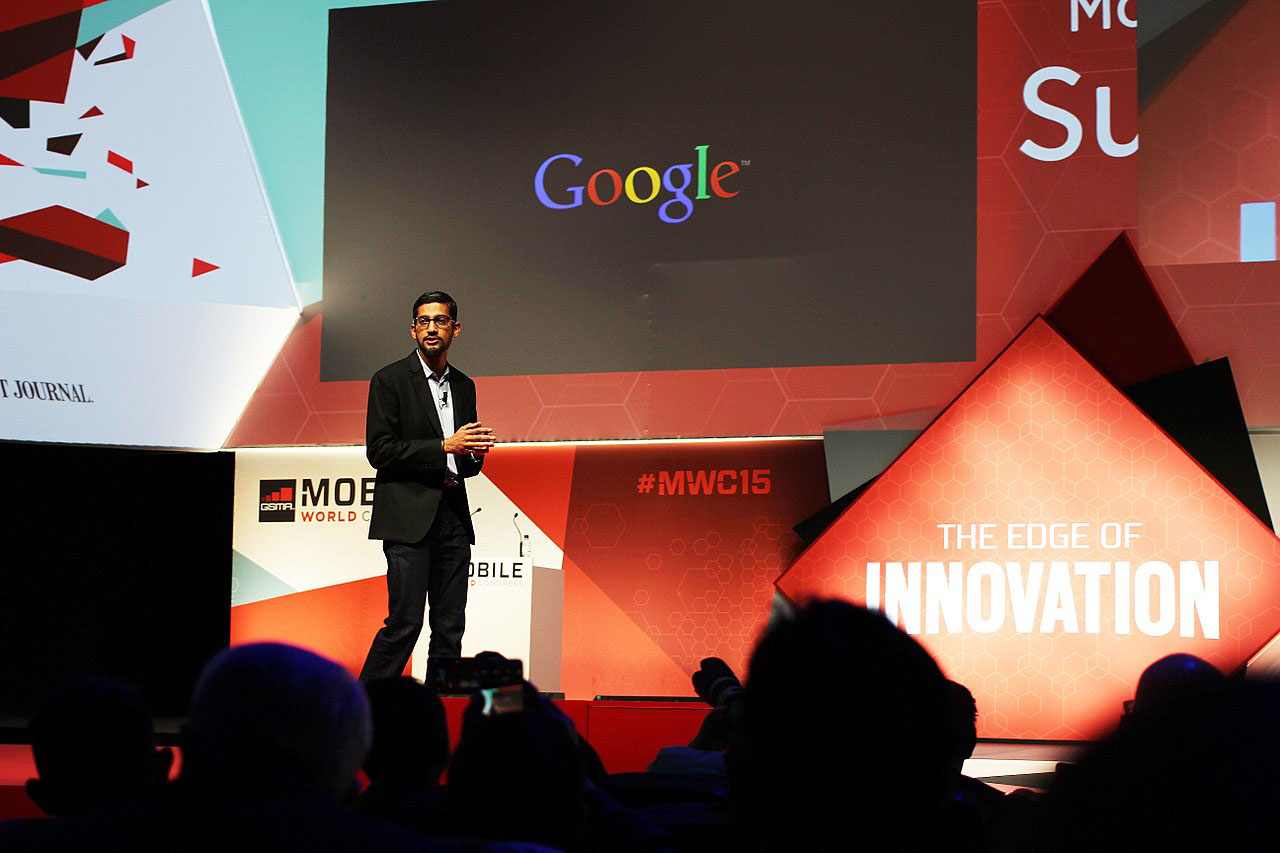 Sundar Pichai — seen here speaking in Barcelona, Spain, in 2015 — said in a blog post that Google's campus-style offices "have been at the heart of our Google community, and the majority of our employees still want to be on campus some of the time." Referring to the "hybrid approach" that many companies are likely to adopt, Pichai said, "Many of us would also enjoy the flexibility of working from home a couple days of week, spending time in another city for part of the year, or even moving there permanently. Google's future workplace will have room for all of these possibilities." Source: Wikipedia
On Tuesday, the San Jose City Council voted unanimously to greenlight Google's multi-billion dollar expansion in downtown San Jose. "The approval comes as Google aims to model a shift away from closed-off tech campuses to stem the growing alienation toward tech companies, whose success has contributed to a shortage of affordable housing, and big cultural shifts in Silicon Valley and other tech hubs," CNBC reported, adding that "Google is doubling down on bringing workers back to offices amid the weakening pandemic."
Many Silicon Valley-based companies are grappling with how and when to bring their employees back as the pandemic winds down. At the start of 2021, office occupancy and new leases in Silicon Valley were at "historically low levels," San Jose Spotlight reported, adding that there was a dramatic fall in new-tenant office space in 2020 compared to 2019 — a decline consistent with social-distancing protocols. "Despite a recent slowdown in occupancy, some organizations are still set to return to the office," Spotlight reported. Adobe is building its next tower, and a spokesperson for Zoom said the company is committed to maintaining a presence in San Jose."
There may be additional momentum to get back to the office, according to Spotlight. In May, Santa Clara County transitioned into the less-restrictive yellow tier of the California's blueprint for reopening, which would allow most businesses to operate indoors with minimal social-distancing protocols. Santa Clara health officials also recently lifted requirements that businesses maximize the number of teleworking employees. A spokesperson for the city of San Jose's office of economic development told Spotlight that downtown San Jose will be "well positioned" to recover as the office market reopens. "What will be the longer-term impact of work from home on the office market? From a space utilization standpoint, the jury is out," but the spokesperson said that the hybrid approach will be a common option.
As health restrictions gradually loosen, municipal development appears to be moving full-steam ahead. Google's recently approved Downtown West mixed-use plan will span some 80 acres near Diridon Station, and will provide 7.3 million square feet of office space, 4,000 housing units (with 1,000 affordable units), 15 acres of parks, a community center, and 500,000 square feet for retail, cultural, education and arts uses, according to San Jose Spotlight. In April, the Mountain View city council unanimously approved Google's 122-acre North Bayshore Precise plan, which would include 3.15 million square feet of office space, 7,000 residential units (with 1,400 affordable units), 285,000 square feet of retail and community space, and more than 34 acres of parks, habitat and trails, the Los Altos Town Crier reported.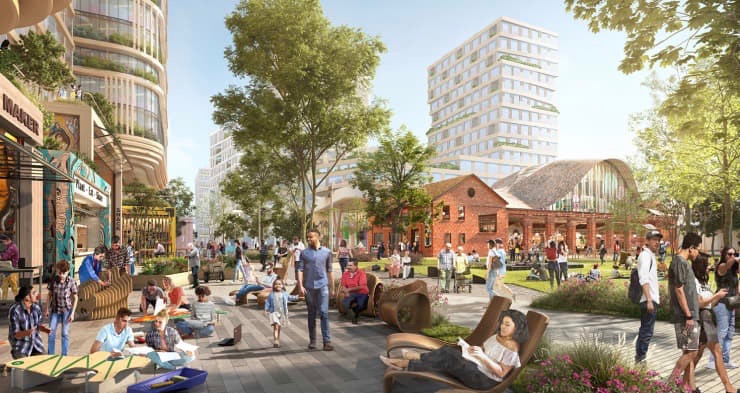 An artist's rendering of Google's recently approved 80-acre Downtown West development. Source: Google
The Google Downtown West project was controversial from its introduction. In 2018, activists chained themselves to chairs inside city hall in protest of the city of San Jose's decision to sell public land to one of the world's largest tech companies, according to San Jose Spotlight. When the Downtown West plans were announced in 2017, home prices within a three-mile radius of the site spiked 25% in six months, CNBC reported. The San Jose Sharks hockey team had threatened to sue both the city and Google because of a lack of parking spaces at SAP Arena, but those concerns have since been mollified.
As part of the Down Town West deal, Google will pay more than $1 billion for various infrastructure, such as parks, walkways, and preservation of historic sites, according to CNBC, adding that the tech giant will also pay "approximately $265.8 million in land and infrastructure fees as well as $200 million in 'community benefits,' which includes anti-displacement and job readiness programs."