The Oakland Museum of California (OMCA) reopens to the public this weekend, starting June 18, after many months of total closure, and they're celebrating by offering free admission from Friday to Sunday. (Reserved tickets are required.)
During the months of pandemic closure, the museum has been able to complete a $17.8 million renovation to its acclaimed campus and terraced sculpture garden, which was originally completed in 1969 and designed by Pritzker Prize-winning architect Kevin Roche. The renovations included the installation of new California native plant species in five distinct ecoregions, representing parts of the state. There's also a new entrance on 12th Street, and a new outdoor stage.
Hoodline recently sat down with OMCA Director & CEO Lori Fogarty to talk about the grand reopening.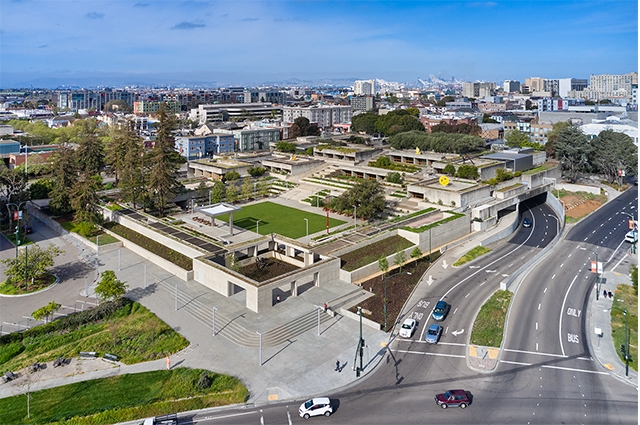 Photo: Tim Griffith, courtesy of OMCA
During the interview, we focused on three main points, considering the cost of the project, the impact of the pandemic, and community collaboration.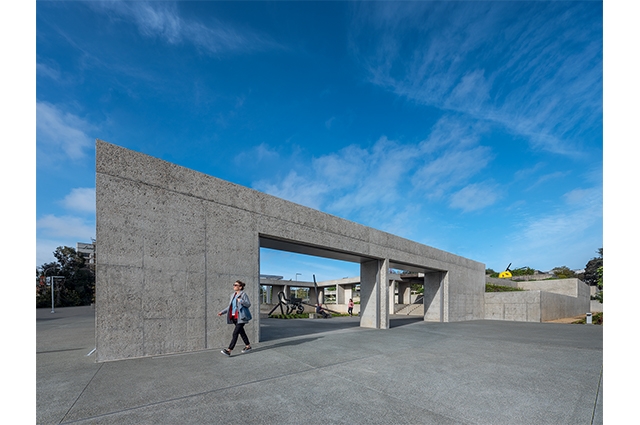 Photo: Tim Griffith, courtesy of OMCA
Hoodline: Regarding the new garden/campus — how much did the project cost? And what measures did you have to take to make it happen during a global pandemic?
Lori Fogarty: The total cost of the campus renovation was $17.8 million. The funds came from a private fundraising campaign, launched 5 years ago, that provided $13 million toward the costs and the remainder came from capital improvements funds through the City of Oakland and through New Market Tax Credits. New Market Tax Credits are a mechanism for private investment into community development projects. The construction actually began in late February 2020 and, while it had to shut down for a few weeks during the initial shelter-in-place restrictions, we were able to resume construction in May 2020 as state and county guidelines allowed construction projects to continue then with strict protocols. Our construction firm, Cahill Contractors, put in place all of the necessary safety and health precautions. In some ways, the timing of construction was a bit of a silver lining as we didn't have visitors on-site and the contractors didn't have to work around an active public destination.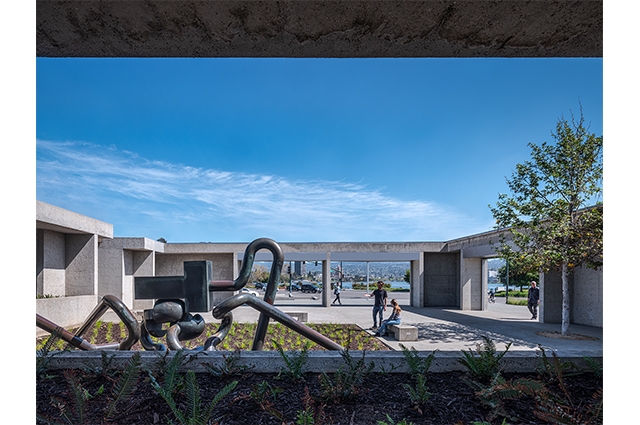 Photo: Tim Griffith, courtesy of OMCA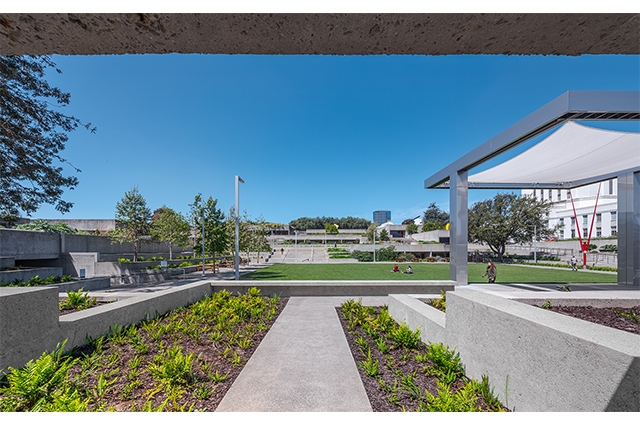 Photo: Tim Griffith, courtesy of OMCA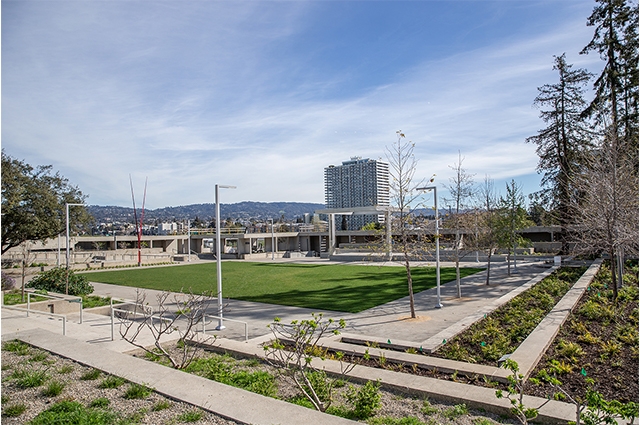 Photo: Tim Griffith, courtesy of OMCA
Hoodline: How do you feel the project reflects the community of Oakland? Who partnered with you to make this happen?
Fogarty: In many ways, I do believe the campus is a testament to Oakland's strength and will meet a real community need as people look to safe, healing, and inspirational spaces to come back together and to gather. It is also a physical manifestation of the Museum, literally opening up and connecting with our community. We had so many partners who helped make this possible — the City of Oakland, which owns our facility and works with the Museum in close partnership on capital projects; our design teams of Hood Design Studio and Mark Cavagnero Associates; and the many donors to our All In! Campaign for OMCA, a multi-purpose fundraising effort that includes capital support as well as support for operations and programming. We also had input from a wide variety of community partners throughout the design process, especially community organizations affiliated with Lake Merritt.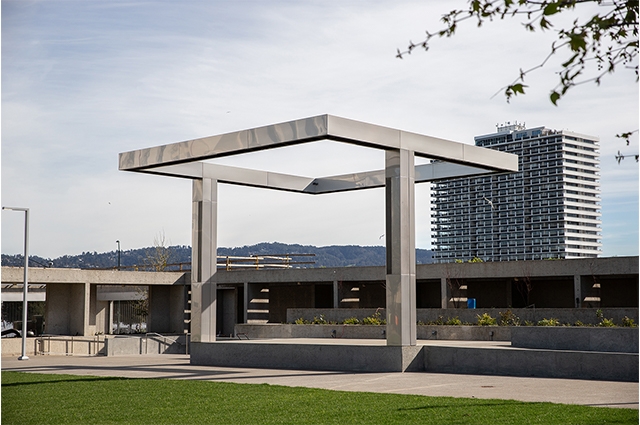 Photo: Tim Griffith, courtesy of OMCA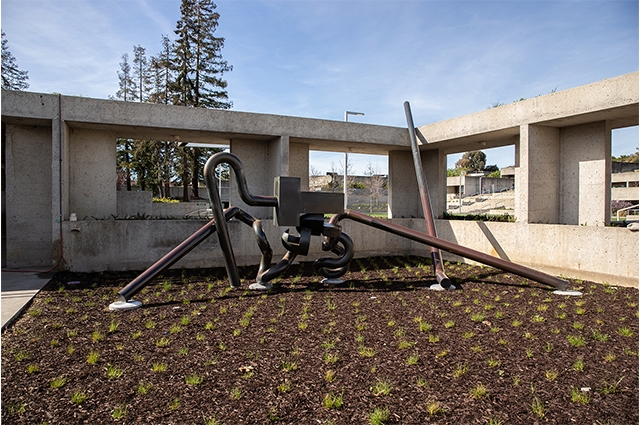 Photo: Tim Griffith, courtesy of OMCA
Hoodline: After being closed for some time, what is your greatest challenge with reopening?
Fogarty: The greatest challenge around reopening is ensuring that the public is not only safe, but feels safe. As the world opens back up, we know that many of our visitors will be excited to come back, to be with other people, and to engage with our exhibitions and collections. Others may be a little more reticent. So, we want to make sure everyone feels welcome and that we create the best positive visitor experience we possibly can — which also means being kind and patient. Just as the past year has shown us, we're all in this together.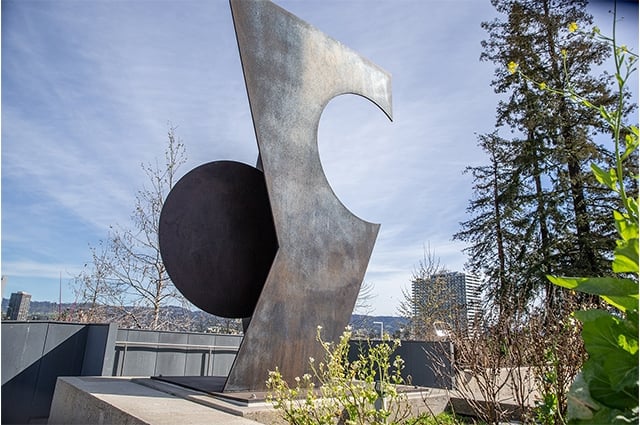 Photo: Tim Griffith, courtesy of OMCA
Hoodline: Is there anything else that you would like to add?
Fogarty: While we won't be opening our first major temporary exhibition — Mothership: A Voyage into Afrofuturism — until August, we see these next few weeks as a real chance for visitors to reconnect with our collections. Sometimes folks come to check out the latest exhibition and miss the rich, complex, and beautiful exhibits, installations, and artwork in our collection galleries. So, we hope people will revisit their favorites, and also discover some of the newer elements of the galleries, such as our exhibits on Black Power and Native Californians in the Gallery of California History, the expanded exhibition of Dorothea Lange's work in the Gallery of California Art, or the exhibition You are Here: California Stories on the Map, installed in the Gallery of California Natural Sciences. The You are Here exhibition opened right before the shut-down last March, so it's still there waiting to be seen!