If you're itching to get back to big events and you haven't gotten vaccinated yet, you may be in luck. San Francisco and Santa Clara counties are both offering up a chance to score sports or other event tickets to people who get the COVID-19 vaccine. San Franciscans will get Giants tickets while supplies last; Santa Clara folks can get a chance at Warriors tickets in a lottery that includes entrance to some other big-ticket events, plus prizes like a ball autographed by Steph Curry. Other raffles in San Jose include tickets to Southwest Airlines among the prizes.
Beginning this Friday, June 25, people who get vaccinated at one of San Francisco's designated vaccination sites will receive two free tickets for a Giants game between July and September, while supplies last. The partnership between the city and the Giants is part of Major League Baseball's "Vaccinate at the Plate" campaign, a national effort to increase national vaccination rates. For a full list of eligible vaccine sites plus the dates and times they're open, see the health department's announcement.
Meanwhile, Santa Clara County has announced a raffle of more than 100 tickets to upcoming events and other prizes to anyone who gets a COVID-19 vaccine at specific county-run vaccination sites. People who get vaccinated between June 23 and June 29 will be entered to win tickets to Alejandro Fernandez (10/15/21), Marc Anthony (12/17/21), Trevor Noah: Back to Abnormal World Tour (12/10/21), Golden State Warriors tickets (date negotiable), a Steph Curry autographed ball or a Klay Thompson autographed jersey. The raffle for these prizes will take place June 30 on the Santa Clara Public Health Department's Instagram Live (@scc_publichealth) feed.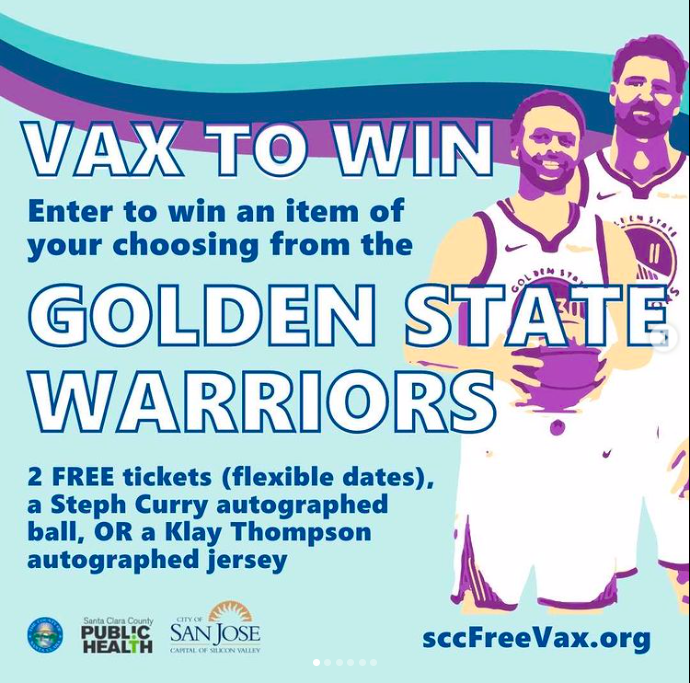 Source: SCC Public Health Department / Instagram
County-run sites included: Overfelt High School, the County Fairgrounds Expo Hall, Emmanuel Baptist Church, Valley Specialty Center, Levi's stadium (through June 24), Mountain View Community Center or Gilroy High School. Beware: Pop-up clinics are not included in the raffle. For a full schedule of vaccine clinics and the latest information about vaccines in Santa Clara County, visit www.sccfreevax.org.
Already vaccinated? Don't despair. Individuals who have already been vaccinated can also enter the raffle if they accompany an unvaccinated person to a county-operated clinic for a vaccine (bring proof of their own vaccination).
A number of other vaccine clinics in Santa Clara County are offering other raffles and incentives too, including a chance to win airline tickets:
Friday: Battle Pokemon and Enter to Win Southwest Tickets at the Youth Vaccine Clinic
Receive the vaccination or bring an unvaccinated person to get vaccinated and you will be entered to win two round-trip flights on Southwest Airlines. Plus, anyone attending can play in a virtual Pokemon Go Gym opened just for this event (Pokemon app required), learn about free youth workshops including podcasting, check out a computer or hotspot with the Public Library, take part in interactive games, and more. Friday, June 25, from 9 a.m. to 3 p.m. at the Biblioteca Latinoamericana Branch Library, 921 S. 1st St., San Jose. Organized by the City of San Jose and Asian Americans for Community Involvement (AACI).
Saturday: Enter a Raffle and Get a Free Meal at Vaccine Clinic in Alviso
Receive the vaccination or bring an unvaccinated person to get vaccinated and be entered to win gift certificates to local activities and stores. Other resources to be provided include free breakfast or lunch and help with rental assistance programs. Healthcare and Public Safety professionals will be onsite to talk through any questions you might have about getting the vaccine. Saturday, June 26, from 9 a.m. to 3 p.m. at the Alviso Youth Center, 5040 N. 1st St., San Jose. Organized by the City of San Jose, the San Jose Fire Department and Santa Clara County.