From wild beaches and ancient redwoods to bay swimming, abundant hiking and biking, Marin County has some of the widest variety of natural beauty possible. Add in loads of history and delectable local foods, and you've got a recipe for enough day trips to fill a dozen summers. This week, Hoodline's Bay Area Day Trips series is looking at a few of our favorite Marin County adventures.
Note: If you're in San Francisco and not up for driving, look into Marin Transit for buses across the Golden Gate Bridge to various popular destinations like Mount Tam, Point Reyes, and Muir Woods.

Muir Woods Photo: National Park Service / Facebook
Go "forest-bathing" among ancient coastal redwood trees at Muir Woods
Muir Woods is world-famous for a reason. Walk among the old-growth coastal redwood trees and experience some of the oldest living things on Earth — some of the trees are pushing 1,000 years. Imagine what was happening in the world when these ancients first sprouted and grew.
Forest-bathing has been gaining popularity worldwide as a mindfulness exercise that counteracts the malaises of modern existence (and likely the ills of over-consumption of digital devices), and it's true that an unaccustomed sense of peace pervades when you wander in the coolness of the redwoods, especially if you can get away from the crowds. Redwood trees actually create their own microclimate, which is more temperate than their surroundings, and forest air (at least in the daytime) is infused with extra oxygen. Turn off your phone, walk deep into the trees and see if you breathe easier and feel more energized.
The Muir Woods National Monument preserves 558 acres of forest habitat that are home to more than 380 different plants and animals, including 27 species of mammals, 50 species of birds, 12 species of reptiles, and 5 species of amphibians, plus Redwood Creek, where Coho salmon and steelhead trout live. So maybe get your phone back out after a while for some pictures up into the canopy and of any birds or other wildlife you encounter.
More information: www.nps.gov/muwo/index.htm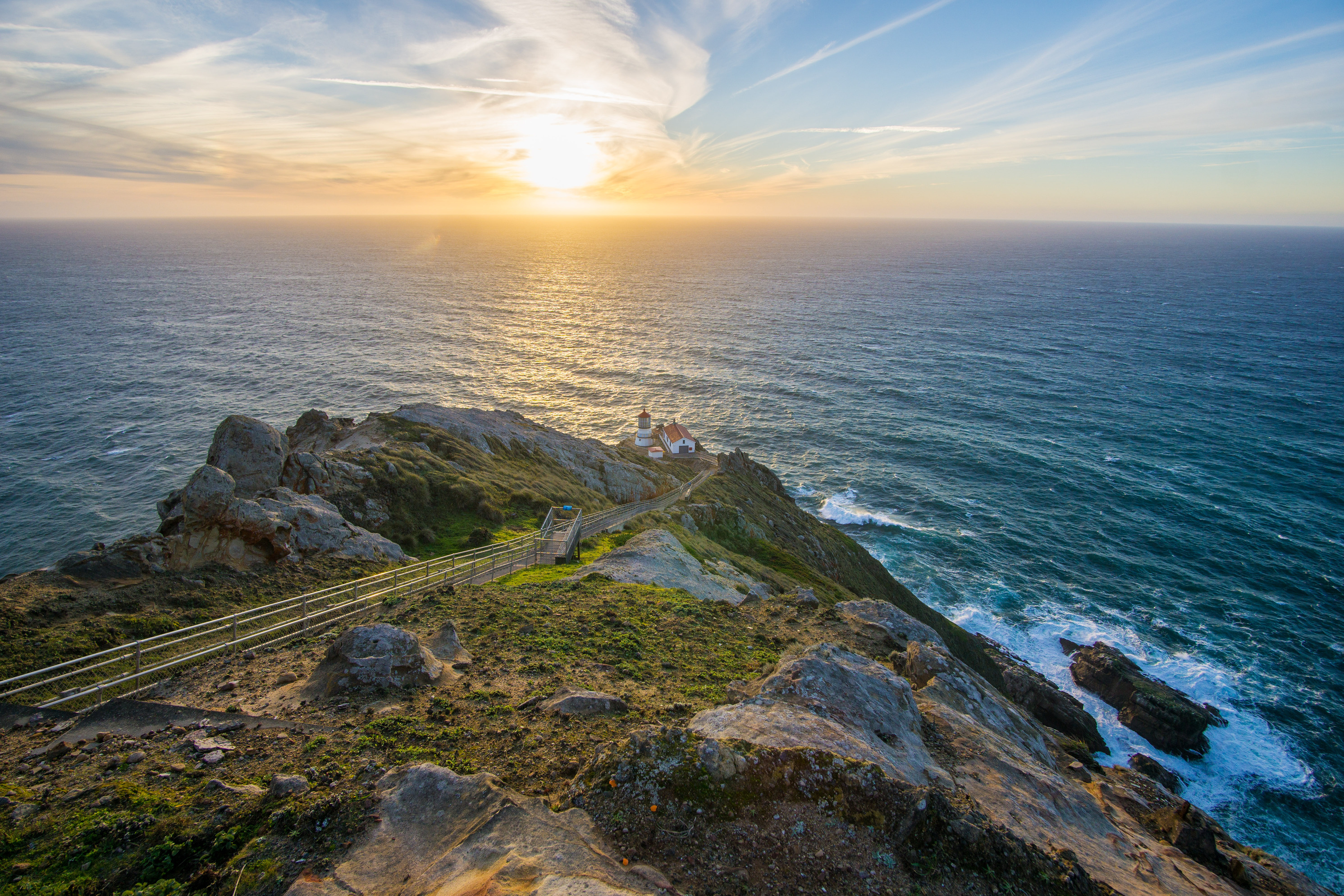 Point Reyes Lighthouse Photo: Anela Ramos Kopshever / National Park Service
Explore beaches, wildlife and local foods at the Point Reyes National Seashore
Wild, windswept Northern California beaches scattered with driftwood and occasionally marine mammals. Calmer inland beaches and coves. Abundant wildlife viewing. Quaint towns. Local cheeses and more for tastings. A historic lighthouse. Point Reyes has it all. (FYI for the transplants: Local pronunciation of this name has it rhyming with "raise.")
Hit up the oceanfront at Drakes Beach, the Great Beach, and Limantour for long, sandy stretches perfect for long walks along the waves. Check the weather and be prepared for wind and fog as well as sun. The Bay Area rule of always bringing layers holds especially strong here. The surf can be large and unpredictable, so also check the ocean safety recommendations for the area you're going to. Or for a more protected beach experience — and maybe even some swimming! – try Heart's Desire Beach in Tomales Bay State Park, fortified with snacks or coffee from the tiny community of Inverness nearby.
The lighthouse and visitor centers are also well worth the visit, but the lighthouse has been closed due to COVID, so check ahead. For lots of dining and shopping, or just for a cute beach-town vibe, explore Point Reyes Station.
On your drive out to Point Reyes, consider stopping off at the Marin French Cheese Company to pick up some refreshments or to picnic by their pond, or bring a cooler and head to the Tomales Bay Oyster Company to snag some live oysters for your picnic.
More information: www.nps.gov/pore/index.htm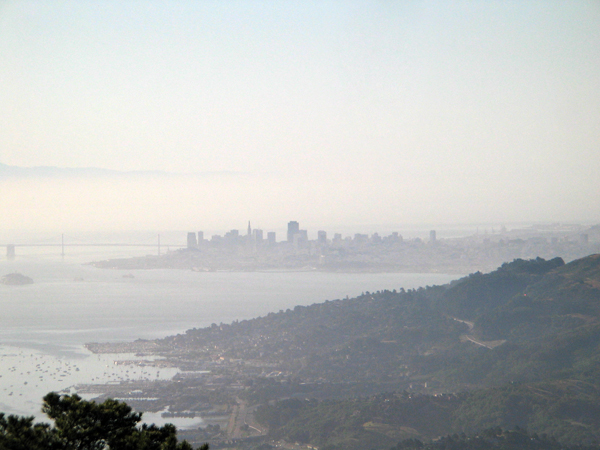 View from Mt. Tam Photo: Courtesy of California State Parks, 2019
Take in the views from the top of Mount Tam
Head up to the top of Mount Tamalpais to enjoy views all around the Bay Area, out over the ocean to the Farallon Islands 25 miles offshore, over the Marin County hills, across the bay and San Francisco, over the East Bay to Mount Diablo and occasionally as far as the Sierra Nevada. Drive to the top and stroll around the peak for a less-physical experience; bring a picnic, plenty of water and binoculars – both for the view and the bird-watching. You can also check out the East Peak Visitor Center to learn more and purchase snacks or mementos.
Or for a more physical option, hike one of Mount Tamalpais State Park's many trails to take in an abundance of views and wildlife. Consider pairing your Mount Tam trip with a visit to the beautiful downtown of Mill Valley, where you can grab a coffee at The Depot (once an actual train depot, now a cafe) or a meal at any number of fantastic local eateries.
More information: www.parks.ca.gov/?page_id=471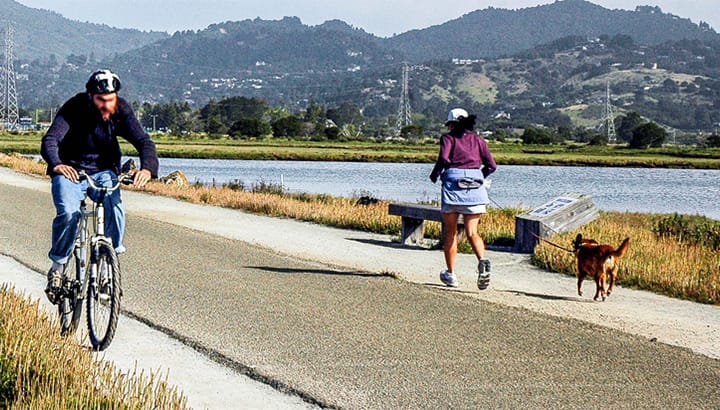 The Mill Valley/Sausalito Pathway Photo: Marin County Parks
Bike through wetlands and the Sausalito waterfront
The Mill Valley/Sausalito Pathway is a 3.7-mile paved, level trail that offers an easy, accessible ride (or stroll) that winds through the wetlands marsh between Sausalito and Mill Valley. Here you can see birds including the marsh wren and brown pelican, plus lovely bay views. Combine your excursion along the trail with a meal on the Sausalito waterfront or at Tam Junction. (Warning: It could get crowded on a nice weekend.)
The pathway is part of the San Francisco Bay Trail, so you can also extend your ride if you like. If you're up for a real challenge, start in San Francisco and bike across the Golden Gate Bridge, then down into Sausalito and through this quaint town to the wetlands trail. Then take the ferry back to your starting point to avoid biking back up the big hill from Sausalito to the bridge.
More information: www.marincountyparks.org/parkspreserves/parks/mill-valley-sausalito-pathway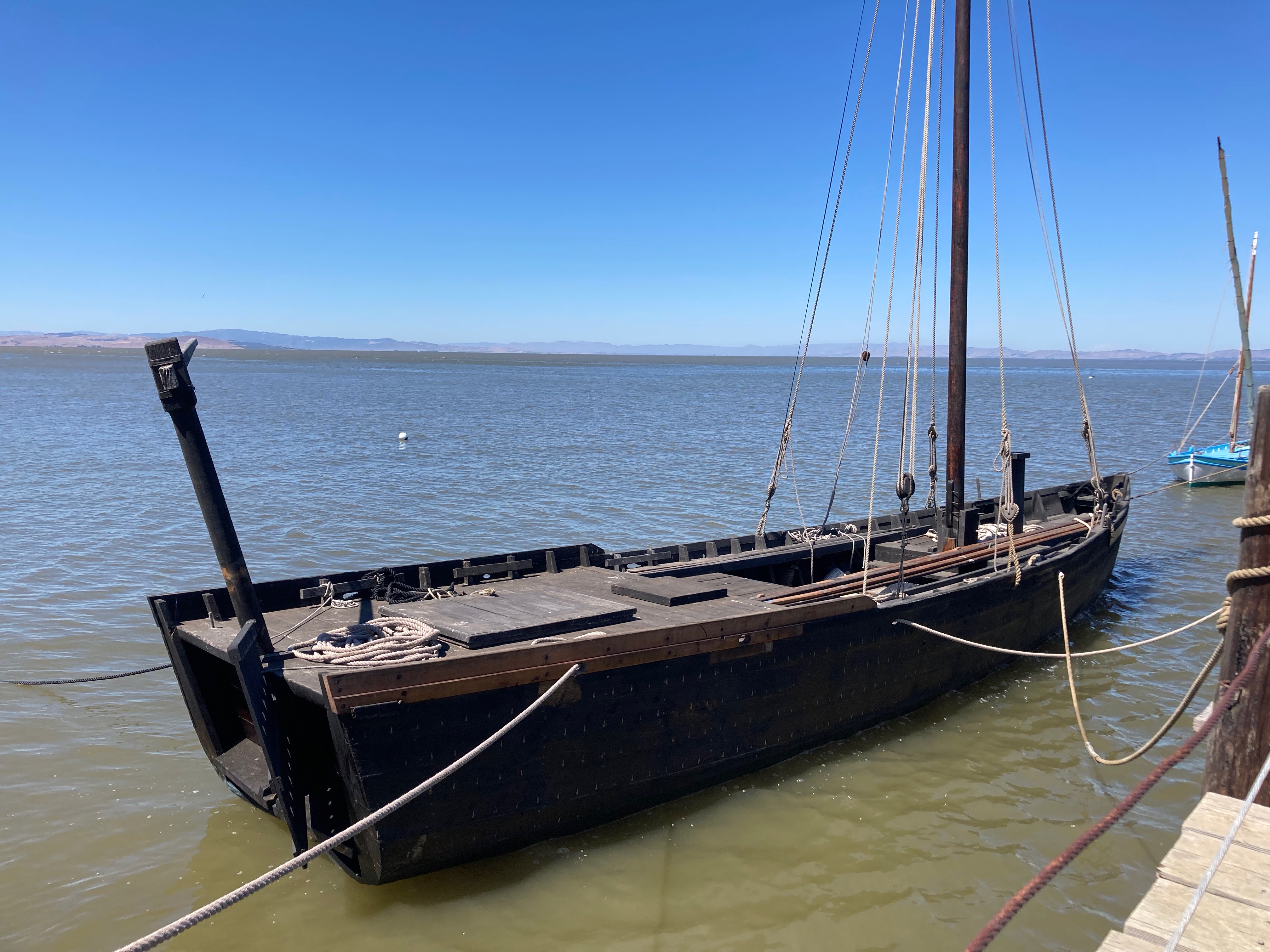 A replica of a traditional Chinese fishing boat on the placid waters at China Camp Photo: Laila Weir / Hoodline
Enjoy calm (and warmer) bay beaches and learn the history of Chinese fishing in the area
China Camp in San Rafael is a treasure tucked along the protected bayfront of northern Marin. Once the site of a Chinese fishing village, it's a monument of an important and often forgotten history of the San Francisco Bay, with original structures preserved and a tiny (free) museum with photos and explanation. Alongside this fascinating history lesson, you'll find a small pier, plus a beach and shallow waters that are usually much warmer than other more-exposed waterfronts. Locals swim, kayak, paddleboard, and even sail from this sweet little beach. (The ground can be very muddy, especially at low tide, so float out to deeper water or consider water shoes.) The water is shallow very far out, making it a safe wading and swimming spot for visitors of all abilities.
The location is maintained by volunteers with the group Friends of China Camp. Your $5 parking fee will go to helping preserve this unique spot, and the Friends also operate a small donations-only snack shop that's often, but by no means always, open during summer months. This unassuming little eatery has been there for ages and evokes a bygone time: Until fairly recently, it was run by a member of the last family to work the site as an active fishing camp. The Friends organization also hosts various events.
China Camp also includes a variety of hiking trails (and even camping), and you can walk down the beach and around the rocks in either direction (shoes recommended!) to get to emptier beaches. (Or for another bay beach with a more manicured recreation area, check out McNear's Beach just next to China Camp. It also has a pool, though that's been closed due to the pandemic.) After your day at the beach, grab dinner in San Rafael before heading home. You'll find plenty of dining options, including casual taquerias perfect for the sandy and salty, or try the wildly popular (and delicious!) Puerto Rican cuisine at Sol Food.
More information: friendsofchinacamp.org
Discover remote nature and Golden Gate Bridge views in Marin Headlands
Just across the Golden Gate Bridge from San Francisco, Marin Headlands is a world away from the city. It's also the best bet for travelers from the South Bay trying to get to Marin for a day trip. With stunning vistas, lovely beaches, remote hikes, old military bunkers, a lighthouse, a fishing pier, and more, there's definitely something for everyone here.
Highlights include the gorgeous Tennessee Valley, where you can hike or bike out to the beach; Rodeo Beach and Lagoon, where you can enjoy the waterfront or hike up for ocean views; and Black Sands Beach, which is inside the Golden Gate on the ocean side of the bridge (you'll have to climb down a staircase and short but steep hike from the parking lot). At the foot of the bridge, on the Bay side, Fort Baker offers a dose of history, a fishing pier famous as one of the Bay's best place to catch crabs, and a children's museum.
Bring food and water with you (or snag some in Sausalito ahead of time) and, for anywhere more remote than Fort Baker, be prepared to lose cell service at times. Access in and out of the headlands is also a little tricky, and there have been new changes to the traffic flow of Headlands roads, so read up on the website and figure out your route ahead of time.
More information: www.nps.gov/goga/marin-headlands.htm