Last month, the city of San Jose became a pioneer of gun reform. Now San Jose Mayor Sam Liccardo is taking his push for tougher gun laws to the White House, at a Monday afternoon meeting with President Joe Biden and city officials from around the country. The meeting was characterized by the White House as a high-level strategy discussion aimed at curbing gun violence at the local level, given Congress' inaction on gun control.
Liccardo said that Monday morning that he would push for stronger gun laws during the meeting, as KPIX/CBS SF reported.
"We'll be talking a lot about how the federal government can be a partner for cities," Liccardo told the outlet. "We are seeing rising gun violence in cities throughout the county … So we'll be talking about how we are using federal dollars for example to expand beat patrols in high crime neighborhoods to getting young adults in gang impacted neighborhoods jobs and supporting the resilience of the city."
At the end of June, the San Jose City Council passed a set of new gun rules that will require, among other things, that gun owners carry liability insurance — the first such law in the country, according to the Associated Press. Others of the new rules aimed to stem "straw" purchases, a term which refers to one person buying a gun just to pass it off to someone else, as reported in SFGate and elsewhere. The new measures followed the May VTA shooting in which an angry employee gunned down nine of his coworkers and then killed himself.
Liccardo called out straw purchasing in particular during his KPIX interview as an area that would benefit from greater federal involvement.
"We know that guns are moving around a lot — about 30,000 guns for example are purchased for criminal organizations like gangs through straw purchasing," the outlet quoted the mayor as saying. "So we've passed protections here in San Jose, but we need other parts of the country to do the same thing, because we know that guns are typically purchased in states without restrictive gun laws and moved into California. ... Being able to have federal tracking and monitoring would help enormously."
Liccardo told KPIX that he expected to talk with President Biden and the group about cities' "innovative approaches," including the San Jose effort to curb straw purchasing.
Since taking office, Biden has announced a number of measures intended to cut down gun violence, and his proposed budget increases funding for community policing by $300 million, as well as allocating $750 million in additional funds into federal law enforcement agencies, per Reuters. "Our strategy provides including funding for law enforcement through the American Rescue Plan for states, cities and to be able to hire police and pay them overtime, in order to advance community policing," Biden said.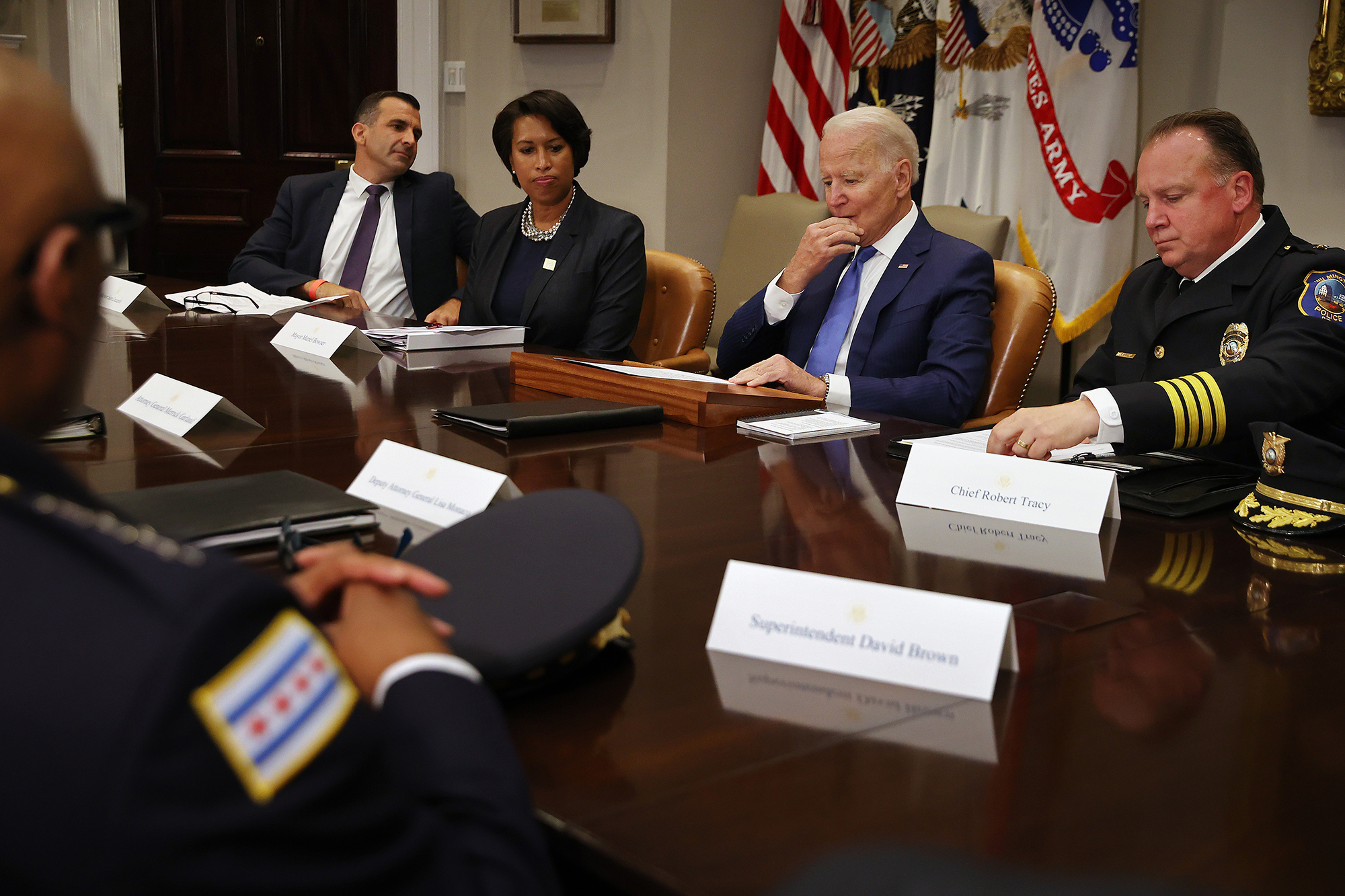 President Joe Biden (3rd L) hosts a meeting with (L-R) San Jose Mayor Sam Liccardo, Washington Mayor Muriel Bowser, Wilmington Police Chief Robert Tracy and others about reducing gun violence in the Roosevelt Room at the White House on July 12, 2021 in Washington, DC. The meeting with law enforcement, elected officials, and others also included Attorney General Merrick Garland, Brooklyn Borough President and New York City mayoral nominee Eric Adams and Community-Based Public Safety Collective Co-Founder Aqeela Sherrills. (Photo by Chip Somodevilla/Getty Images)
Other officials who attended the meeting included the Brooklyn borough president and Democratic nominee for mayor of New York, Eric Adams; Washington, D.C., Mayor Muriel Bowser; Attorney General Merrick Garland; Memphis Police Chief C.J. Davis; Chicago Police Chief David Brown; and Newark, New Jersey, Police Lt. Anthony Lima, according to Reuters and CBS SF.