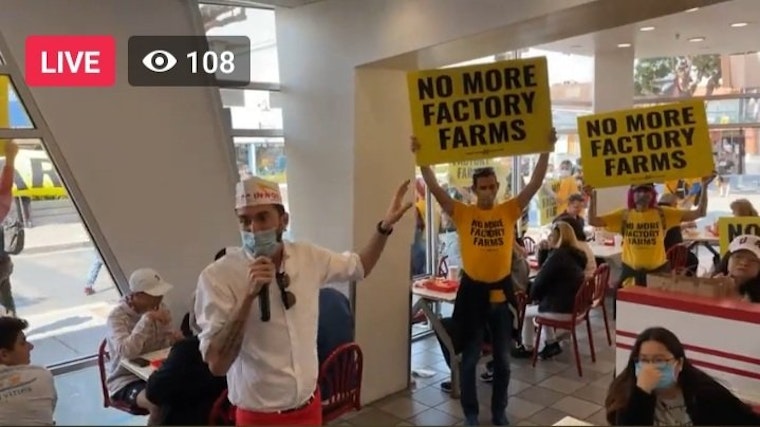 Published on August 09, 2021
There is only one In-N-Out in the City and County of San Francisco, and every burger-loving local knows that it's located at Fisherman's Wharf. But the animal rights crowd knows that too, and this weekend one such group enveloped the entire dining room, exterior storefront, and other side of the street in a giant protest over animal cruelty and the lack of sustainable beef.
You can watch the whole 40-minute protest on a Facebook Live video, which the narrator says is taking place in the "quote 'Fisherman's Wharf area.'" The activists take over the dining room at the video's 1:50 mark, chanting, "It's not food, it's violence," but generally just confusing the mostly tourist customers.
The protest is clearly meant as an ambush to raise the In-N-Out diners' awareness about factory farming practices, and they may or may not gotten their point across. In one exchange at the 3:00 mark, the protest's ringleader asks a bewildered customer, "Do you know where In-N-Out supplies its burger meat from?"
"Uhhh… cows?" the fellow responds.
This organization called Direct Action Everywhere may be familiar to Bay Area vegans and carnivores alike. They regularly disrupt barbecues and outdoor food festivals, and last year managed to punk Fox News live on-air with an activist parading as a meat executive. The group also staged a protest earlier this year at East Bay horseracing track Golden Gate Fields.
The protesters' message was to get In-N-Out to end their relationship with Coalinga-based ranch Harris Farms, and while In-N-Out has historically used Harris Farms, it's unclear if they still do. The company's transparency in supply chain manifesto only references avoiding vendors who do not engage in "forced labor, human trafficking or other human rights violations," and their food quality page only details where the beef patties are made, at their "patty-making facilities in Baldwin Park, California; Lathrop, California; and Dallas, Texas."