It's been a tough year and a half for small businesses (well, and the rest of us). And in few places does that seem more visible than at the East Bay's Pacific East Mall, home of 99 Ranch Market and a wide variety of pan-Asian eateries and shops. Numerous stores, including a couple of popular boba tea spots, have closed down, and visitors to the mall will currently find well over half a dozen empty storefronts.
But it seems some exciting changes are afoot at the mall, which is located just off the Central Ave exit from I-80 in Richmond. Many of the empty windows are sporting "coming soon" signs, and mall management is working to launch a new endeavor in the location: what it's calling the area's "first indoor Asian night market." Meanwhile, other popular hotspots in the mall, including 99 Ranch and a popular sushi restaurant, have remained as bustling as shifting pandemic conditions will allow.
"The problem for the young generation is there's nothing to do at night," said Jane Lee, the mall's vice president of sales and marketing, in an interview with Hoodline.
"We were able to sign on 10 new restaurants during the pandemic," Lee told this outlet, adding that new restaurants will likely be open past midnight. When Hoodline spoke with Lee, she anticipated the new eateries opening their doors by the end of the year — pandemic willing.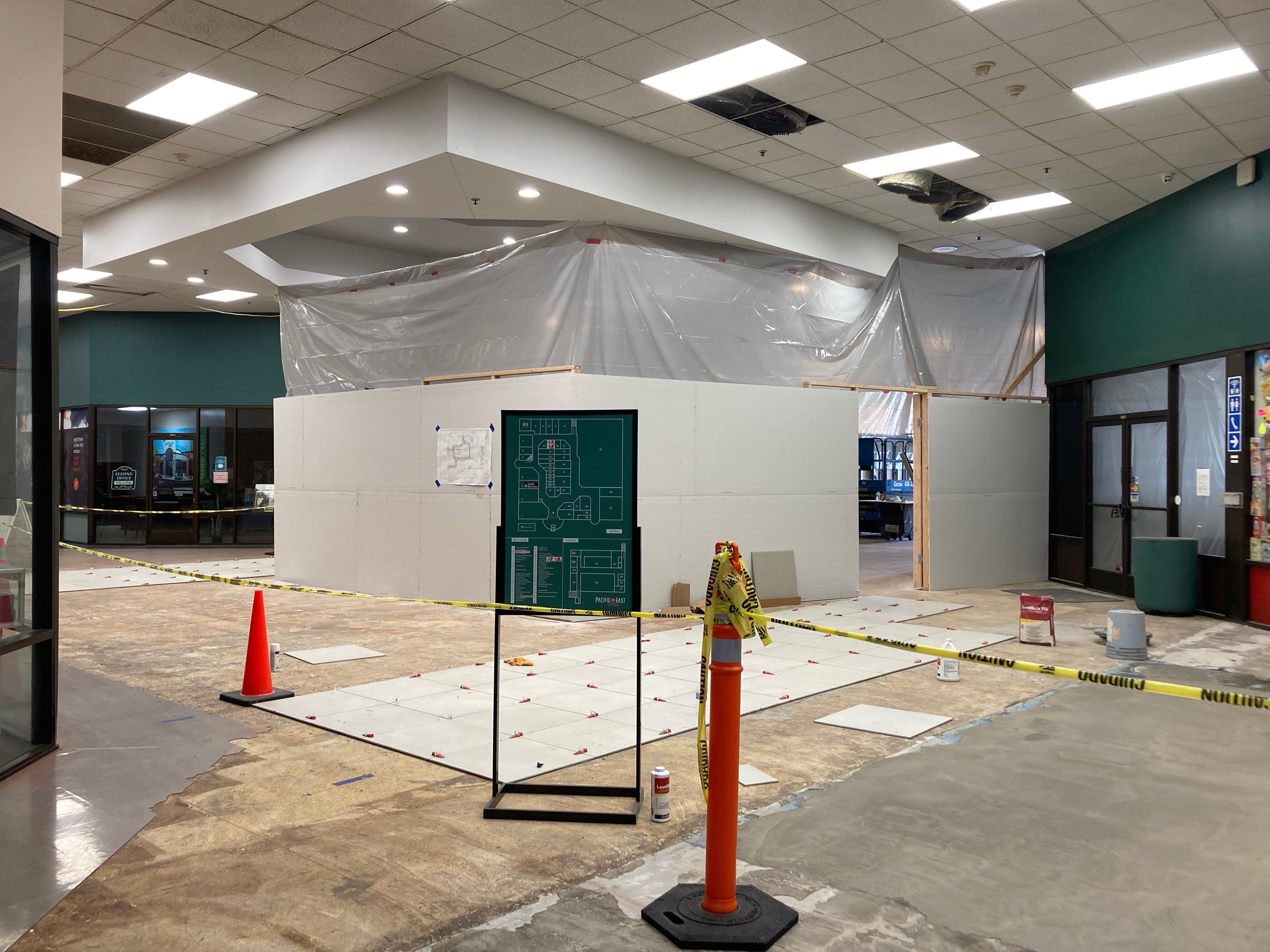 Renovation has begun at the entrance of the Pacific East Mall and site of a planned new Hong Kong-style eatery. | Photo: Laila Weir/Hoodline
The mall has already begun renovating for its overhaul, which is planned to include the night market, as well as an "interior facelift," seating area and update to the mall's exterior. So far, it's begun remodeling the front entrance and upgrading the floor tiles inside. A new cafe is also under construction just inside the mall's main entrance, which Lee says "will be a very nice, Hong Kong-style café."
Also near the main entrance, two existing storefronts promise the upcoming arrival of two local Asian food chains. Kokolo Donburi — which has been serving its Japanese rice bowls in Milpitas, Pleasanton, Alameda and, most recently, Berkelely — says it should open in the Pacific East Mall around November. (The franchise is also due to open locations in Fremont, Livermore and Walnut Creek this month.) And House of Dumplings is also set to open next door to Kokolo Donburi.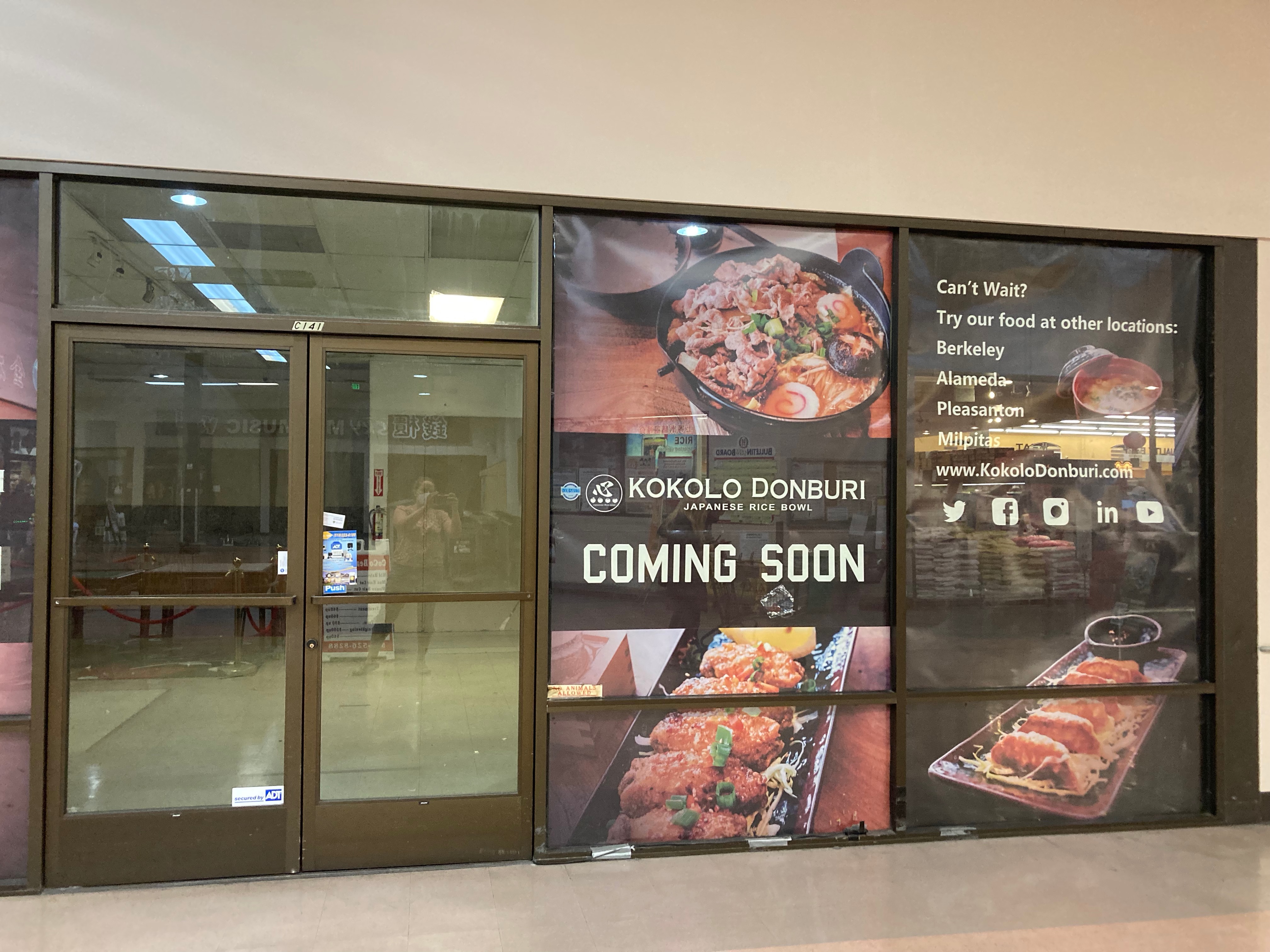 Kokolo Donburi plans to bring its Japanese rice bowls to the Pacific East Mall. | Photo: Laila Weir/Hoodline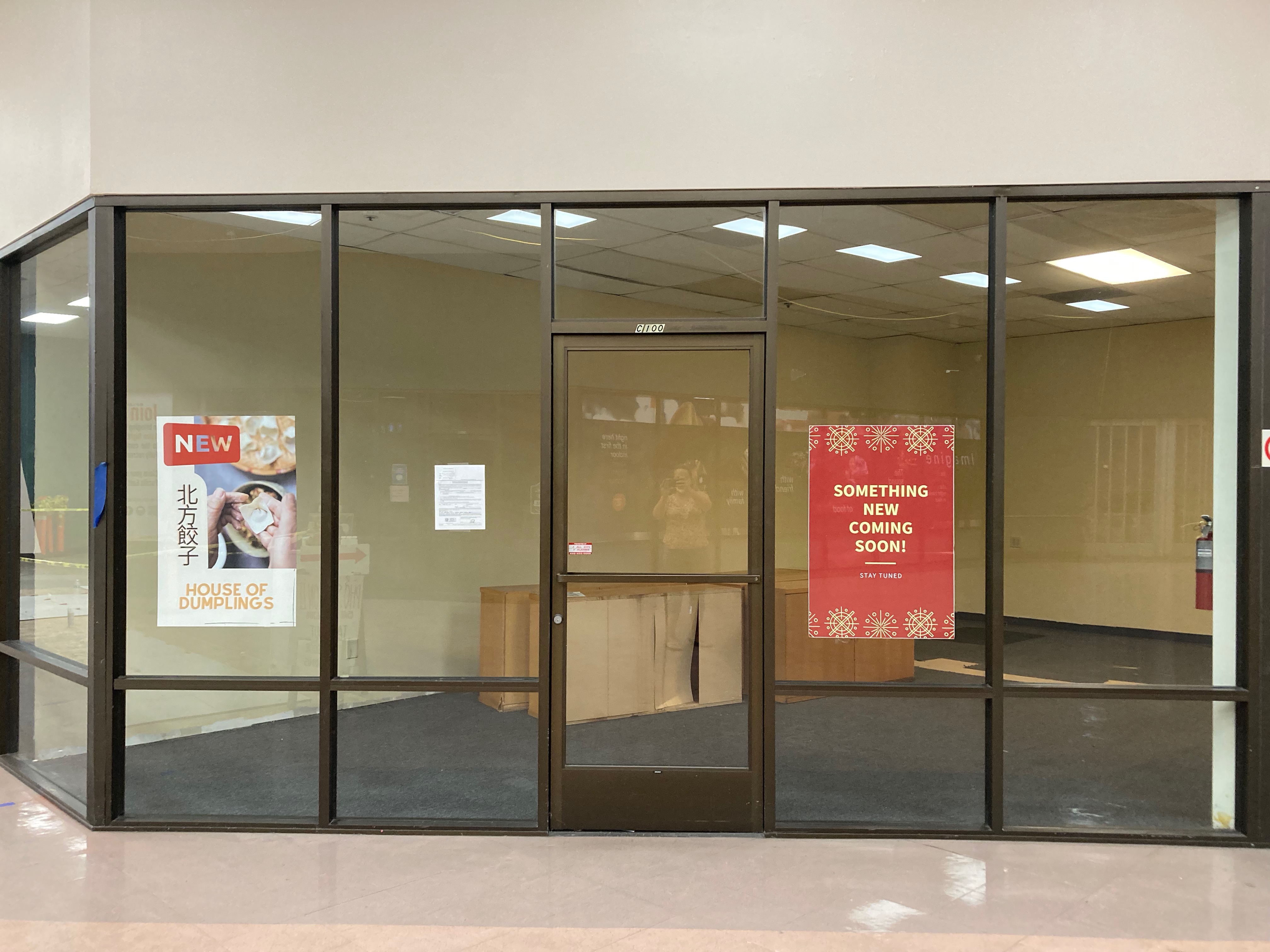 House of Dumplings advertises that it's coming soon to the mall. | Photo: Laila Weir/Hoodline
Meanwhile, plenty of the mall's businesses remain open for visitors willing to overlook the construction in one section of the mall. (Hint: Enter through the side entrance, near Bridges Rock Gym.)
These include a collection of tempting eateries, such as Kaoru Sushi, Isshin Ramen House, Chinese restaurant Sichuan Fusion, Vietnamese pho shop Saigon II, Pan-Asian Mi Noodle House, and the tiny but tasty Hong Kong Snack House (your current best bet to get boba in the mall; tips: opt for the milk tea over inconsistent fruit smoothies, and bring cash, as they don't accept cards). The ever-popular 99 Ranch supermarket and a handful of tea, herb, and other retail shops remain open as well.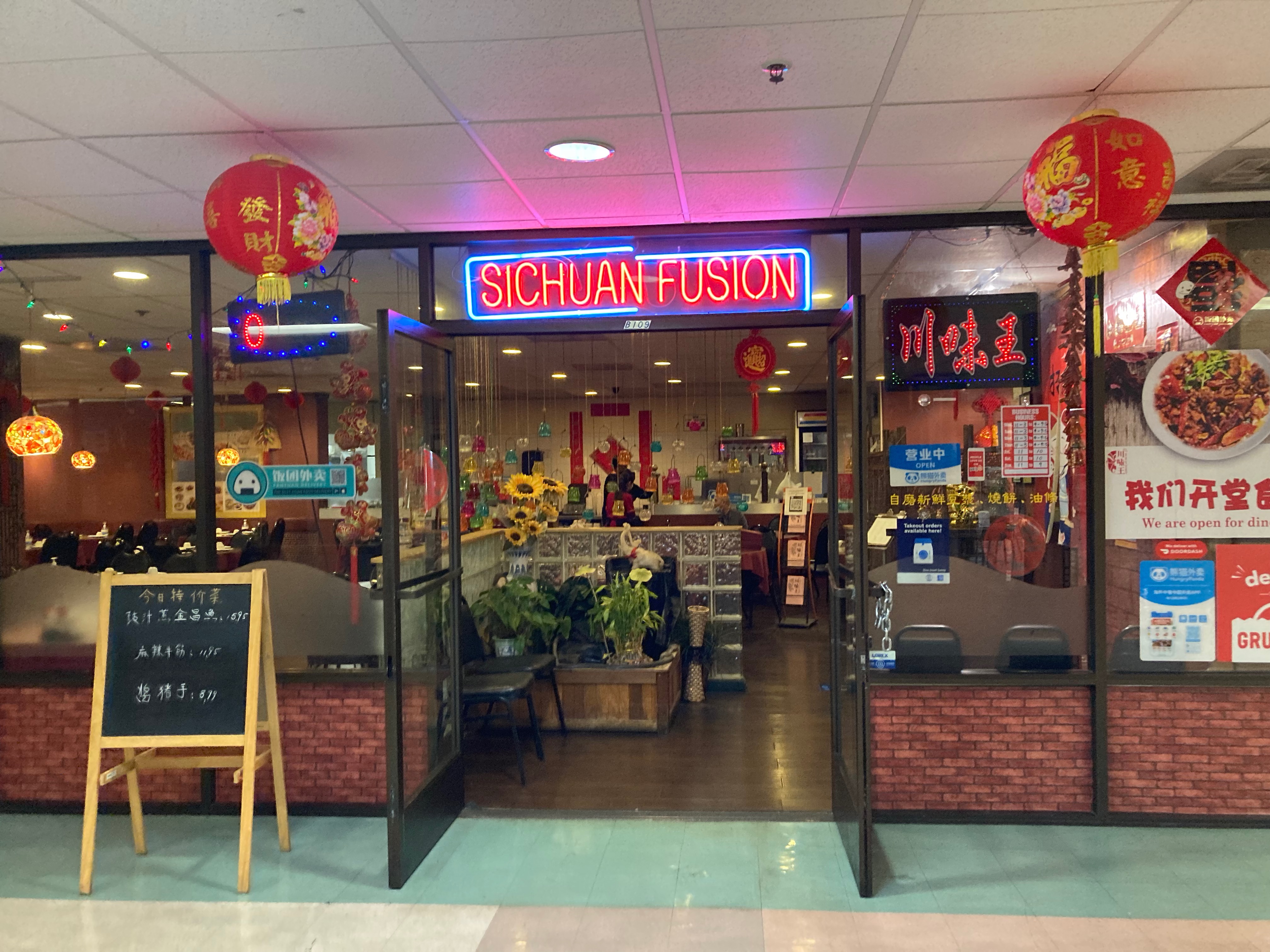 Sichuan Fusion is among numerous eateries still operating at the mall, subject to COVID precautions. Photo: Laila Weir/Hoodline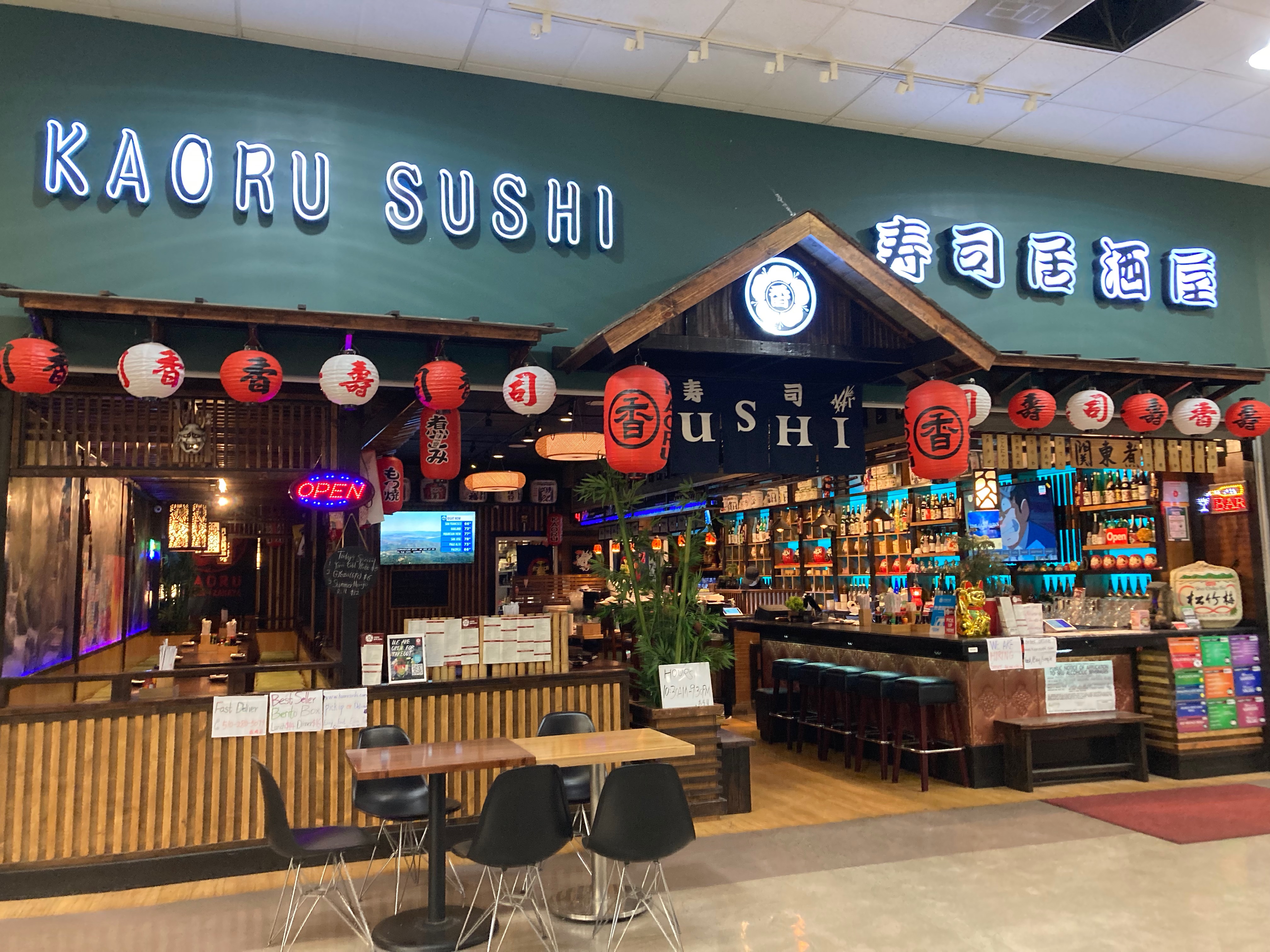 Kaoru Sushi is a popular spot for eating in, as safety allows, as well as for takeout and party platters. Photo: Laila Weir/Hoodline
Other businesses slated to open at the location include a seafood eatery, spicy hotpot shop, a nail spa and a Jade jewelry boutique, according to the mall. Still other storefronts have yet to be leased.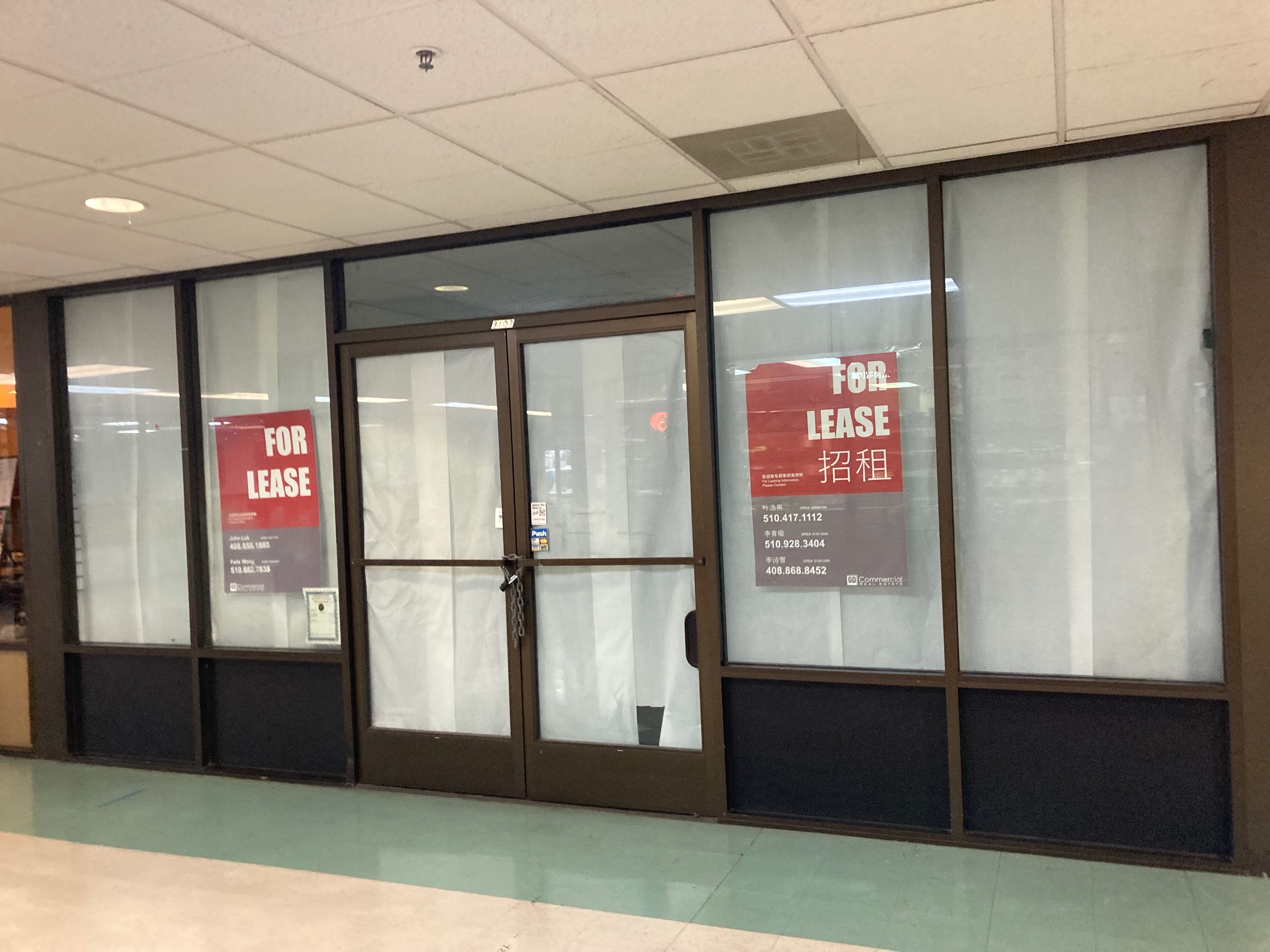 One of numerous empty storefronts at the Pacific East Mall Photo: Laila Weir/Hoodline
The Pacific East Mall is located at 3288 Pierce Street, Richmond, CA 94804. More information: www.shoppacificeast.com