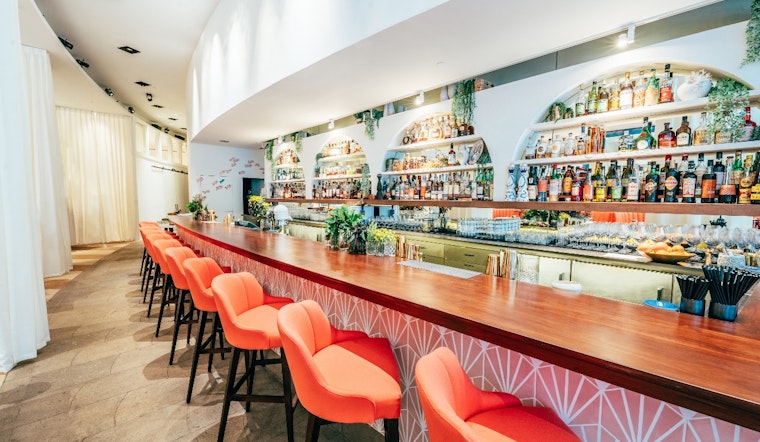 Published on September 20, 2021
San Francisco is a melting pot of global cuisine, but authentic Greek restaurants have always seemed few and far between here. Estiatorio Ornos, a Michael Mina restaurant at 252 California Street, now fills that niche, and it's the next iteration for the storied space from Mina's restaurant group, which formerly hosted Aqua, where Mina got his start, and later and his Michelin-starred eponymous restaurant that officially closed in August. The new restaurant debuted over the weekend and is also helping introduce San Francisco to the work of a "fish sommelier."
Named after Ornos Beach, a small crescent-shaped beach along the Grecian coastline, the 76-seat restaurant features an unmistakably Mediterranean vibe. The decor gently plays of warm whites and pastel accents, particularly in and around the 12-seat bar; modern restaurant tropes give way to more rounded lines and maximalist decor; large open windows are veiled by tall, flowing curtains — cementing the very beachfront atmosphere Estiatorio Ornos's menu evokes.
View this post on Instagram
The restaurant's dinner menu feels perhaps unnecessarily long when fingering through it. When I eyed the three-dozen-plus offerings, I found myself dizzy by the number of choices at hand. Nevertheless, the nods to glorious white fish (served with a caviar sauce) and roasted lemon chicken offered the energy needed to push forward.
And so I did, settling on olive-oil poached king salmon fillet ($39), saddled by a pillow of couscous; I was keen to take advantage of the Fish Market selections, which are flown in daily from the Mediterranean Sea and elsewhere. This, too, is where the aforementioned fish sommeliers come into play — they scour both local and national resources to procure phenomenal fish and shellfish for diners. You can even go as far as to ask them for recommendations and specifics on the exact fish on the menu, including how they were sourced, their environmental footprint, taste profiles, and so on.
Chef Mina has designed Estiatorio Ornos as a "slice of the Greek island right here in San Francisco," on that I found layered with elegance in my perfectly seared salmon filet. My chosen cocktail, a Fragosyko — made of fermented cactus pear, plum, cucumber, basil, honeydew, borage, thyme, lime, Blanc de Chambery — offered a bright, sweet break from the umami-forward fish.
Estiatorio Ornos also serves an array of raw bar items (think upscale caviars, sea urchins, oysters, etc.), various fresh starters, and a smattering of Greek sides that focus on in-season vegetables.
After nursing every milliliter of my $16 cocktail — a price point becoming all too common in the city — and scraping clean my salmon plate, I did feel a bit transported to a sunkissed Aegean Island.
And we could all use any kind of vacation feeling we can muster these days, so this will do.
// Estiatorio Ornos (252 California Street) is open from 4 p.m. to 10 p.m., Wednesday through Sunday. There's no takeout menu currently offered at this time; proof of vaccination and face masks are required indoors. Reservation can be made either online or by calling (415) 417-3969.