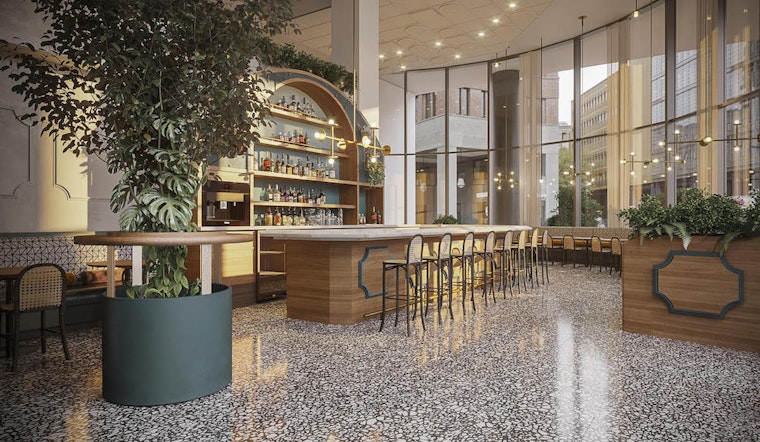 Published on November 19, 2021
Some well-known Bay Area restauranteurs are taking a gamble on a new venture in the mid-Market area. They're hoping to capitalize on the nearby music scene that is crawling back to life after it was decimated by the pandemic. As first reported by the Chronicle, Hi Neighbor Hospitality Group will be pivoting the former Corridor restaurant space at 100 Van Ness Avenue to open a cocktail spot called The Madrigal in early December. The goal is to cater more to the pre- and post-concert crowds attending shows at the nearby San Francisco Symphony, SF Opera, SF Jazz Center, the San Francisco Ballet, and Bill Graham Civic Auditorium.
Hi Neighbor Hospitality Group has been behind popular San Francisco restaurants like Vault Steakhouse, Stone's Throw, Mama's, and Trestle, but the former Corridor concept, in a high-ceilinged space in the ground floor of the renovated 100 Van Ness residential tower, never quite found its footing. The group closed the restaurant in September so they could remodel and relaunch the space as The Madrigal before the Christmas holiday. The Chronicle reports that the place will be more of a cocktail destination than a food destination, which means you can expect a full array of top-shelf spirits and creative, mixed cocktails that use fresh, local, hand-made ingredients.
Despite the focus on cocktails, The Madrigal will still offer full meals and have some higher-end menu items. For instance, a burger on the menu is made with locally-sourced duck instead of ground beef. There's also squid risotto and oysters, but one of the signature items is expected to be a breakfast sandwich that the owners believe will be perfect for a late-night, post-concert snack. The Chronicle says it will feature "a house-made sausage patty, an over-easy egg, hash browns, and melty cheddar on a griddled Martin's potato roll."
The Madrigal is expected to be open Tuesday to Sunday 3 p.m. to midnight. Apparently, Hi Neighbor is still working on finalizing the exact hours of a possible late-night happy hour. The exact opening date also isn't quite clear yet, so check their website for details.