A newly renovated boat dock at San Francisco's Lake Merced was on display this past weekend for community members and city officials. The dock received $1.68 million in upgrades and is now much safer, and completely accessible for people who have disabilities under the Americans with Disabilities Act. The most notable upgrade is the replacement of the old wooden dock. It's now built with safer, sturdier materials and is also slightly larger than the old one. There is also lush new landscaping, a new driveway, new pathways, a new light, and handicapped-accessible parking.
"Lake Merced has long been an important recreation area for San Franciscans, a place where families can walk their dogs, fish, commune with wildlife, and launch their boats. The new dock and gangway are a testament to how much the community values this incredible resource," District 7 Supervisor Myrna Melgar said in a press release. The California Dragon Boat Association christened the dock following a ribbon-cutting ceremony on Saturday. Dozens of paddlers got into their long-painted boats for a rowing demonstration on Lake Merced.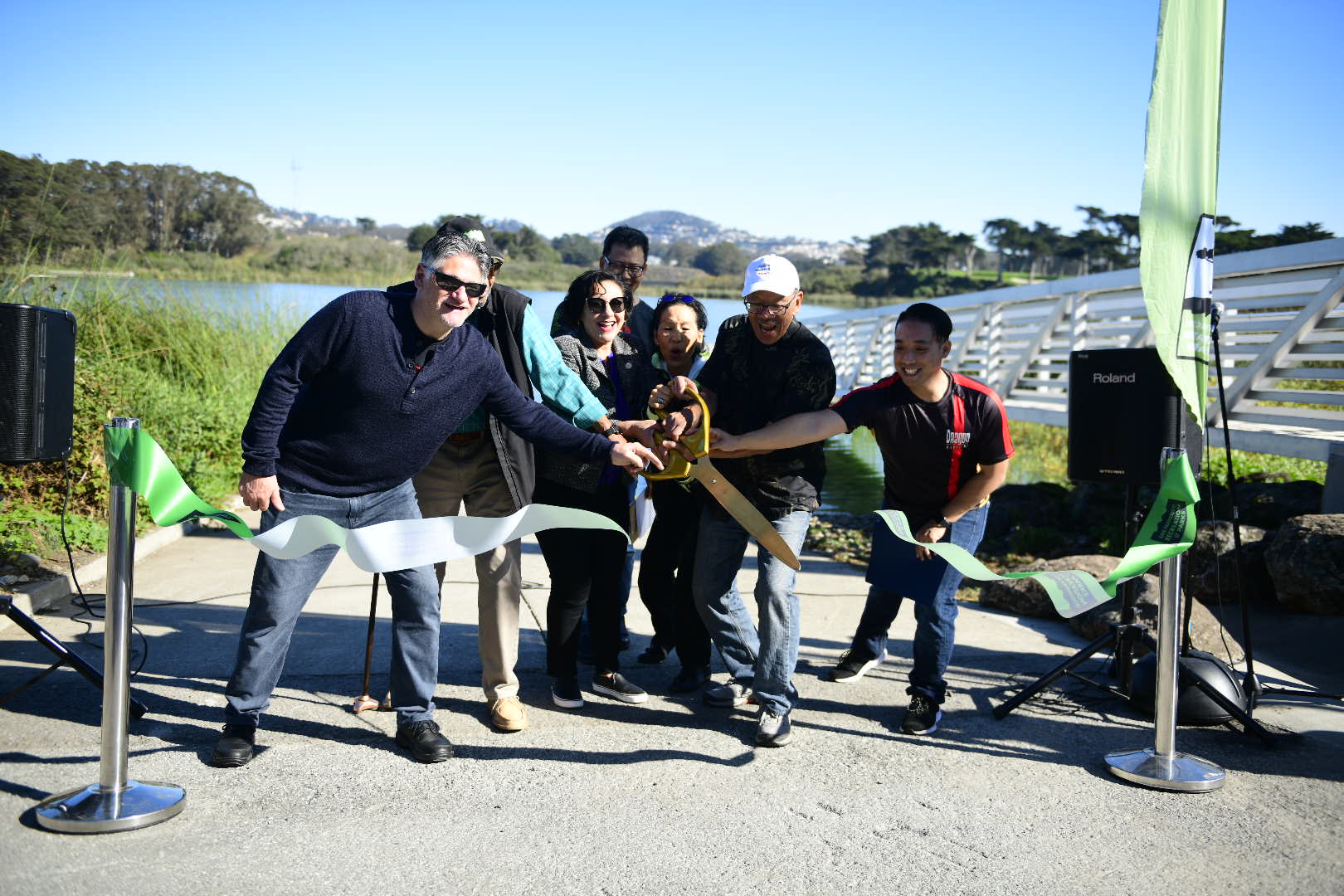 Photo courtesy of San Francisco Recreation and Park Department
Former District 7 Supervisor Norman Yee helped secure general fund support for the project but much of the other funding for the dock renovation apparently came from the 2012 Clean and Safe Neighborhood Parks Bond Community Opportunity Fund through the advocacy of youth and adult boating communities. "The long-awaited new boat dock is an example of how a group from the community can get things done when they work together. This will benefit thousands of city residents for years to come," said Yee.
"For so many, the Lake Merced Boat Dock has been the launch point for a lifelong love of boating. This project was vital to ensure everyone has safe and equal access to get onto the water. The end result is accessible, beautiful, and will stand the test of time," San Francisco Recreation and Park Department General Manager Phil Ginsburg said. The 600-acres of Lake Merced Park is managed by the city's recreation and park department and is owned by the San Francisco Public Utilities Commission.