For over three decades, the SF SPCA and Macy's holiday windows have signaled the true start of the holiday season in the city. This year's display was unveiled today, and though the pandemic means there are videos in place of live adoptable animals in the windows, there's still plenty of cuteness to give shoppers and passerby the warm, fuzzy holiday feels.
"We are thrilled to be celebrating the 35th anniversary of Holiday Windows," SF SPCA president Dr. Jennifer Scarlett said in a statement. "This event truly embodies the holiday spirit and has helped more than 10,000 animals find loving homes."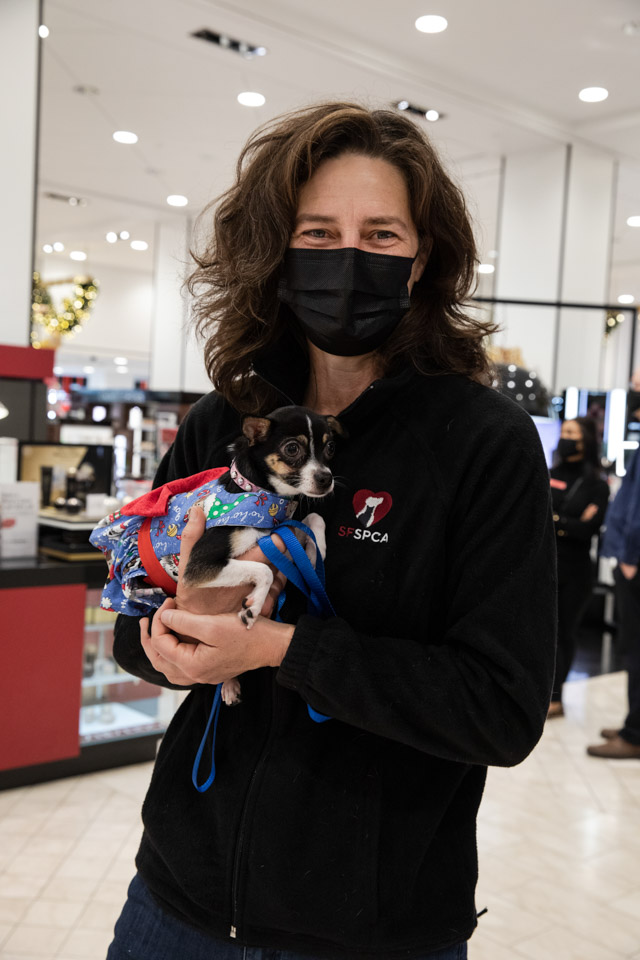 SF SPCA President Dr. Jennifer Scarlett holds Brie. |Photo: Cheryl Guerrero/Hoodline

The windows will be on view on the corner of Stockton and O'Farrell Streets until January 2, 2022. Filmed a few weeks back, the display videos feature rescue animals and recent shelter alumni. Although those specific furry faces you see might have been adopted already, the SF SPCA also has livestream videos on its website of animals currently available. Those holiday live cams are up daily from 10 a.m. to 5 p.m. through January 3rd.
Macy's Union Square shoppers can take photos with giant cutouts of cats and dogs at four stations throughout the store that will have information about that animal's story. Additionally, there will be surprise visits throughout the season from the SF SPCA Animal Assisted Therapy team, whose specially trained therapy animals will offer comfort and joy to visitors.
SF SPCA Communications Manager Krista Maloney explained that they also are gearing up for a change at the adoption center. After having moved to appointment only adoptions during the pandemic, they are preparing for a soft opening of the center on December 1st, to welcome back potential adopters. "It feels good to be getting back to normal," she said.
More from the Holiday Windows unveiling: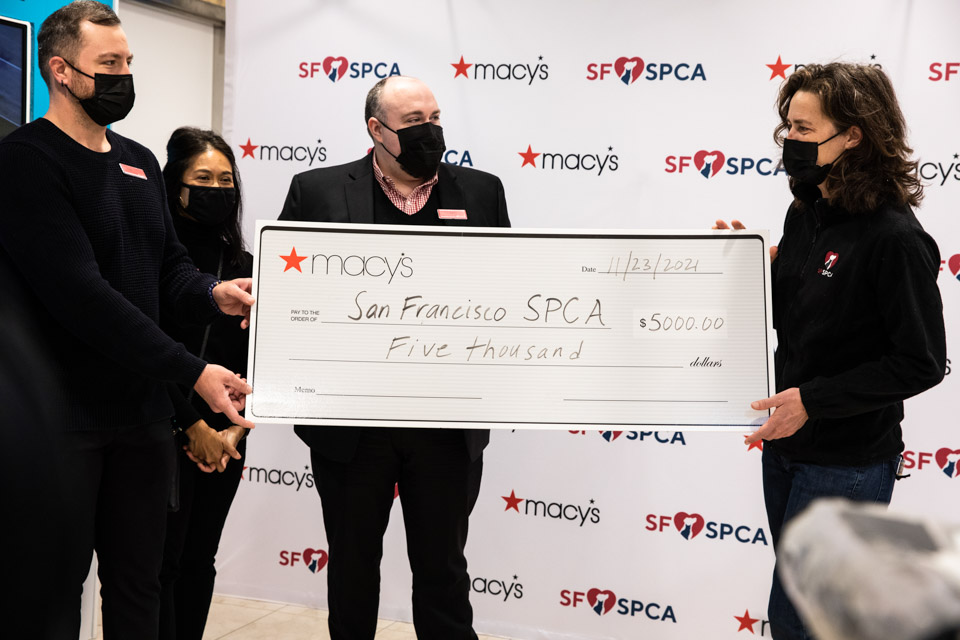 Macy's Union Square Store Manager John Sparks presents a $5,000 donation to the SF SPCA. |Photo: Cheryl Guerrero/Hoodline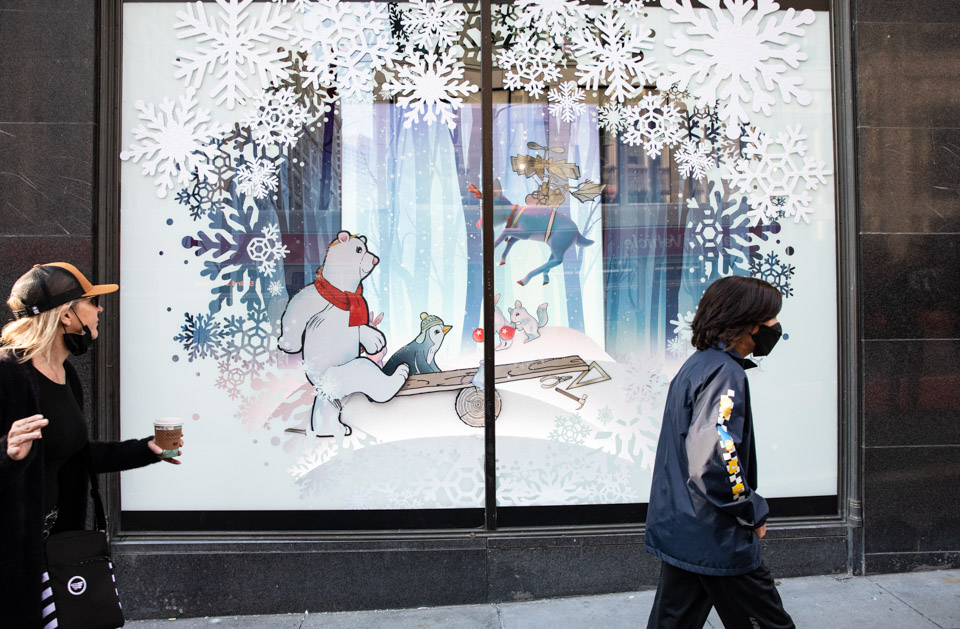 People walk by one of the new holiday windows. |Photo: Cheryl Guerrero/Hoodline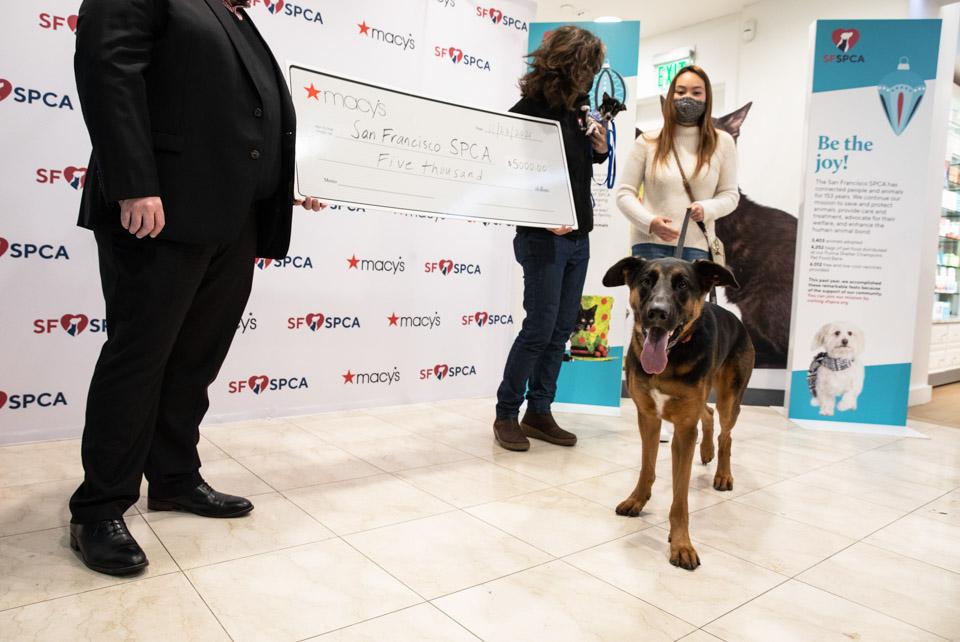 Shepherd-mix rescue Brownie at the presentation. | Photo: Cheryl Guerrero/Hoodline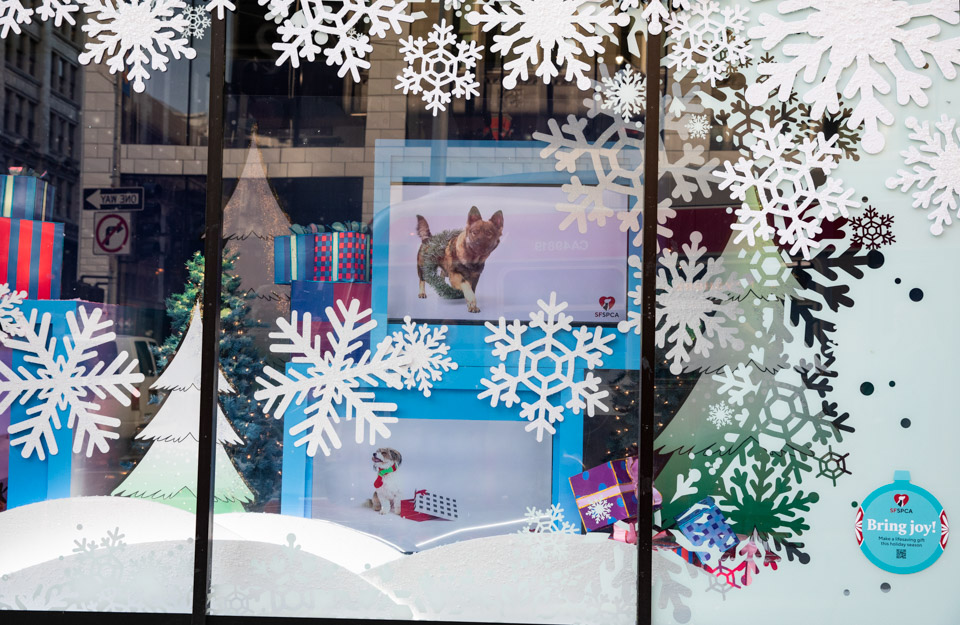 Display videos in the holiday windows on Stockton Street. | Photo: Cheryl Guerrero/Hoodline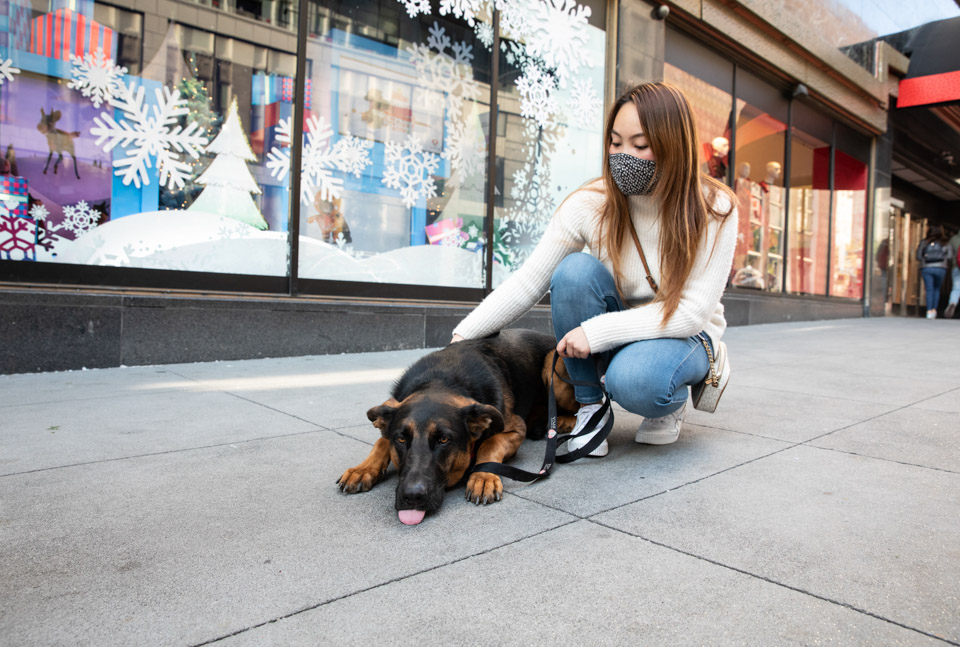 Annie Fung and her adopted pup Brownie rest after an eventful morning. | Photo: Cheryl Guerrero/Hoodline