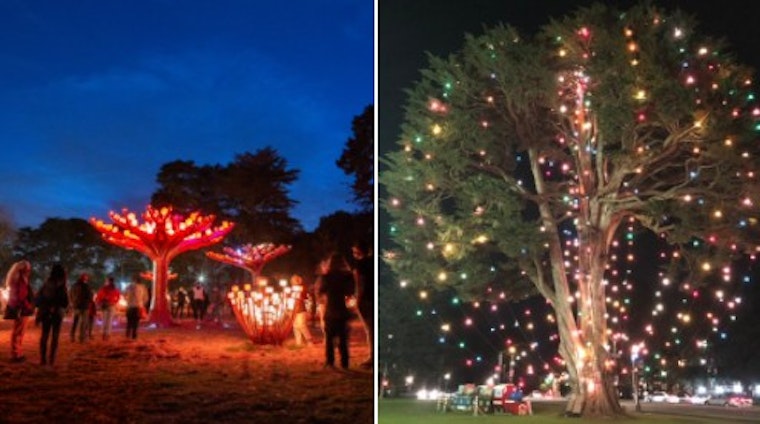 Published on December 01, 2021
A 91-year-old tradition returns to San Francisco Thursday night, and a one-year-old tradition that's every bit as magical joins it. The lighting of Uncle John's Tree is scheduled for 6 p.m. Thursday, December 2, followed at 7 p.m. by the lighting of Entwined, the illuminated LED forest that was so popular last year that they're bringing it back for the 2021 holiday season.
The secret's out...Entwined will return to Golden Gate Park for this holiday season!🌈💡🌿😍
Starting December 2, the enchanted forest of ever-changing lights will be back to illuminate Peacock Meadow for visitors of all ages to enjoy✨ https://t.co/c4TSxyo7am

📷 Jason Chinn pic.twitter.com/iCY4WQF9Xg

— SF Parks Alliance (@SFParksAlliance) October 6, 2021

"Golden Gate Park during the holidays is a magical place, alive with families and kids coming together to enjoy the season's spirit," Mayor London Breed said in a release. "I am so excited to be hosting San Francisco's annual tree lighting in Golden Gate Park, and I can't wait to kick off new traditions that will live on for years to come."
Breed will indeed be on hand for the tree lighting ceremony. According to SF Rec and Parks, "The tree lighting will take place around 6 p.m., followed by live performances and a light show at the Golden Gate Bandshell at 6:30 p.m. The evening will also include carnival rides, food trucks, live entertainment, festive lights and family-friendly activities for all!" The tree is right at Golden Gate Park's eastern entrance near Fell Street.
Then head over to Peacock Meadow for the re-lighting of artist Charles Gadeken's Entwined LED forest. "This winter, Golden Gate Park's Peacock Meadow will again transform into an enchanted forest of otherworldly shapes and ever-changing light," Rec and Park says. "'Entwined,' by San Francisco artist Charles Gadeken, creates a whimsical wonderland where visitors can explore twisting paths, colorful trees to sit under, large flowering clusters to run around and admire, and constantly changing vistas of light and magic. Inspired by nature, this interactive art installation will connect and enchant visitors of all ages."
A tree-lighting ceremony also took place Tuesday night in Salesforce Park, atop the Transbay Transit Center.
On a more somber note, tonight, Wednesday, December 1, the park's AIDS Memorial Grove will also have a lighting ceremony, from 4:30 to 9 p.m.