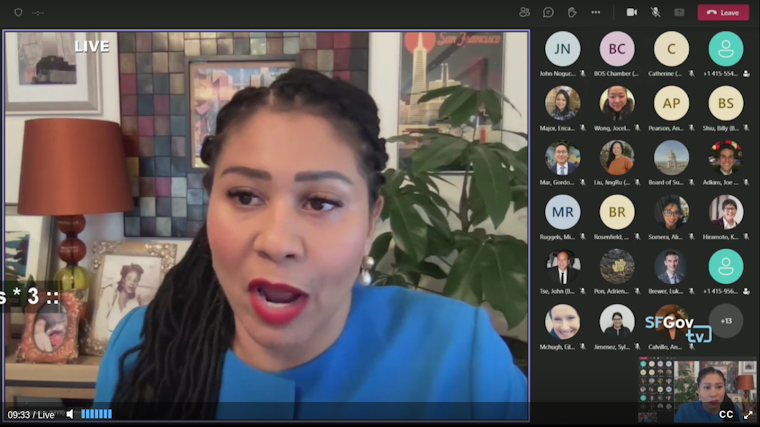 Published on January 11, 2022
A spat between District 1 Supervisor Connie Chan and SF Mayor London Breed at Tuesday's Board of Supervisors meeting was clearly made-for-SFGovTV, and as such, Sup. Chan's office had a press release out just minutes after the exchange. Chan was clearly itching for a fight over her compromise measure for a car-free JFK Drive in Golden Gate Park, which the supervisors passed unanimously in August, but only as a "statement of support" rather than law. And Chan has been pretty upset that SFMTA and the SF Rec and Parks Department have continued surveys on the matter, surveys which Chan refuses to support because they are not her plan.
Chan took it to these departments in a September email, seen above, complaining about media coverage of "three picks" for different plans, none of which were Chan's proposal. (The author of that media coverage, the Chronicle's Heather Knight, wrote this weekend that she was cancelling her de Young Musuem membership over the institution's lobbying to have cars returned to the thoroughfare). Meanwhile, Chan resumed her fight in a Q&A session with the mayor at Tuesday's meeting.
"We know that over 10,000 people responded to SFMTA's survey, and the vast majority supported keeping JFK Drive closed to cars," Chan said. "However, SFMTA also informed us that they're doing additional outreach, because key demographics like seniors, communities of color, and non-English speakers were underserved on the survey."
Chan confronted Breed at Tuesday's meeting, saying, "I want to take this opportunity to learn what you envision for the future of JFK Drive, Great Highway, and Slow Streets."
"Is there a question?," Breed asked
Chan repeated verbatim: "I want to take this opportunity to learn what you envision for the future of JFK Drive, Great Highway, and Slow Streets."
Breed avoided the bait, diplomatically deferring to the surveys being connected on the car-free Great Highway, car-free JFK Drive, and permanent Slow Streets. "None of these processes have been completed," Breed said. "I am hopeful that after community feedback and data from San Franciscans throughout the city, not just in the neighborhood that you represent, but all San Franciscans, then we will then have the best data."
Chan again mentioned her resolution, and threw shade at the ongoing surveys. "Do you think the city departments at this point are actually being held accountable, and really displaying in good faith a transparent process, with honest, data-driven decision making?" Chan asked.
Breed removed the gloves.
"Based on your comment and your line of questioning, you seem to have a problem with the existing process and the way things are going with specific departments," Breed said, clearly meaning Chan personally. "No decisions have been made, so as far as I'm concerned these departments are doing everything they can to get the data they need, to solicit feedback, and to help to make the best decision."
"To imply that this process is not transparent, that this process has not been open and fair, is not a responsible way to try and gather what we need to make the best decisions for San Francisco as a whole," Breed said.
This argument solved nothing, nor was it meant to. But you can still give SFMTA your car-free JFK feedback, for whatever future decision Mayor Breed and Supervisor Chan will argue over.