BART riders who get on and off at the Warm Springs/South Fremont station will no longer have to make take an arduous, indirect trek around the nearby Union Pacific railroad tracks. After years of delays, BART has opened a new pedestrian bridge and plaza on the west side of the station that now allows passengers to walk right over the five sets of tracks. The tracks had long been an unwanted barrier for people who head west from the station toward Tesla's factory, as well as some other workplaces and housing developments. Before the bridge, riders had to walk more than a mile, in fact, around the tracks to the station's east entrance.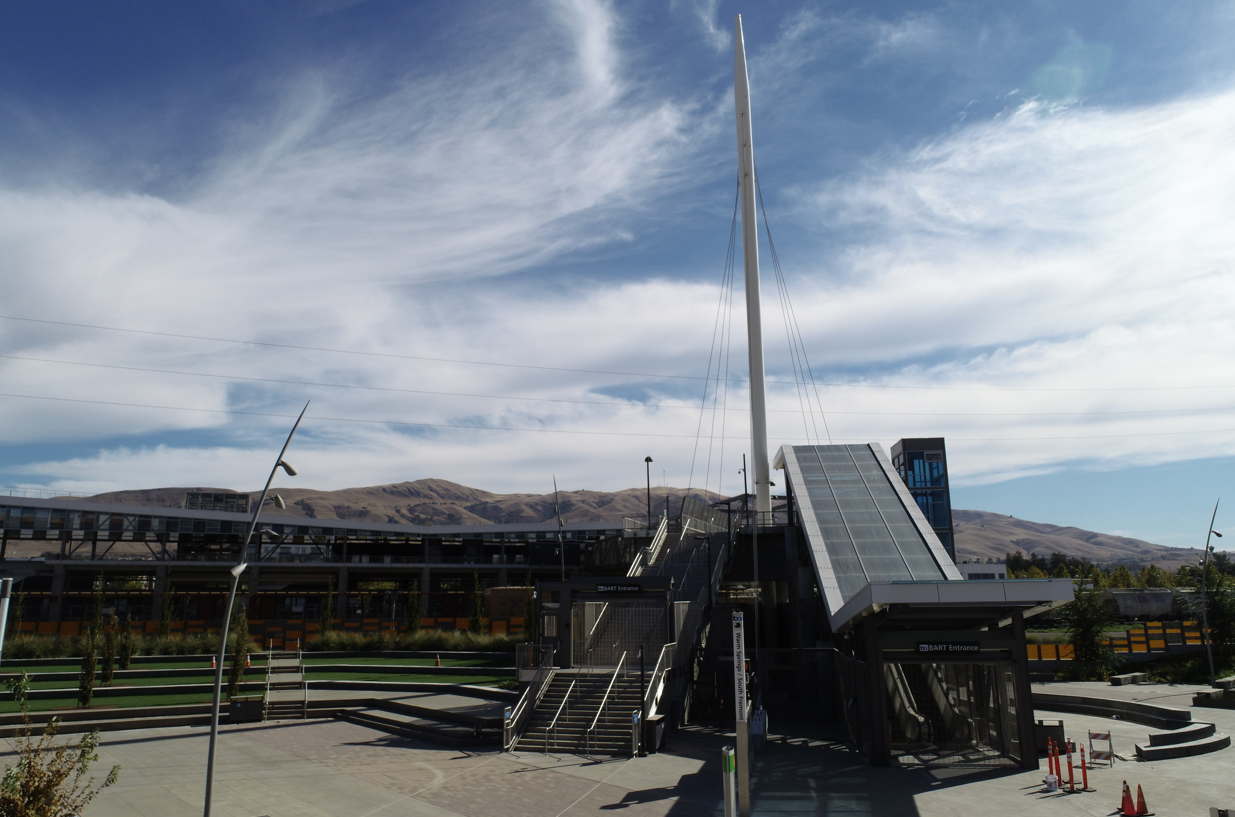 Photo Credit: BART
The 250-foot pedestrian bridge cost $41 million to build and was originally supposed to open in 2018. $11 million of the funds came from the City of Fremont while the remaining $30 million came from the Alameda County Transportation Commission. "We are excited to open the bridge and plaza to the public this week to enable a more seamless, enjoyable commute for all who work and live in Fremont," BART Board Director Liz Ames told Patch.
One of the distinct design elements is a giant, 110-foot tall pylon with attached cables that help support the bridge. According to the BART press release, "the new plaza at the base of the bridge includes public art and amphitheater seating to accommodate community gathering and future events." The entire area is monitored by a network of security cameras. "It's very clean, it's very aesthetically pleasing. It has a very European feel, with the high density living near transit," Fremont resident Alice Marecek tells the Mercury News.
With the bridge now in place, the city of Fremont can now put its focus on an 850 acre "Innovation District" near the Warm Springs/South Fremont station. Roughly 4,000 townhomes, condos, and apartments are in the works for the area along with plenty of retail shops, office buildings, a hotel, and an elementary school.
"This project and related development are a great example of how Fremont makes things happen to keep advancing our city as an exceptional place to live, work, and play and to have options for traveling around our community," Fremont Mayor Lily Mei said in a statement to the Mercury News. The City of Fremont is also apparently planning to hold a party to celebrate the new bridge and plaza in the near future.