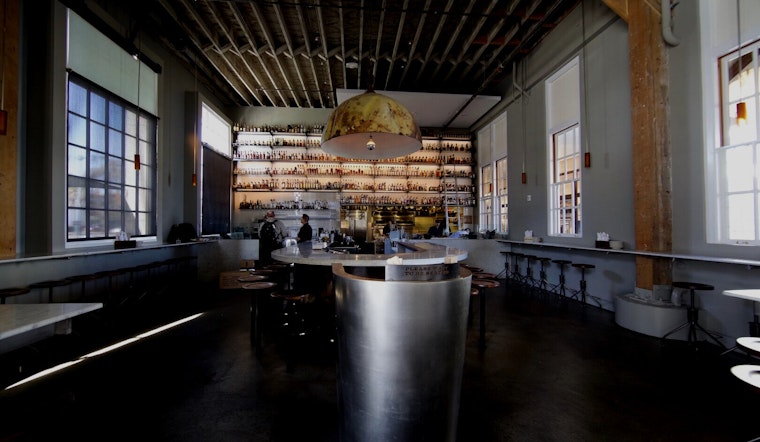 Published on March 14, 2022
Apparently not all of restaurateur Charles Phan's landlords have worked out deals with him for pandemic-closed properties. Nine-year-old New Orleans-themed whiskey bar and restaurant Hard Water has now been hit with a lawsuit from its landlord at Pier 3, signaling that things must not have gone well with negotiations there.
Phan, who's best known for The Slanted Door and who recently opened a new banh mi sandwich shop in the Mission called Chuck's Takeaway while we await a fall reopening of Slanted Door, hasn't commented on the situation with Hard Water. But as the SF Business Times reported late last week, his restaurant group has been hit with an unlawful detainer complaint to the tune of $424,535.27 in back rent plus legal fees.
The landlord, SF Piers Owner, Inc. (an affiliate of Invesco Real Estate), is also seeking the forfeiture of Phan's ten-year sublease on the Pier 3 space, which was set to expire in January 2023.
The landlord also did not comment on the lawsuit to the Business Times.
Hard Water opened in 2013, and was one of Phan's several non-Vietnamese concepts that he opened in the last decade — others included two Chinese restaurants, Heaven's Dog in SoMa and Wo Hing General Store in the former Slanted Door space on Valencia Street, and a short-lived, British-inspired replacement for Heaven's Dog called The Coachman. Hard Water fit the bill for Embarcadero happy hour and post-work spots, serving classic cocktails, oysters, NoLa-style fried treats, and a menu of 400 whiskeys. The restaurant's website indicates that he had planned to reopen it this spring, but that may not come to pass, depending on how this lawsuit shakes out.
The restaurant has been closed since the week of March 16, 2020, when many restaurants around the city — including The Slanted Door — closed up shop for what they thought was a temporary hiatus.
Phan's Slanted Door location in San Ramon remains open, however he permanently closed Out the Door in Pacific Heights last year. Major renovations are reportedly underway at the Ferry Building location of Slanted Door with plans for a fall reopening, and a third Slanted Door is slated to open in the city of Napa later this year.