Like an epic concert encore, the planned expansion of Music City San Francisco (1353 Bush Street) — a combination hotel, museum, concert space, bar/restaurant, and band-practice space at the edge of the Tenderloin near Polk — promises to be a showstopper. The first phase of the ambitious project dreamed up by founder Rudy Colombini 14 years ago was completed last May.
A San Francisco native and professional musician, Colombini channels Mick Jagger as frontman of The Unauthorized Rolling Stones, the popular tribute band he formed in 2001. He was inspired to create Music City to honor the Bay Area's rich musical history, and help ignite its musical future. Ultimately, he wants Music City to be a community where musicians — especially those who are just starting out — come together to jam, learn and perform. And where music fans can enjoy live shows onsite or via streaming.
"Having something like this would have been a miracle for me in my earlier life to help develop my talents," says Colombini, who is also a real estate developer (he owns the Music City building), minister, and philanthropist. "We want Music City to be a petri dish for artists to create a new music scene, an accelerator for musical talent to grow. The accelerator happens to be an incubator where you squeeze people together. When you accelerate and squeeze them together, you get a bang. A tick, tick, boom!"
Today, Music City offers a hotel with music-themed rooms inspired by prominent Bay Area performers. (Deadheads can mellow out in the Grateful Dead room; head-bangers can bunk in the Metallica room.)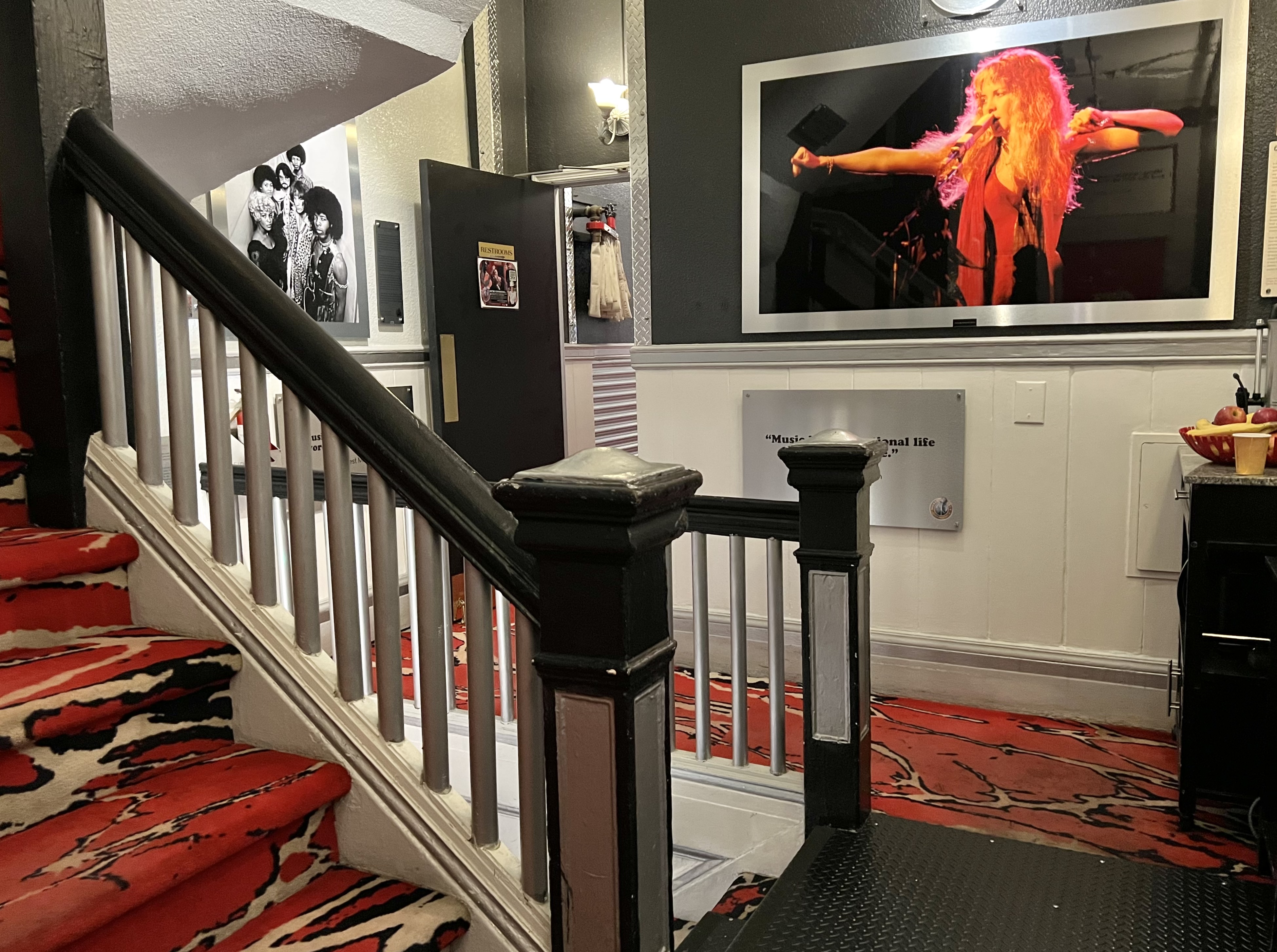 Stevie Nicks strikes a pose in one of Music City's many iconic photos. | Photo by Dorothy O'Donnell/Hoodline
The hallways of the two-story hotel also serve as the San Francisco Music Hall of Fame. Some 90 interactive installations featuring iconic Bay Area bands and solo artists line the walls of the informal gallery. There's a strong presence of musicians who rose to fame in the 60s when San Francisco was the epi-center of the counterculture revolution. Think Janis Joplin, the Jefferson Starship, the Grateful Dead, and Sly and the Family Stone, among others. Current rockers like Green Day are also in the mix. So are numerous rappers, including MC Hammer and Tupac Shakur (2Pac). Folk singers such as Joan Baez and pop sensations Sheila E. and The Pointer Sisters also grace the walls.

The installations feature dramatic blown-up photos of each group or performer, accompanied by descriptions penned by Rolling Stone journalist Ben Fong-Torres and other well-known music writers. You can listen to samples of their music and take an audible self-guided tour of the gallery with your phone. Or join long-time San Francisco resident and tour guide Blandina Farley, a singer herself, who shares tales about the musicians showcased in the gallery.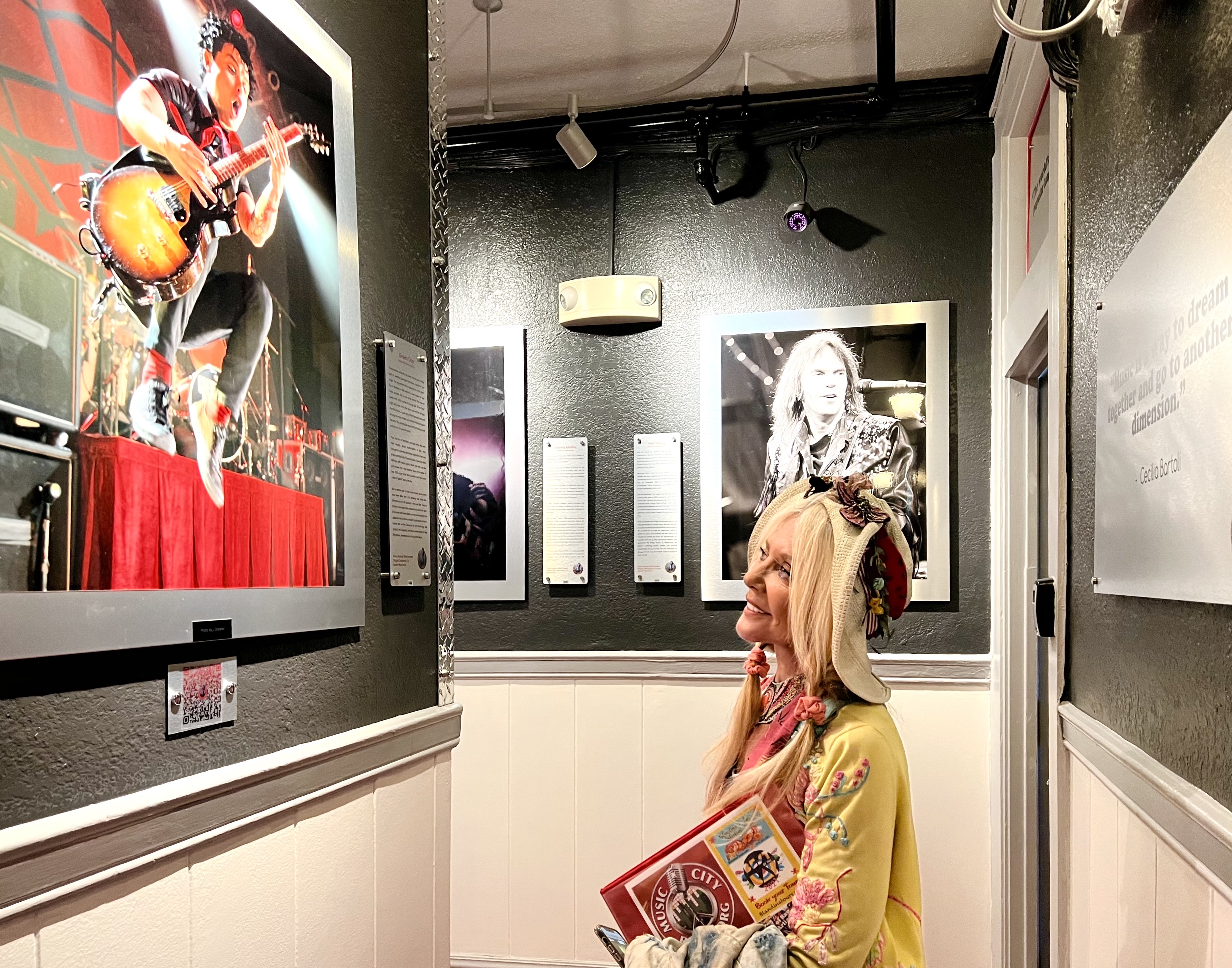 Tour guide Blandina Farley checks out a photo of Green Day's Billie Joe Armstrong catching air during a show. | Photo by Dorothy O'Donnell/Hoodline

"People on the tours sometimes tell stories about their personal connections with the artists or their experiences seeing them in concert," says Farley. "I love it when that happens."
Her tour is included with the $12 Hall of Fame admission fee. It wraps up with a stroll through the surrounding Polk Street neighborhood with pitstops at historically significant music sites, such as the former Avalon Ballroom — now office space — where Janis Joplin first performed with her band Big Brother and the Holding Company.
Construction on three more floors in the Music City complex is in full swing and due to be finished before year's end. While Music City already has one rehearsal room, upon completion, the new section will feature 23 "plug-and-play" studios, interspersed with galleries for permanent and rotating exhibits.
"You'll be able to check out an exhibit, then walk next door where a band might be rehearsing their next album in a studio," says Colombini. "This is about past, present, and future coming together."
The expanded Music City will also have four venues for shows, bars, and a Mexican restaurant. Outdoor concerts and other events are planned for the revitalized Fern Alley, which runs behind the building.
Music City is located at 1353 Bush St. The San Francisco Music Hall of Fame is open daily from 11 a.m. to 8 p.m.; tours take place each day at 4 p.m. For more information, visit sanfranciscomusichalloffame.com or musiccitysf.org.