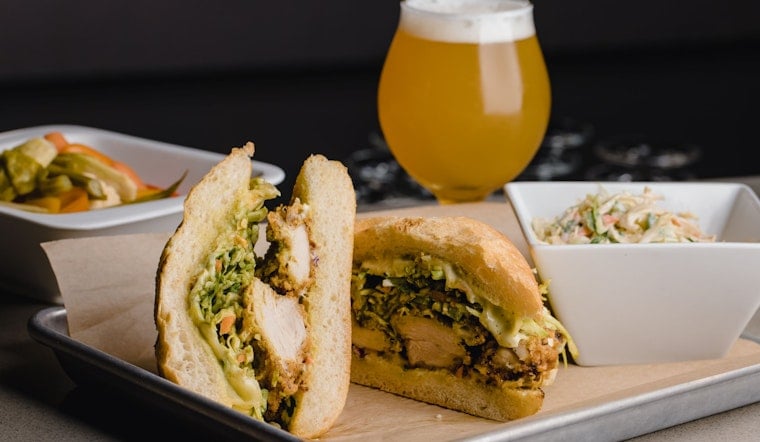 Published on May 24, 2022
Fermentation Lab, the San Francisco gastropub that's beloved for its pickled foods and occasional strong brews, will expand from its 6,000-square-foot mid-Market location and open another eatery in Japantown soon.
The restaurant — which makes a wide array of in-house pickled products, like coleslaws, pickle spears, and fermented onion rounds — opened in early 2017 at its current 1230 Market Street address. Since then, the large downtown go-to for all things fermented has enjoyed ongoing popularity and favorable reviews from local media.
Following the first location's success, Fermentation Lab is now expected to debut a second restaurant in Japantown before the year's end, which will double as a place where "people feel at home."
"Everyone thinks I'm crazy for opening another place in the city when [the pandemic] has been so hard," Jeannie Kim, one of two partners behind Fermentation Lab — the other being Jakub Przybyszewski — said to the SF Business Times. Kim discussed the mid-Market area and its struggles amid the opioid and homelessness crises, and the absence of foot traffic from the Dolby headquarters and Twitter, now that most of those employees work remotely. "I just saw an opportunity, and it's really important for me to create a space where people feel at home."
The future Japantown space at 1700 Post Street has housed many businesses over the years — including a Denny's location and, more recently, a Japanese restaurant that permanently closed before the pandemic began. It's also been sitting vacant now for three years, but Kim negotiated a deal with the landlord.
Kim is also the owner of SAMS American Eatery, next door to Fermentation Lab at 1220 Market Street; it's been temporarily closed for a while for ongoing renovations. The no-frills, down-to-earth diner is expected to reopen as early as June.
Kim notes that the new location could expand to include international dishes prepared with fermentation. The original Fermentation Lab in downtown SF features a wall of pickled treats greeting customers, reminding patrons of the health benefits associated with this type of food preservation — "there's a lot of goodness and healthiness in fermentation," Kim said. It's unclear if the unique design will be echoed in the Japantown eatery.