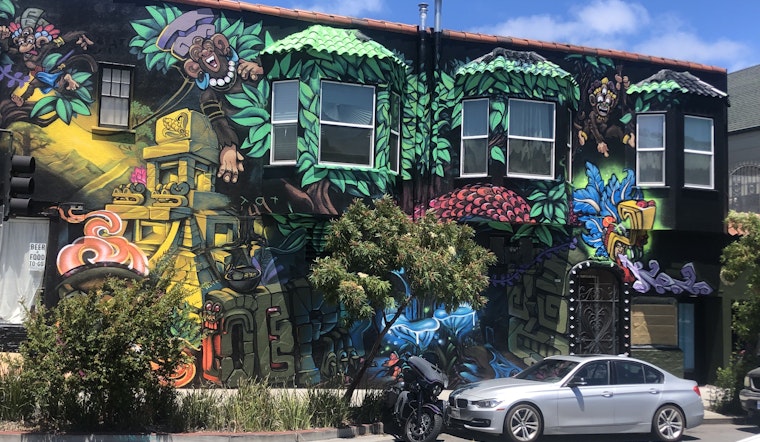 Published on July 06, 2022
Passersby might be noticing some real monkey business lately on Cesar Chavez Street just north of the 101 overpass. A giant, block-long mural covering two sides of a corner building is a current work in progress, and depicts monkeys frolicking amidst Latinx and Indigenous cultural artifacts.
The mural is not a coincidence. It heralds the arrival of a new cannabis dispensary in the building, a dispensary called Poncho Brotherz.
Poncho Brotherz is a family-owned cannabis company with several Bay Area-born brothers sharing the business. But no, their last name is not actually "Poncho." "Anybody who's going to be coming into our dispensary can be a Pancho Brother," Poncho Brotherz co-owner Isaac Tapia tells Hoodline. "We want to basically invite anyone to join the tribe"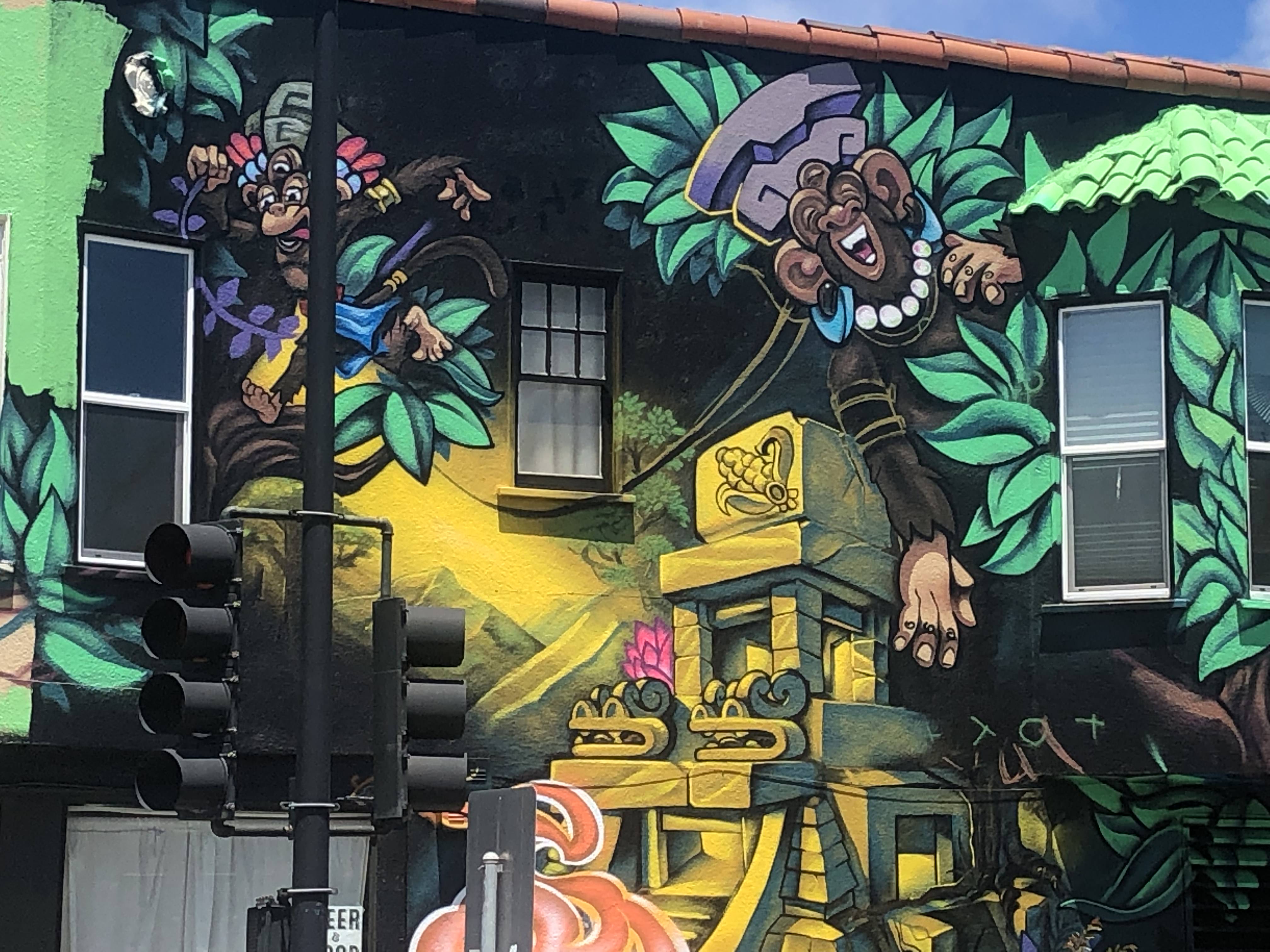 Image: Joe Kukura, Hoodline
Poncho Brotherz is actually already an existing licensed California cultivator, with a 104-acre farm in southern Humboldt County. And they'll be selling flower grown there under their Poncho Brotherz label.
But they drew the interest of Mission District neighborhood association Calle 24 Latino Cultural District, particularly for their interest in reestablishing forgotten legacy strains and cannabis genetics from Jamaica, Malawi, or Mexico.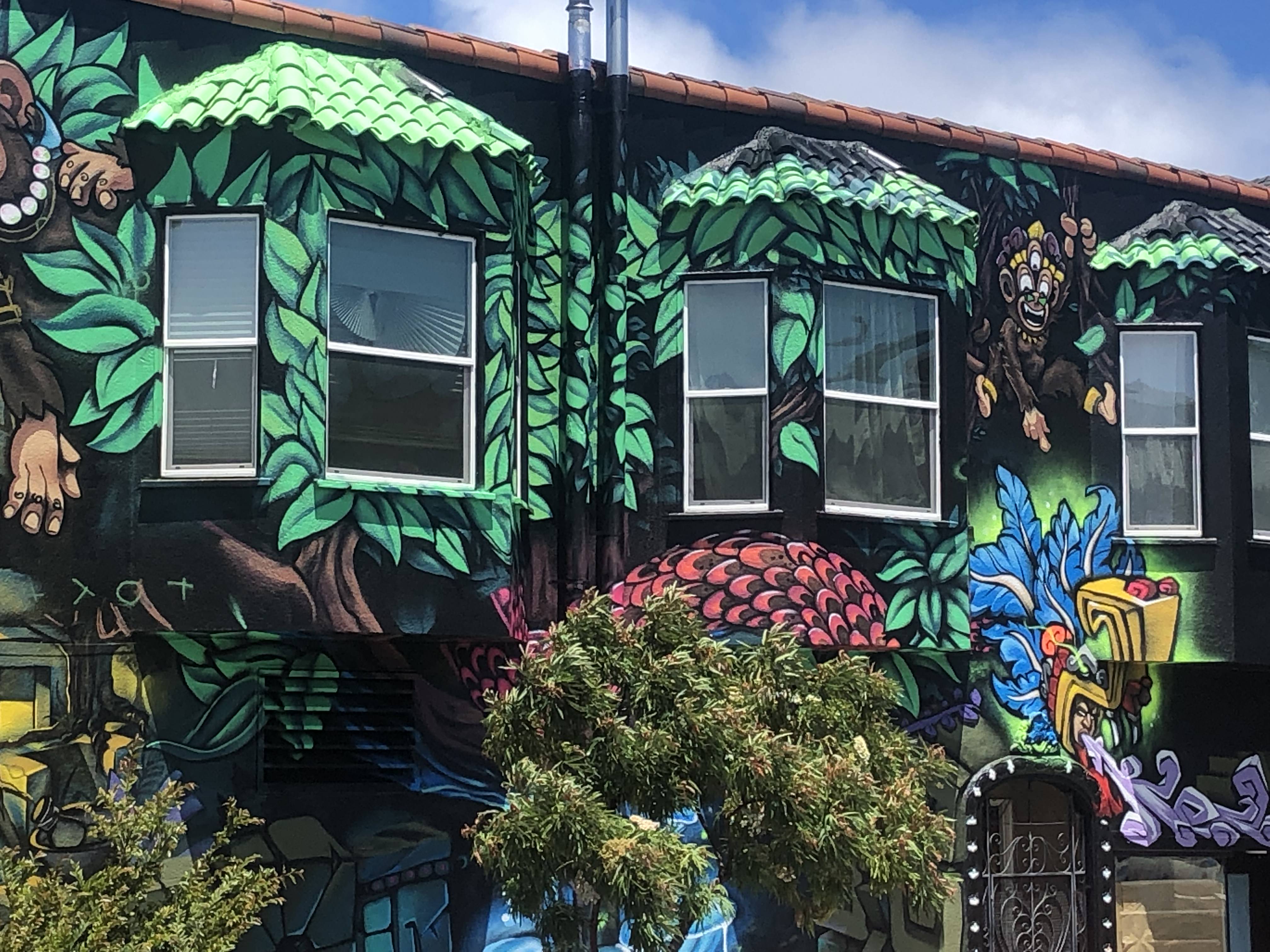 Image: Joe Kukura, Hoodline
"These are real exotic strains that we'll be having, and will make us stand out," Tapia explains. "Having a strain like Oaxacan Gold, no other dispensary at all, in California or the United States, will have pure Oaxacan Gold seeds."
Poncho Brotherz is a locally owned equity dispensary, but committed to reestablishing Indigenous and Latinx cannabis cultures as well as representing modern equity day ownership in the corporate cannabis era.
"The people who have suffered the most harms should be the ones with the opportunity in the retail space," co-owner Ed Brown tells Hoodline. "That really didn't happen."
Poncho Brotherz expects to soft-open in late July (delivery only) before a full opening in early August. They may become a model of how local, equity ownership can work, but they may also be a model for how to make cannabis dispensaries small a little less skunky.
"We'll have the fragrances of lavender, rosemary, flowers that have jasmine and different vanilla elements," Tapia tells Hoodline. "That provides a psychic protection around the neighborhood, and we want to provide that."