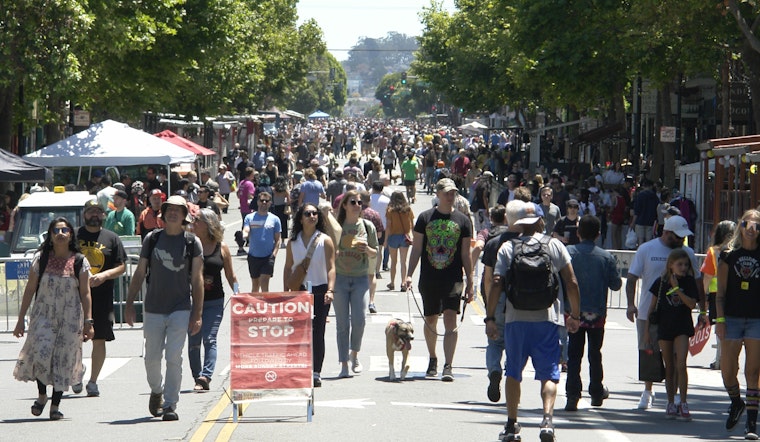 Published on October 14, 2022
For the second time this year, Sunday Streets SF — an initiative of the non-profit Livable City that's goal is to host programs that show the benefits of car-free spaces — will host another Phoenix Day event this Sunday, featuring eleven "Family Fun Hub Destinations" and a citywide scavenger hunt.
Many SFMTA-managed Slow Streets corridors have become "neighborways" to allow for more vehicle traffic. But Sunday Streets SF, which hosts regular car-free road experiences that include community, family-friendly events, is here to remind San Franciscans that creating pedestrian-only roadways has multiple benefits beyond safety.
The nonprofit's Phoenix Day event is the culmination of all these upsides — and there will be yet another one this upcoming Sunday, October 16.
"Sunday Streets is San Francisco's open streets program that transforms miles of city streets into car-free community spaces for kids to play, seniors to stroll, businesses and organizations to connect, and neighbors to meet," reads an Instagram caption from the nonprofit, announcing this weekend's Phoenix Day event.
View this post on Instagram
For its second iteration this year, Phoenix Day will include eleven "Family Fun Hubs" that span the gamut of activities, which include bounce houses, kayak expeditions, live music, and much more. Below, is a full list of locations where these hubs will be hosted:
21st Street between Florida and Bryant streets
Bella Vista Way between Arroyo Way and Teresita Boulevard
Cherin's Lot at the corner of 18th and Valencia streets
Ellis Street between Jones and Taylor streets
Faxon Ave between Ocean and De Montfort Avenues
Golden Gate Avenue between Jones and Hyde streets
Grant Avenue between Sacramento ad Washington streets
Hawes Street between Hunters Point Boulevard and Innes Street (by India Basin Park)
O'Farrell Street between Fillmore and Steiner streets
Sanchez Street between Clipper ad 26th streets
Valencia Street between 15th and 16th streets
Community block parties — which will be held at "17th Avenue between Lawton & Moraga Street, Cecilia Avenue between Taraval & Santiago St, Clayton Street between Grove St & Fulton St, Lyon Street between Fulton & Grove St. Page Street between Fillmore and Webster St'' — will also be hosted through the day's activities. Various food vendors and local restaurants will also be participating in the event; Noe Cafe is offering Phoenix Day-specific specials, for example.
And for the scavenger-hunting inclined, look for an emblem of a burning phoenix backdropped by gray at local businesses to collect fog and gold buttons or stickers.
Family Fun Hubs and community happenings (that include a drop-in science workshop at 4458 Mission Street) begin as early as 10 a.m. with most of the day's events wrapping up before 6 p.m.; for more information on this Sunday's Phoenix Day, visit sundaystreetssf.com/phoenixday.