One of the early craft distilleries to gain traction in the Bay Area, Hangar 1, whose tasting room on the old Naval Air Station on Alameda Island has been a popular tourist destination for the last decade, is closing up shop and taking its production to an undisclosed location elsewhere in the region.
The Chronicle reported on the closure Monday, noting that the company has decided to abandon the former airplane hangar it has called home for the past five years, opting to relocate production to a "partner distillery" that is so far unnamed.
A spokesperson for the brand, Marissa Sturm, said in a statement, "This has been a difficult decision for the team but unfortunately it is required to meet the changing needs of the business. Hangar 1 Vodka will continue to be made at our partner distillery in the Bay Area, using the same production methods and ingredients."
The last day for the tasting room will be December 18, and there is still a schedule of events happening before then — including one final Drag Queen Bingo the night before, December 17.
The Hangar 1 brand has not been locally owned for eight years, as the Chronicle notes. Originally founded by St. George Spirits' founder Jörg Rupf and master distiller Lance Winters in 2002, along with Ansley Coale of Germain-Robin, Hangar One as it was originally branded came into being after Rupf and Winters decided to apply what they'd learned about imparting pure fruit flavors to their eaux de vie to flavored vodka. A popular craft vodka brand was born, and helped propel St. George Spirits to greater notoriety. Rupf and Winters moved their operation into a 65,000-square-foot hangar in Alameda in 2004, soon opening a tasting room featuring the vodkas, their varieties of eau de vie, and a growing portfolio of spirits, including the country's first legal absinthe in a century.
By 2010, they would sell Hangar One, and the following year they launched their popular trio of gins — Botanivore, Dry Rye, and Terroir — that continue to be leaders in the craft category, as well as Breaking & Entering Bourbon. The Hangar One brand was sold to New Jersey-based Proximo spirits, which also produces Three Olives Vodka, and Rupf and Winters agreed to produce Hangar One products on Proximo's behalf for the next four years.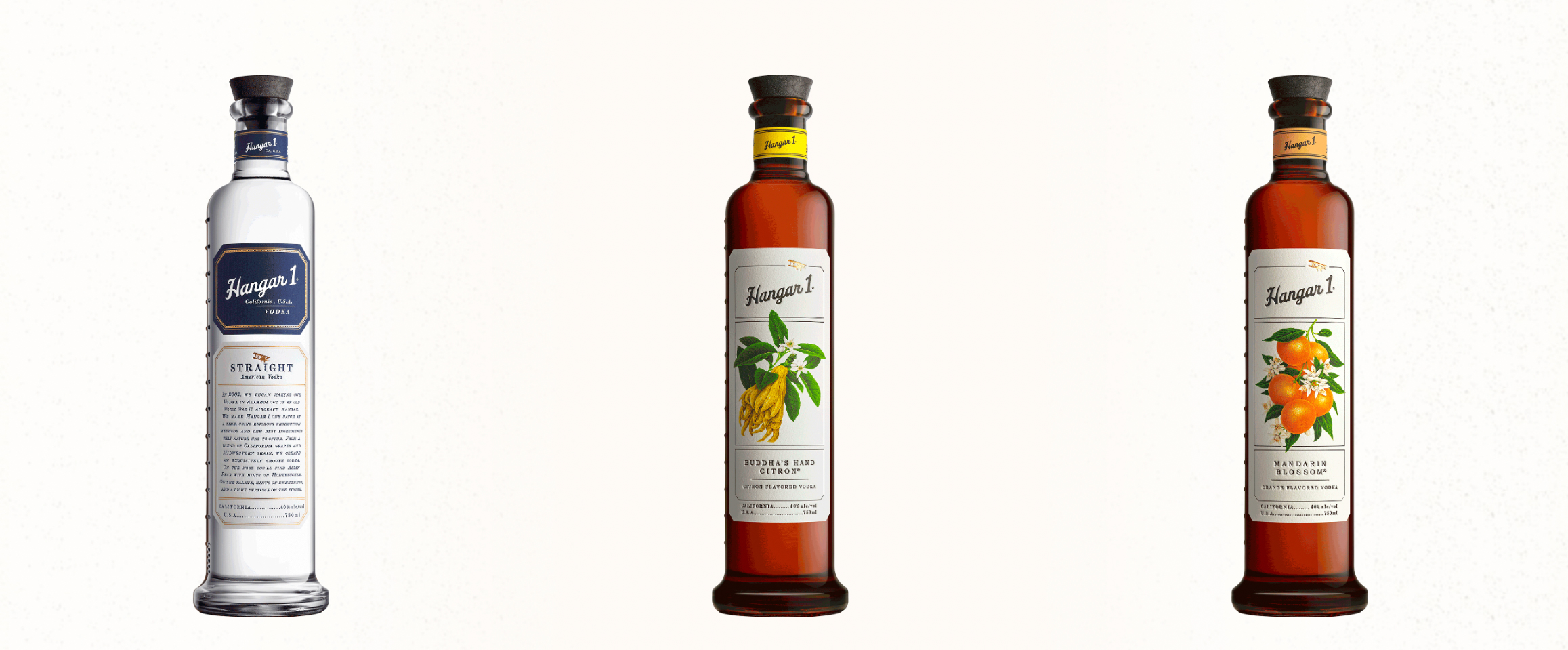 Hangar 1's bottles after the 2017 rebrand.
In 2014, Proximo fully took over the operation, and three years later, in 2017, they opened a tasting room and production facility directly next to St. George's facility, at 2505 Monarch Street, in another airplane hangar.
The Chronicle notes that by moving, the brand is divorcing itself from its airplane-hangar brand roots, but that may not matter at this point.
It is a loss, though, for local fans of the tasting room as a bar and social space.