Sad news for fans of post-its, manila folders, cheap monitors, and those who occasionally require a custom print job. After 21 years of big-box office supplies sales at Harrison and 14th Streets, the South of Market OfficeMax at 1750 Harrison Street has permanently closed.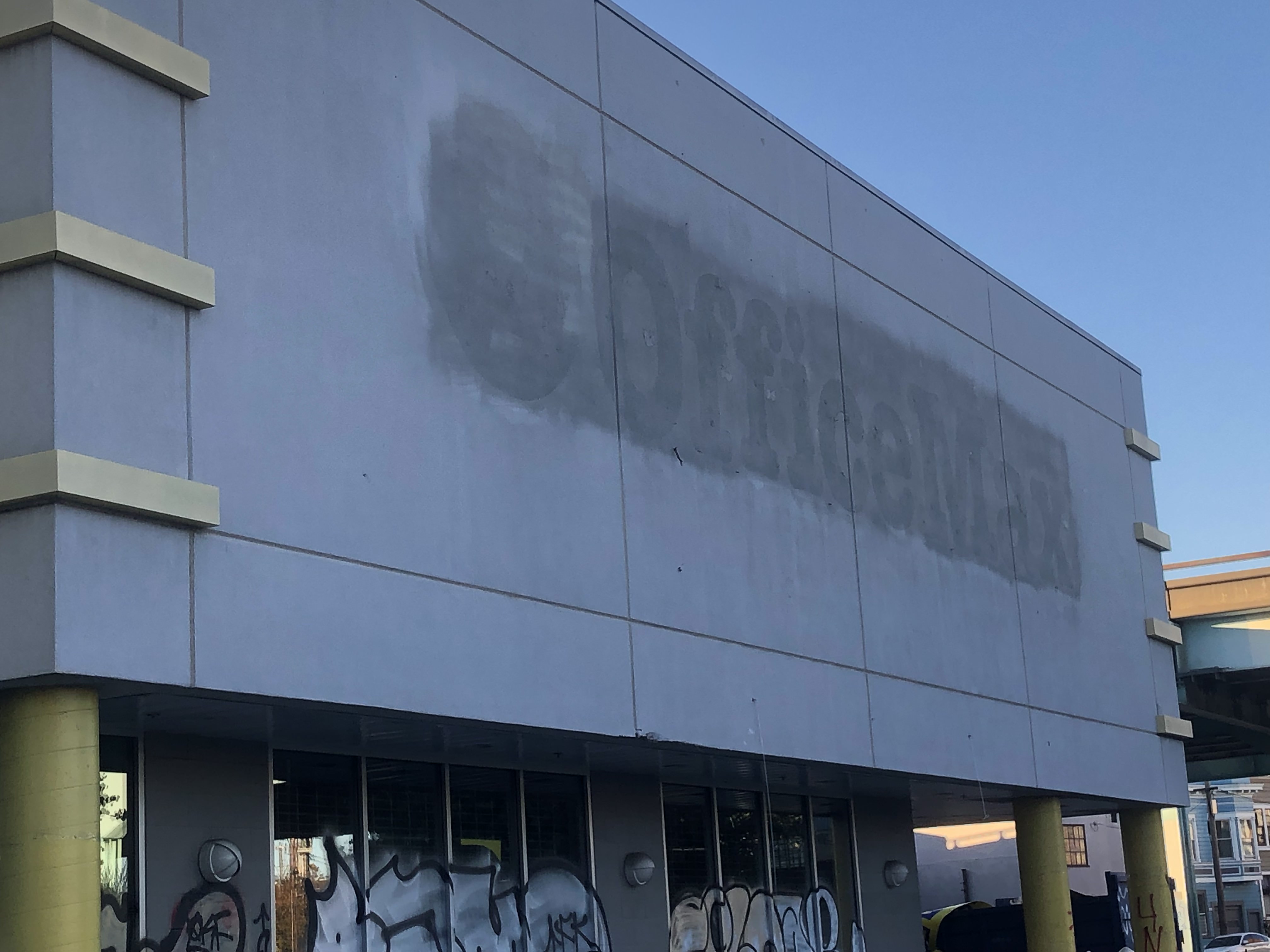 Image: Joe Kukura, Hoodline
Hoodline popped by Sunday, only to find the place locked up, signage ripped down, with all that's remaining being the vague outlines of the words "OfficeMax" and a dumpster full of busted crates and no-longer-needed banners. This is an ex-Office Max.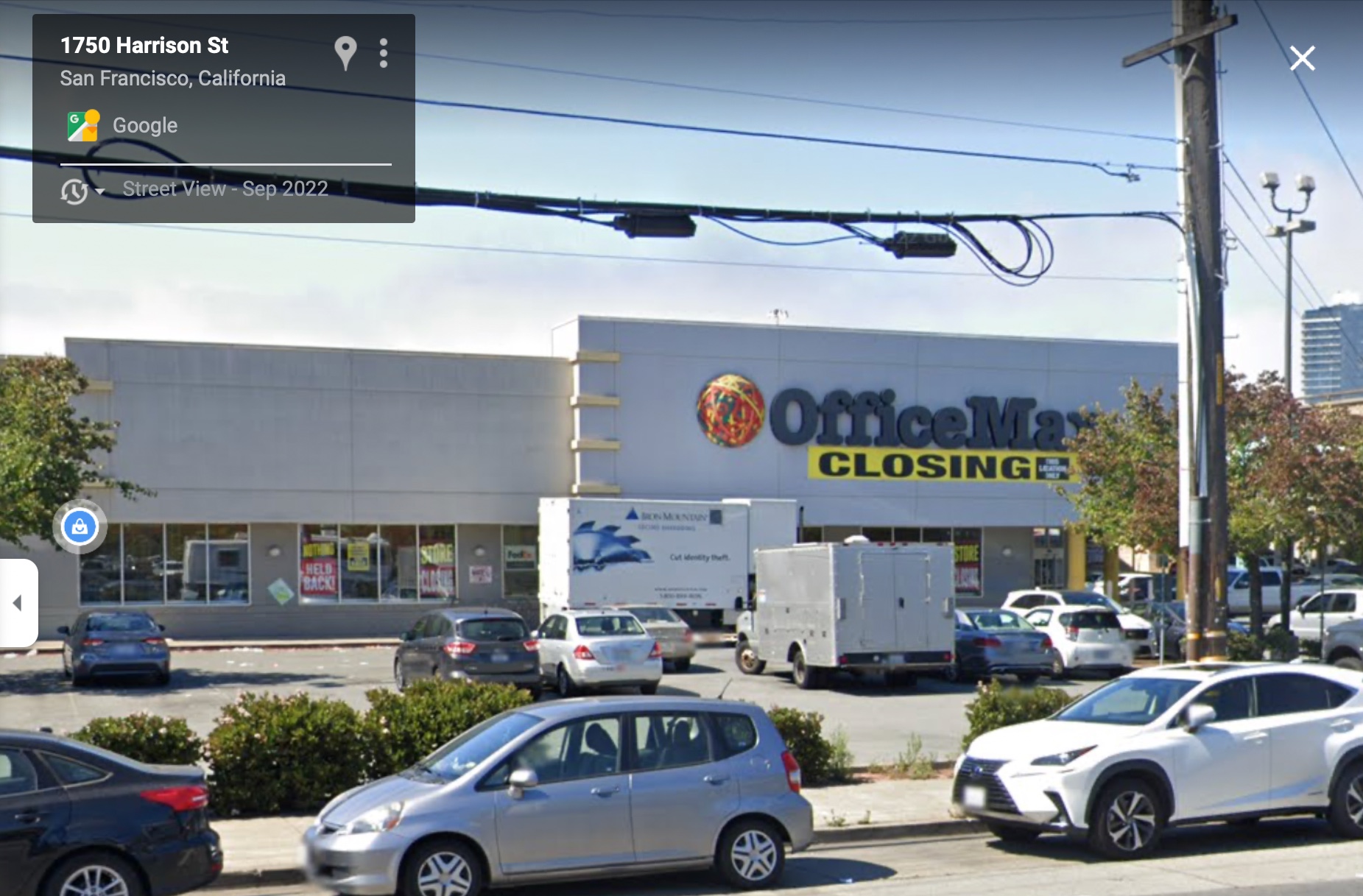 Screenshot: Google Street View
But it's not an unexpected development. Per the Google Maps screenshot seen above dated September 2022, the Closing banner was clearly already posted two months ago.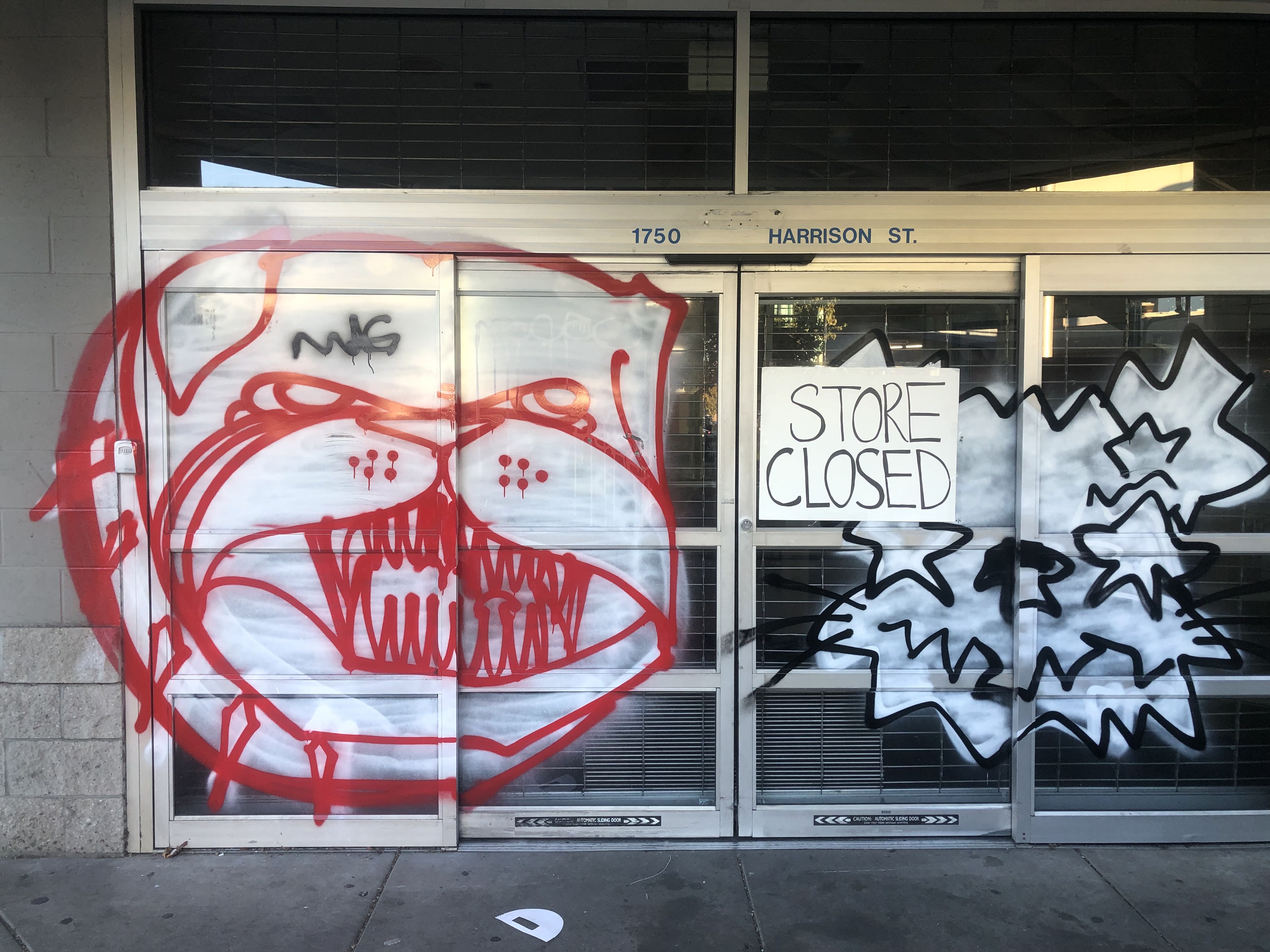 Image: Joe Kukura, Hoodline
As of this weekend, a hand-written "Store Closed" sign is taped to the locked doors, and taggers have clearly had their way with the exterior.
After 21 years of serving San Francisco expensive ink cartridges for last-minute deadlines, the Harrison St OfficeMax will close its doors tomorrow. (I also asked the liquidators & the rubberband ball IS available.)

I'd like to share some of my favorite memories from OfficeMax. pic.twitter.com/SbmKwFvDUO

— Danielle Baskin (@djbaskin) November 13, 2022

The closure apparently happened this weekend, according to noted performance artist Danielle Baskin, best known for pranks like putting a Spirit Halloween store banner on an empty Google office and promoting Twitter blue checks painted on houses.
"I have memories of going there with a friend to search for something, but there were always issues, they didn't have it," Baskin tells Hoodline. "They didn't have my printer's ink cartridge, or the paper ended up being $40 and I wasn't happy about it. I never really liked it for its things, but I always really enjoyed being there."
"Maybe that has to do with a childhood nostalgia of shopping for school supplies at OfficeMax," Baskin adds. "There's something about being in a store full of supplies that feels really inspiring, like the smell of pencils, being surrounded by things that could help your productivity. And being in an empty store of that stuff feels sort of dreamlike. I always felt happy in the OfficeMax."
In 2019, I attended a wedding in OfficeMax. Very few people know about this party venue. It's centrally located and always empty. Friends married and exchanged vows with a variety of office supplies in the back aisle. We had cake too! There's lots of shelf space. 💍📎🖨 pic.twitter.com/ZKCzhaqHLg

— Danielle Baskin (@djbaskin) November 13, 2022
That OfficeMax was not immune to Baskin's pranks. "I hosted something called Ephermaisle," (a parody of another event called Ephemerisle ) Baskin tells us. "It was a celebration of big-box stores. It was a group of 30 of us, we went to Costco, OfficeMax, Party City, and PetSmart, and did different fun activities there. It was a roaming party through the big box stores."
"At OfficeMax in particular, we had a wedding where everyone had 10 minutes to choose an office supply to get married to," she says. "Someone married bubble wrap, someone married a cash register. But then we just hung out there."
"That OfficeMax was always empty," Baskin remembers. "It was a nice place."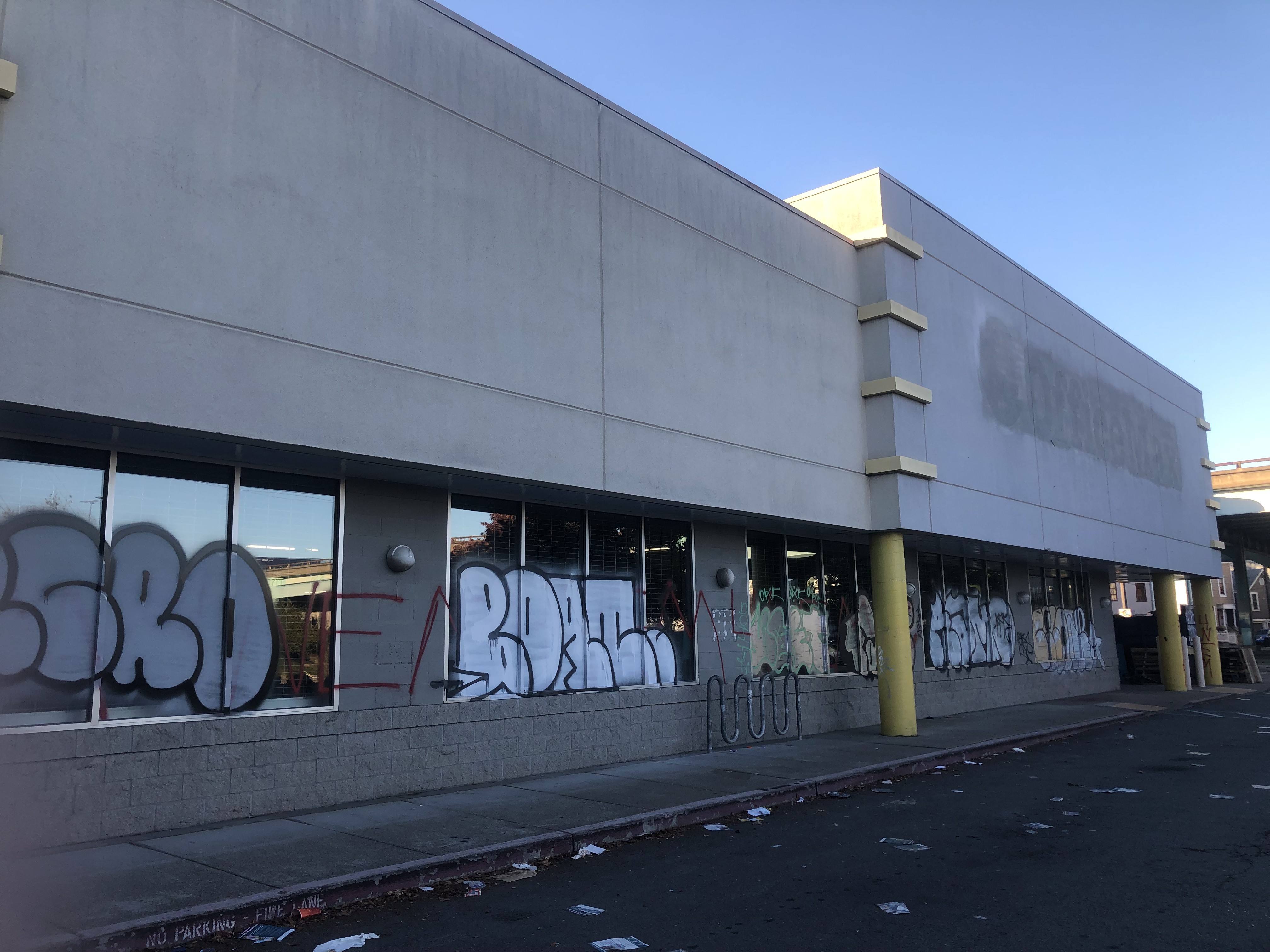 Image: Joe Kukura, Hoodline
With the death of this store, there is now no longer an Office Max in San Francisco. But there are still two Office Depots (33 Third Street and 3700 Geary Boulevard), and they're essentially the same as an Office Max. Office Depot acquired OfficeMax in 2013.