Published on April 21, 2023
The Thomas Fallon statue in San Jose that has been stirring up controversy for well over 30 years is now being torn down. It was installed at West Julien Street and St. James Street in 2002, but people have been angry about it since it was commissioned without public input in 1988 by former Mayor Tom McEnery.
The 12,000-pound, 16-foot bronze statue was created but delayed and then sat in storage for over a decade before it went up. It displays Captain Thomas Fallon during the 1846 Bear Flag Revolt raising an American flag in San Jose after taking control of the land from the Mexican government.
"It's like having a statue of a tyrant in the middle of San Jose. We're trying to move forward from this, not move back," a member of the Muwekma Ohlone Tribe told NBC Bay Area.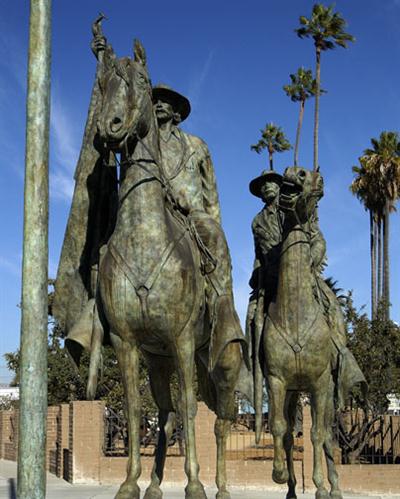 Photo Credit: City of San Jose
The statue is said only to be worth $6,000, and ripping it down is not going to be a quick and simple job. It's going to cost $450,000 to pull it down and get it into a storage facility. According to the Mercury News, "the dismantling costs include blocking off the road for traffic, jackhammering the concrete foundation, utilizing a crane, transporting the statue, then cleaning up and repairing the disfigured site." The statue has been a point of contention since its inception, and frustrations finally reached a boiling point during the protests following the George Floyd murder in 2020. The city council voted to tear it down in November.
It's a huge victory for the Muwekma Ohlone Tribe and several others in California. "The Fallon statue represents a time in our history that was brutal for us Native Americans and the Mexican communities that were living here along with us. I think history needs to be told right, so I wouldn't want this statue to be removed and forgotten. That statue needs to be placed somewhere where that history is shared, both histories are shared, right? A symbol that reflects all of the people in the Bay Area ought to be put in its place," Charlene Nijmeh, Chairwoman of the Muwekma Ohlone Tribe, told ABC7.
So far, there are no plans for a new statue. The removal will be done by May 4th, and crews will install a traffic median in its place.