In an out-of-the-box attempt to attract and engage a younger demographic, BART has unveiled five cool anime mascots in the hopes of promoting public transportation use among young riders, and fans of the popular Japanese art form, according to an official article posted on BART's website. This imaginative initiative comes on the heels of an open call in Summer 2022 for California-based artists, which received nearly 500 submissions, to design creative and entertaining mascots that embody the spirit of BART and the Bay Area.
Taking inspiration from public transportation agencies in Japan, South Korea, and Taiwan, which have effectively employed anime mascots to connect with communities and riders, the BART-themed mascots were ultimately conceptualized to reflect the remarkable relationship between BART, its frontline employees, and the Bay Area. Ranging from an anime goat to a friendly R2-D2-type character, the mascots draw inspiration from local Bay Area icons, including the Harris hawk employed to scare away pigeons and the grazing goats that chomp down on overgrown BART properties, as well as the hardworking BART train operators themselves.
This weekend will mark the official debut of BART's anime mascots at the much-awaited FanimeCon 2023, Northern California's largest anime convention, taking place at the McEnery Convention Center in Downtown San Jose from May 26 to 29. Hosted by fans and designed for fans, FanimeCon stands as a testament to the ever-growing popularity of anime and Japanese culture, drawing in a diverse range of events and guests, such as cosplayers, content creators, costume makers, and voice actors.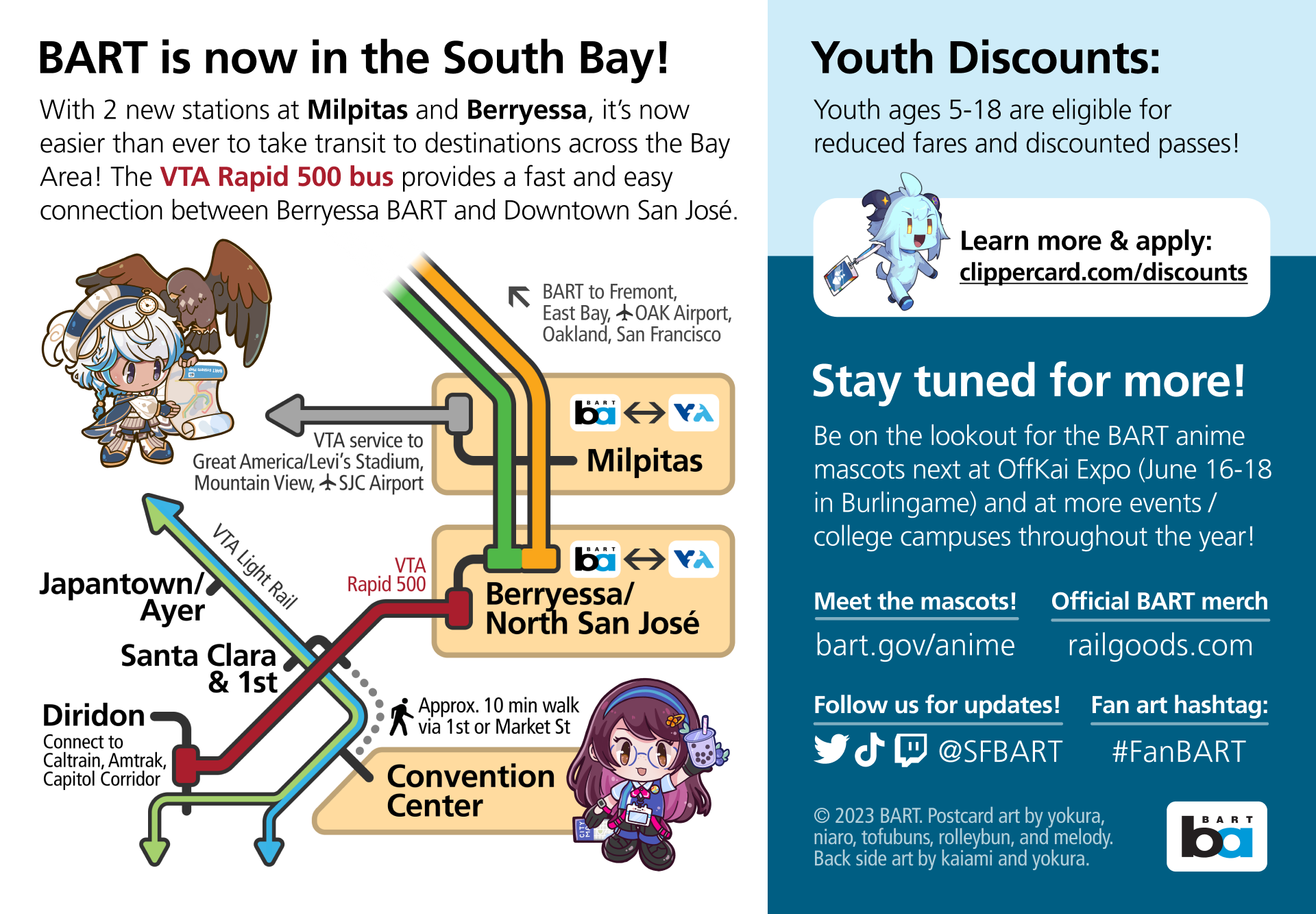 (BART)
BART will be tabling at the convention, making full use of this unique opportunity to engage with a young and enthusiastic audience by handing out BART-themed anime merchandise, promotional tickets, collectible charms, postcards, and more, as detailed in the NBC Bay Area news report. By creating approachable, vibrant, and fun avatars for BART, this move is aimed at establishing a friendly relationship with potential young riders, who are fast emerging as a reliable and growing demographic for public transportation usage.
The BART initiative highlights the significance of embracing anime as both a marketing tool and a cultural phenomenon, particularly when it comes to appealing to the youth. Aligning with popular culture trends and leveraging the expansive reach and influence of the anime community across the globe, BART's new mascots open up a world of opportunities for the public transportation system to connect with younger riders in a fun and engaging manner.