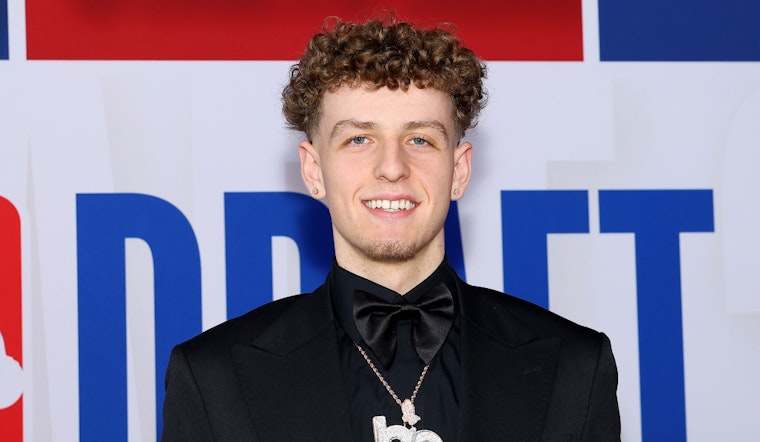 Published on June 22, 2023
The Golden State Warriors welcomed Brandin Podziemski, the skilled sharpshooter from Santa Clara, to their team as the newest member of Dub Nation after selecting him with the nineteenth overall pick in the 2023 NBA Draft, as announced on the official Warriors Twitter account.
The newest member of Dub Nation, Brandin Podziemski 👋@HPE || #DubsDraft pic.twitter.com/RzeNidiFZ1

— Golden State Warriors (@warriors) June 23, 2023
Before the draft, speculation about the Warriors picking Podziemski had been gaining steam, as reported in a Golden State of Mind article. According to ESPN draft expert Jeremy Woo, who appeared on the Brian Windhorst & The Hoop Collective podcast, Podziemski's pre-draft performance and potential to contribute immediately in the NBA made him an attractive option for teams like the Warriors, Los Angeles Lakers, and Miami Heat, who were all drafting high relative to their on-court success.
Podziemski, a 6'5" shooting guard, began his college basketball career at Illinois, where he barely played off the bench as a freshman. He transferred to Santa Clara for the 2022-23 season, where he became a star player, averaging an impressive 19.9 points per game while shooting 43.8% on three-pointers. Alongside his scoring power, the 20-year-old also showcased impressive basketball instincts, averaging 8.8 rebounds and 1.8 steals per game with Santa Clara.
Mock drafts and analysts had varying opinions on where Podziemski would land in the draft. ESPN's Jonathan Givony projected the Warriors selecting Podziemski in his latest mock draft, emphasizing his strengths in shooting, passing, and pre-draft performance, which in Givony's view, helped him climb solidly into the first round.
Meanwhile, The Ringer's Kevin O'Connor ranked Podziemski as the twenty-fifth best player entering the draft, praising him as a "knockdown shooter off the catch" and an "outstanding rebounder" with a magnetic feel for tracking the trajectory of boards. However, O'Connor also noted his shortcomings, such as a slow first step that made it challenging to create advantages off the dribble against lengthier defenders. Sam Vecenie of The Athletic was slightly more conservative in his evaluation, ranking Podziemski at number forty-two, citing concerns about his size and athleticism potentially hindering his ability to compete at the NBA level.
Ultimately, the Warriors decided to put their faith in Podziemski's undeniable offensive talent and strong pre-draft performance. It's worth noting that this selection marks the first move by newly-minted general manager Mike Dunleavy Jr. since taking over the top spot in the Warriors front office. It remains to be seen whether there will be any corresponding moves or if the selection of Podziemski will herald an open competition for playing time amongst the team's young guards.
The addition of Brandin Podziemski to the Golden State Warriors roster marks a new chapter for the team and the player himself. As he adapts to playing in the world's most competitive basketball league, fans and experts alike will be watching closely to see whether Podziemski can contribute right away and make a difference for a championship-caliber team like the Warriors.