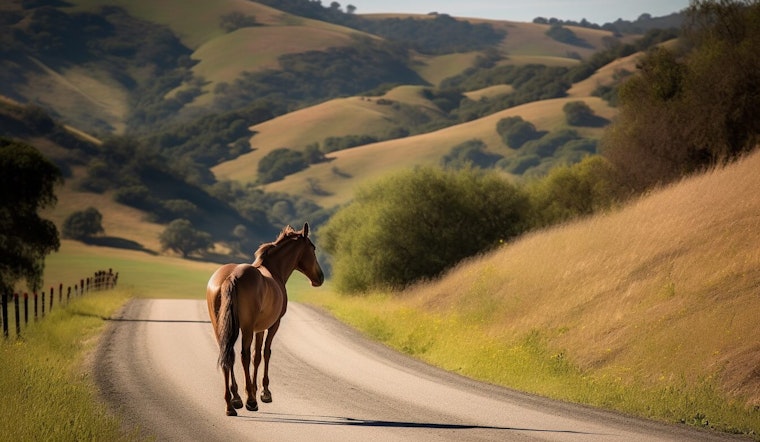 Published on June 06, 2023
The quiet community in San Geronimo Valley in Marin County was shaken by the news of an elderly man's suspicious death, discovered with a severe head wound near Wild Iris Road and Sir Francis Drake Boulevard. Although initially thought to be caused by a high-powered firearm, further investigation by authorities revealed a potential culprit of a completely different nature - a horse, according to KTVU.
The victim, 83-year-old Richard Helzberg, was found on the ground on Friday evening in the area as reported by CBS San Francisco, raising alarm due to the severity of his injuries; he was promptly transported to the Marin Health Medical Center, where he was pronounced dead upon arrival. Initially, the medical staff believed that the cause of his gruesome head injury was a gunshot, which was quickly dispelled as the investigation unfolded. The Marin County Sheriff's Office later determined the wound to be the result of blunt force, shedding light on a much more unusual scenario.
Following an autopsy conducted on Monday, the exact cause of Helzberg's death was confirmed to be acute craniocerebral trauma, thus dispelling the notion of a firearm as the source and unraveling a new potential cause, one that is even more unexpected. The case lead to the possibility of a kick from a horse, as reported by KRON4 News, as it was found that there were horses in the area where Helzberg's body was discovered. Further investigation is required to make a definitive conclusion, but the presence of horses adds a new twist to this mysterious case. At this time, it remains uncertain what led to the elderly man's proximity to the animals.
In the aftermath of the events and following the examination of the evidence, the Marin County Sheriff's Office shifted its investigation from a "suspicious death" to a possible accident involving a horse per San Francisco Chronicle, as the lack of any witnesses, weapons, or other factors traditionally linked to foul play appears to indicate a tragic accident. Sergeant Adam Schermerhorn, a representative of the Sheriff's Office, explained that the investigation was still ongoing, with the goal of conducting follow-up interviews with neighbors who might provide additional insight into the circumstances leading up to the fatal encounter, but for now, the general consensus points towards a tragic incident rather than any kind of violence or malice.
A complete coroner's report is still pending.