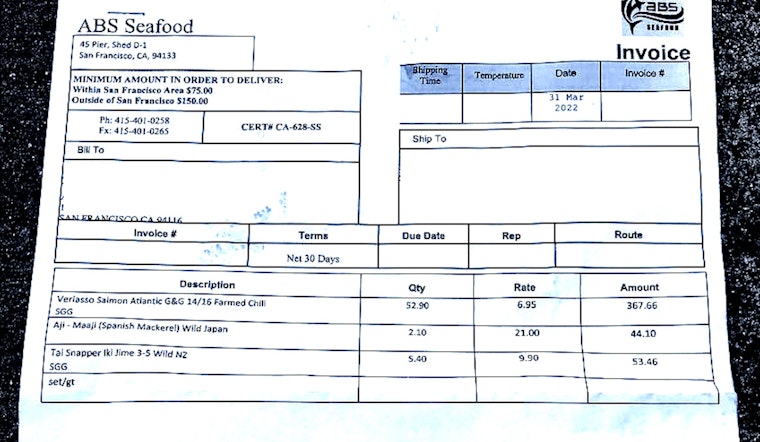 Published on June 02, 2023
Antonietta Nguyen, former Chief Financial Officer of ABS Seafood, a San Francisco-based seafood wholesaler and importer, has been indicted on five counts of wire fraud in connection with an alleged embezzlement scheme involving over $2 million, according to a press release from the United States Department of Justice (DOJ). Nguyen, a 55-year-old resident of Brisbane, allegedly used corporate funds to pay for personal expenses charged to her own credit cards and one issued on behalf of the company.
The indictment details certain illegal purchases Nguyen allegedly made, including luxury items from brands like Louis Vuitton, Hermes Las Vegas and Paris, Goyard, Chanel, and Neiman Marcus, as well as payment of state property taxes, college tuition fees for a relative, and personal travel expenses. She is also accused of falsifying the company's accounting records to conceal her actions. The federal grand jury indictment was filed on May 31, 2023, and unsealed on June 2, 2023.
Nguyen faces a maximum sentence of 20 years, a fine of $250,000, plus restitution for each count of wire fraud if convicted. She was arrested at her home in Brisbane and made her initial federal court appearance before United States Magistrate Judge Sallie Kim, who ordered Nguyen released on a $250,000 bond. Nguyen's next court appearance is scheduled for July 21, 2023, for a status hearing before U.S. District Judge Susan Illston.
Prior to the indictment, Nguyen had filed a lawsuit against ABS Seafood and other defendants in April 2021, as indicated in a court record. The case, filed in San Mateo County Superior Courts, was ultimately dismissed with prejudice on December 15, 2021. Hoodline is currently reviewing additional court documents regarding this case.
ABS Seafood itself has otherwise also become a topic of interested, including a mixed bag of reviews of the company, with clients largely stating that the quality of products and delivery services were satisfactory. One alleged ex-employee accused the business owners of withheld paychecks and other inappropriate behavior in a Yelp! review.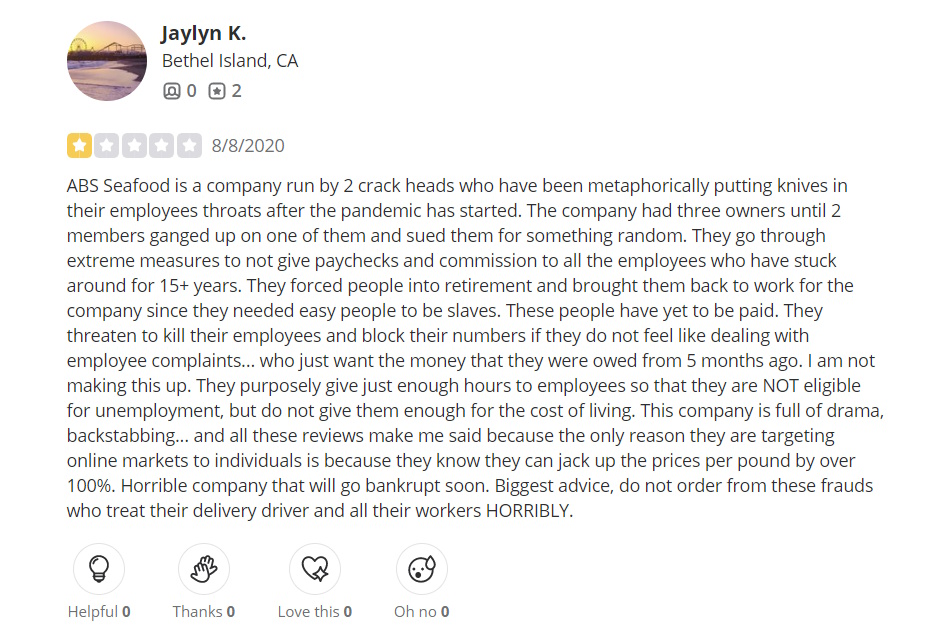 "ABS Seafood is a company run by 2 crack heads who have been metaphorically putting knives in their employees throats after the pandemic has started. The company had three owners until 2 members ganged up on one of them and sued them for something random. They go through extreme measures to not give paychecks and commission to all the employees who have stuck around for 15+ years." - Jaylyn K. / Yelp!
According to the federal indictment, Nguyen's scheme to defraud ABS Seafood allegedly ran from January 2014 to May 2020. She is accused of embezzling approximately $2.7 million in company funds over the course of at least six and a half years. In addition to using company funds to pay for her personal credit card charges, Nguyen allegedly charged personal expenses to her corporate credit card, which were then paid for by ABS Seafood.
To maintain the cover-up of her fraud, Nguyen allegedly booked false entries into the company's accounting software, provided falsified financial reports to the company's other shareholders and tax preparers, and worked with auditors who prepared the company's annual financial statements and tax returns. The indictment alleges that Nguyen's actions ultimately led to financial losses for ABS Seafood, whose bylaws entrusted her as Chief Financial Officer with the responsibility of maintaining the company's accounting records and managing its finances.
Assistant U.S. Attorney Sailaja M. Paidipaty is prosecuting the case with the assistance of Megan Pagaduan. The prosecution comes as a result of an investigation by the Federal Bureau of Investigation (FBI). The case underscores the importance of companies implementing effective internal controls and oversight to prevent and detect financial fraud like the one alleged here, as well as the commitment of law enforcement agencies like the DOJ and FBI to hold individuals accountable for their actions.