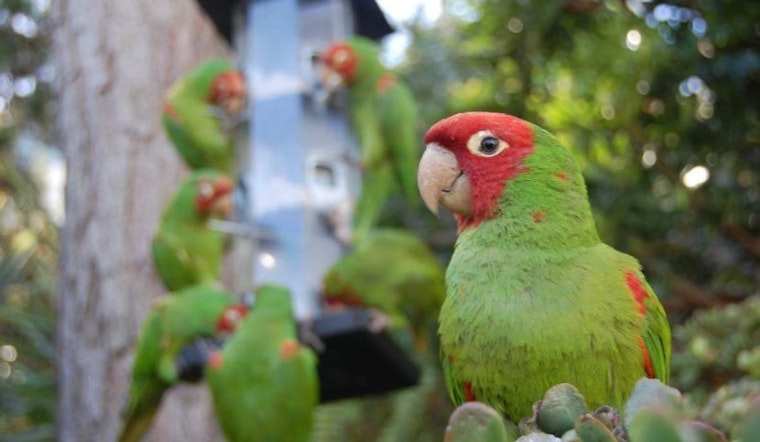 Published on June 14, 2023
The wild parrots of Telegraph Hill have long been an eccentric and vibrant symbol of San Francisco, and now, they have been officially designated as the city's Official Animal. These non-native, stubborn, and colorful birds have made San Francisco their home, reflecting the spirit of its diverse inhabitants and becoming an integral part of its urban landscape.
The process of selecting the Official Animal for San Francisco took over a month, starting with a field of 16 candidates and culminating in a showdown between the wild parrots and the Pier 39 sea lions. In the end, the parrots clinched victory with a narrow 51.3% of the vote, as reported by the San Francisco Chronicle. Both the parrots and sea lions had their supporters, but ultimately, the parrots' unique connection with San Francisco's character won the day.
The wild parrots, a mix of red-masked parakeets and mitred conures, have been a hallmark of San Francisco since they arrived in the late 1980s, most likely as a result of a pet store escape, as mentioned in a KQED article. Over the years, they have established their presence in the city, giving rise to a distinctive hybrid species unique to San Francisco. With an estimated 200-300 wild parrots living in the city today, their presence has become a source of pride and fascination for residents and visitors alike, according to KRON4.
Though the sea lions of Pier 39 were considered a strong contender, ultimately it was the parrots' resilience and adaptability that earned them the title of San Francisco's Official Animal. Despite their non-native status, the wild parrots of Telegraph Hill embody the spirit of San Francisco. They can be found throughout the city, occasionally venturing as far south as Brisbane and Sunnyvale, as noted in another KQED article.
However, the victory of the parrots was not without controversy. The official San Francisco government Twitter account had retweeted a Pier 39 post urging for a sea lion vote, according to the San Francisco Chronicle. This led to protests by parrot supporters, including the influential Telegraph Hill Dwellers Association, and the ensuing backlash contributed to the parrots' narrow win.
Though the wild parrots of Telegraph Hill have now officially earned their place as symbols of San Francisco, it is worth noting that these unique birds face challenges as their population continues to grow. Disease, in particular, poses a threat to these beloved city residents, as evidenced by the mysterious illness that allegedly causes parrots to lose balance and fly into windows, as reported by KQED.
Despite these difficulties, the fact remains that the wild parrots are an enduring emblem of the city they call home. As per the San Francisco Chronicle, Supervisors Myrna Melgar and Aaron Peskin have pledged to support a resolution naming the parrots the official Official Animal of San Francisco, ensuring that their legacy will be celebrated for years to come.