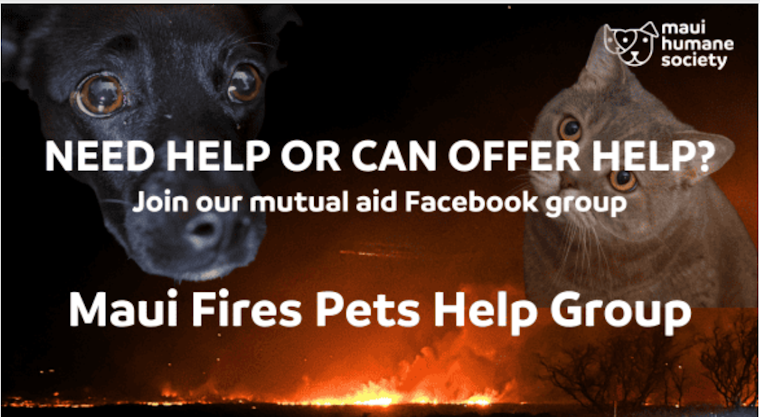 Published on August 19, 2023
In the aftermath of the devastating wildfires that ravaged the island of Maui, a collaborative effort emerged amongst Bay Area shelters to rescue more than 40 shelter animals and provide them with the opportunity to find new homes on the mainland. According to a NBC Bay Area report, the animals arrived at Hayward Executive Airport on August 18th – and though many local shelters are currently operating at capacity, they readily opened their doors to the furry refugees.
The alliance of six local shelters that mobilized in response to the crisis comprises Berkeley Humane in Berkeley, Marin Humane in Novato, Animal Rescue Foundation in Walnut Creek, East Bay SPCA in Oakland and Dublin, Tri-City Animal Shelter in Fremont, and Friends of the Alameda Animal Shelter in Alameda. Together, they have made it possible for the Maui Humane Society to attend to the influx of injured and displaced animals following the wildfires.
Jeffrey Zerwekh, Executive Director of the Berkeley Humane Society, played a pivotal role in organizing this effort. Despite fully occupied shelters, Zerwekh told CBS News that "We're all full with animals already. All [will] take a handful of animals to make a bigger impact." This sentiment was echoed by Steve Ferguson, Operations Director with Friends of the Alameda Animal Shelter. "It makes me feel very proud we don't get into animal welfare other than to save as many animals as we can," said Ferguson.
These animals, which had been sheltered at the Maui Humane Society before the fires, were transported by a coalition of the involved shelters and the Greater Good Charities, ferried by Ameriflight, a national cargo airline. This invaluable effort serves not only to secure safe futures for the relocated pets but also to provide respite for Maui's animal welfare teams, allowing them the time and space to regroup and develop post-disaster recovery programs for affected pets and their owners.
Zerwekh explained that collaborations like this offer valuable opportunities for organizations to come together and better prepare themselves for potential future disasters. He stated, "This is really important work that we do. This also gives us an opportunity as a coalition to come together, so that, if there are more disasters in the area in the future, we are better prepared to support each other."
Each participating shelter will take charge of deciding when their new arrivals will become available for adoption. Those sheltered by the Berkeley Humane Society are slated to be ready for their forever homes during the NBC Bay Area and Telemundo 48's Clear the Shelters event on August 26th. Furthermore, Berkeley Humane will be hosting Bark (& Meow) Around the Block, touted as the single largest adoption event in the state, with animals from Hawaii available for adoption and most fees being waived.