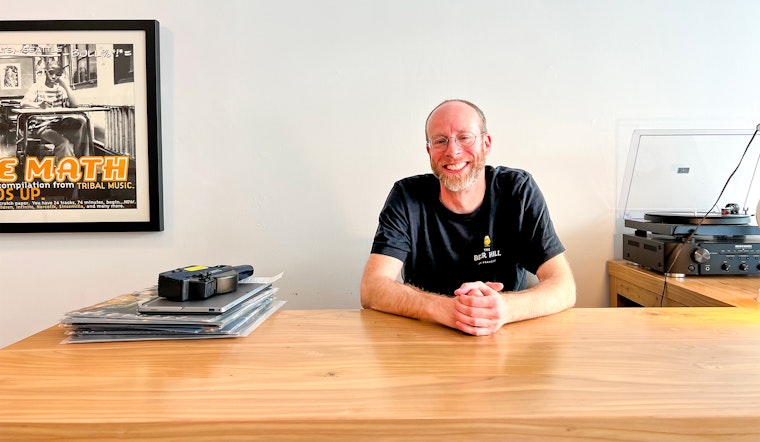 Published on August 01, 2023
A self-described "old hip-hop head," John Bruce, owner of recently opened Cantina Records in North Beach, got bitten by the vinyl-collecting bug back in the nineties. The more he listened to hip-hop, the more he wondered where all the samples his favorite artists incorporated in their music came from.
"I'd hear a hip-hop song, then maybe later listen to a James Brown record and realize 'oh, that's where they got it,' and a lightbulb started to go off," he explains. "A lot of my interest in collecting started with that."
His passion for vinyl accelerated when he moved back to San Francisco from Seattle, where he went to college, in 2001. At the time, he worked at the Lawrence Berkeley National Laboratory. So it was easy to run down to Telegraph Avenue to Amoeba or Rasputin Music to hunt for more used albums to add to his growing treasure trove.
"The collecting really started to get crazy when I had access to those stores on Telegraph," says Bruce.
He started selling some of his finds on eBay. Then, for the past five years, he sold records on consignment at Original Vinyl on Fillmore Street. He also had space at Rooky Ricardo's in the Lower Haight. When the owner wanted the space back, Bruce took it as a sign that it was time to open his own shop.
"It was kind of the kick in the butt I needed," he tells Hoodline. "I had thousands of records in other people's stores and it was getting out of hand. I knew I needed to get my own spot and stretch out a bit."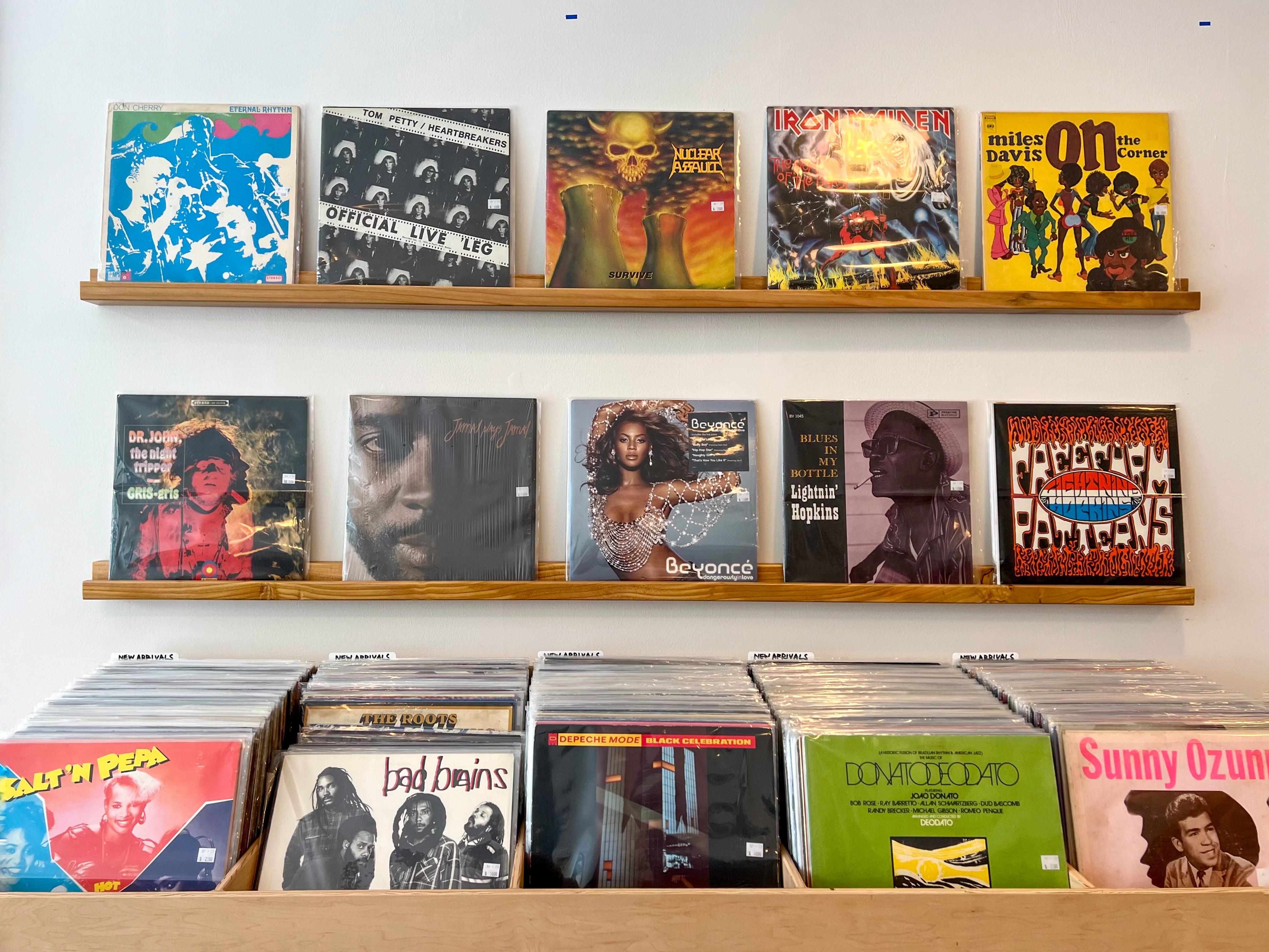 Bruce's eclectic taste in music is reflected in the albums he sells at Cantina Records. | Photo credit: Dorothy O'Donnell
Bruce lives in the Mission but had always enjoyed trekking to North Beach to dig through the bins at the neighborhood's two 101 Music stores. (The Green Street location closed in 2019; the original Grant Avenue shop is still going strong.) He was also drawn to North Beach because the community felt more tight-knit than many other parts of the city. And because he knew several vintage clothing shops had opened in the neighborhood in the past year or two and were doing well.
"When I looked at their social media accounts, I saw that they were all rooting for each other," he says. "I also liked that there are a lot of one or two-man operations here and seasoned veterans to give me business advice."
Situated right across the street from 101 Music, Cantina Records has a clean, minimal look. Bruce says the store is still a work in progress — he plans to install more shelves and expand the small listening station. But you'll find plenty to check out — or listen to — in his eclectic assortment of vintage vinyl. Represented eras span the 60s to the 90s and include a range of genres, such as soul, blues, rock, jazz, Brazilian, folk, and hip-hop.
"I've got a huge soul collection, lots of jazz, lots of curated stuff," says Bruce. "I love to go dig for whatever looks interesting."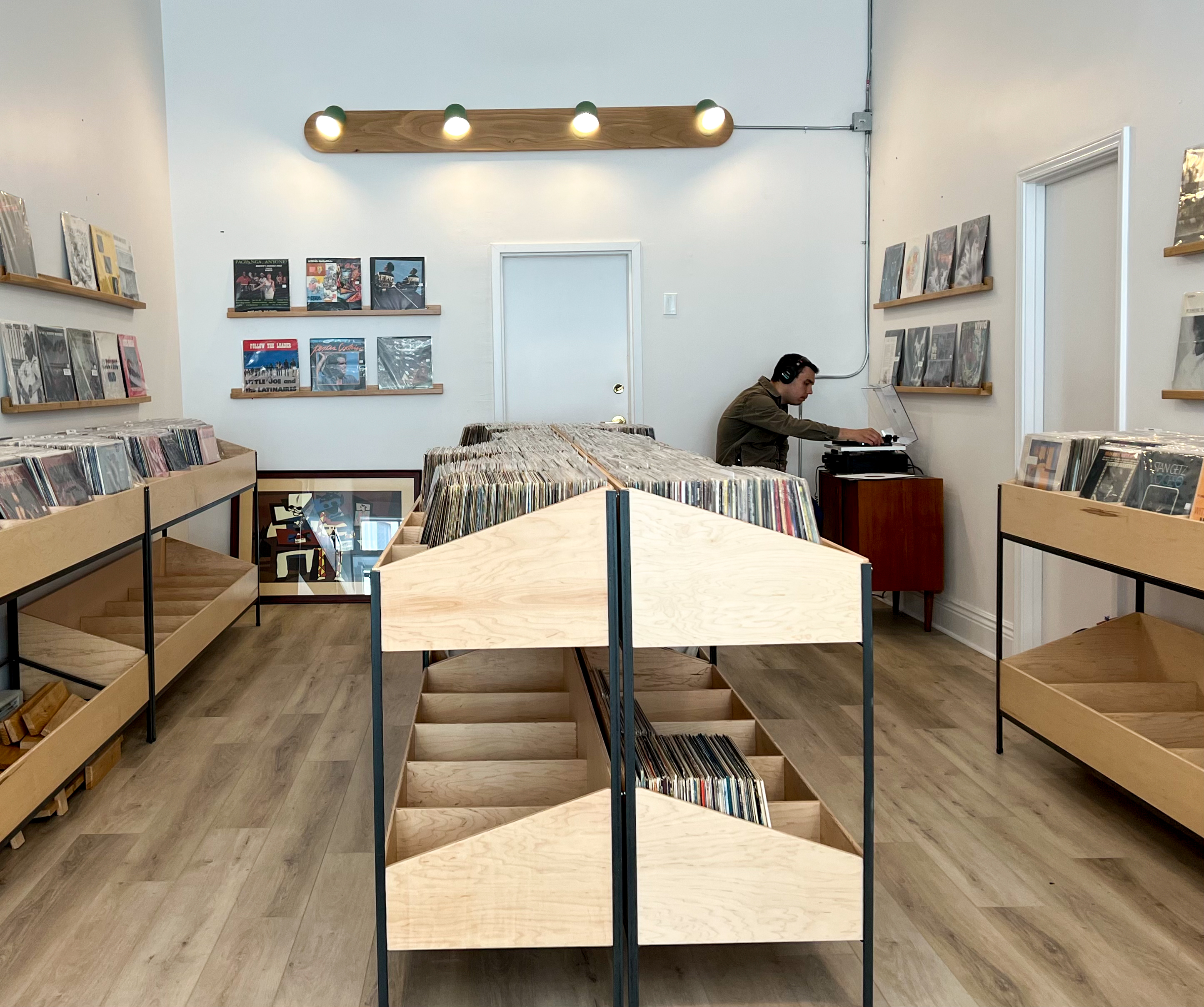 A customer gives an album a spin at Cantina Records' listening station. | Photo credit: Dorothy O'Donnell
In addition to being passionate about used records, Bruce is also a big Star Wars fan. His store is named after the film franchise's space port cantina. And he collects Star Wars action figures. One serves as his business cardholder, others are on display in the front windows. Bruce plans to sprinkle the store with more playful scenes featuring his Star Wars characters once he has more shelves.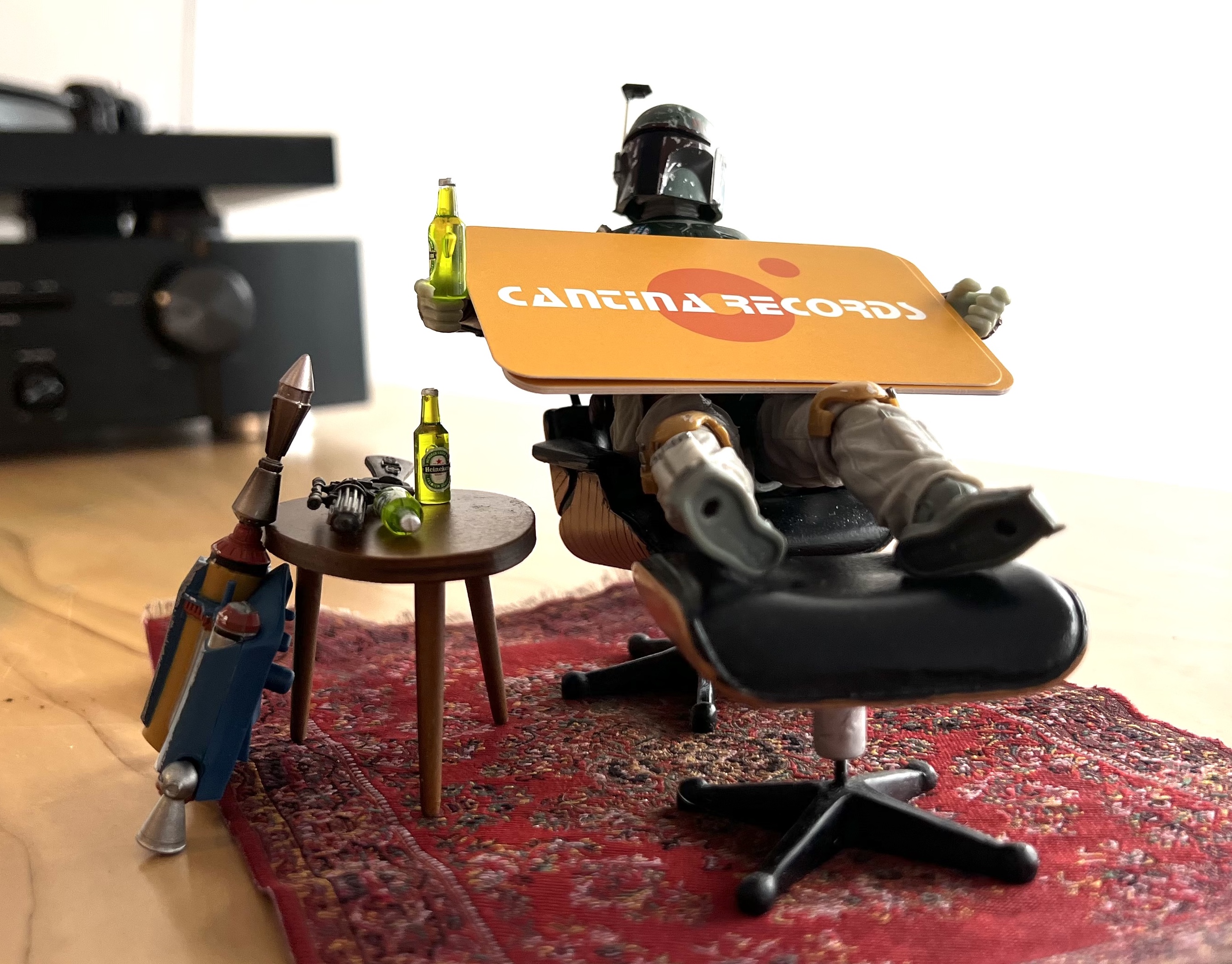 Star Wars action figures bring a touch of quirky fun to Cantina Records. | Photo credit: Dorothy O'Donnell
Though he hasn't yet held an official grand opening celebration, he says word of mouth is helping to bring in customers. He views being across the street from 101 Music as a plus since the long-time neighborhood business has an established base of collectors who can now wander over to his shop to browse as well. According to Bruce, there's not much overlap in the types of records each store sells.
"Hopefully, together we'll be a stronger magnet to get people from further away to come to North Beach and double their chances of finding something on Grant," he says.
Cantina Records is located at 1415 Grant Avenue. Store hours are noon to 6 p.m. Sunday, Monday and Thursday; noon to 7 p.m. Friday and Saturday.