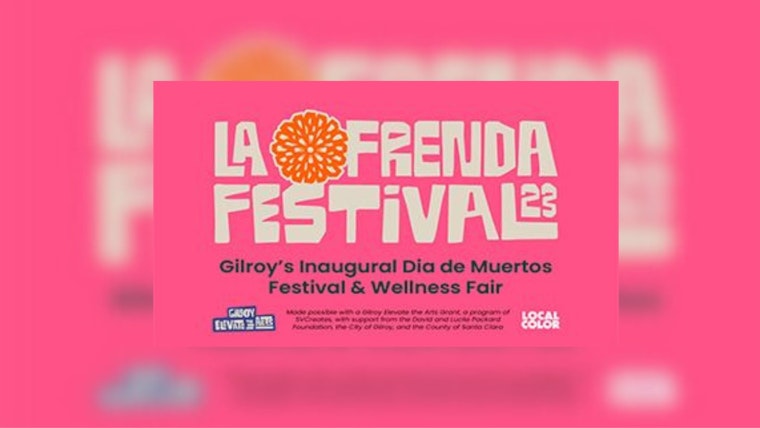 Published on September 22, 2023
On October 28, the heart of downtown Gilroy will come alive as it hosts its very first La Ofrenda Festival, a one-of-a-kind cultural event that combines Dia de Muertos celebrations with a wellness fair. This captivating festival aims to create an immersive experience for attendees by honoring the timeless bond between the living and dearly departed loved ones, while also embracing a holistic approach to arts, culture, and well-being, according to Mr. Fuchila's website.
A diverse collection of vibrant ofrendas (altars), mesmerizing performances, and a community bike ride are just some of the attractions awaiting visitors at La Ofrenda Festival. The event is made possible through the efforts of a dedicated team of local organizations, including support from the David and Lucile Packard Foundation, the City of Gilroy, and the County of Santa Clara.
At the heart of the festival lies La Gran Ofrenda, a large-scale ofrenda conceptualized by a local artist and constructed in collaboration with Gilroy's youth. This centerpiece will be showcased on the Camino de Altares, alongside a variety of altars, sponsored by local businesses, and community organizations. These vibrant altars will be lining 5th Street, transforming the area into a never-before-seen display of creativity, beauty, and appreciation for life and its cyclical nature.
The community bike ride, which encourages the participation of youth riders, will take participants on a journey through the bike-friendly paths of Gilroy, providing a fun and healthy group activity that aligns with the festival's focus on wellness and community engagement. Additionally, an arts, culture, and wellness fair will showcase a diverse selection of local artists, crafters, and wellness organizations, further amplifying the event's offerings and promoting holistic living.
The La Ofrenda Festival's unique fusion of tradition and wellness not only pays tribute to the age-old practice of honoring loved ones who have passed but also acknowledges the importance of nurturing our physical, emotional, and spiritual health. This powerful marriage of two seemingly disparate themes gives the festival a distinct flavor and highlights the value of celebrating life, remembering the departed, and taking care of ourselves and each other.