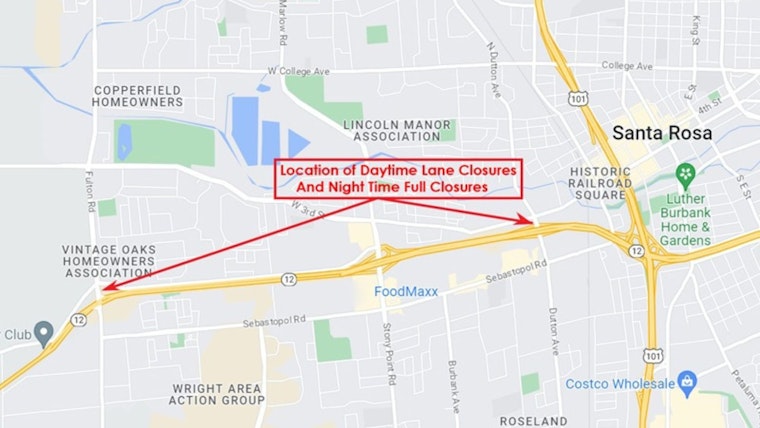 Published on September 21, 2023
As September advances, Santa Rosa's Highway 12 repaving project, which began in early July, enters a critical phase. The three-mile stretch between Llano Road and Farmers Market Road is up for modernization, with different sections of the highway needing special attention as noted by Caltrans District 4. Asphalt and concrete slabs make up the two types of pavement that require unique construction and paving strategies.
According to an announcement by Caltrans Bay Area-District 4, a significant closure will take place from 8:00 PM, Friday, September 22 until 5:00 AM, Monday, September 25, which will affect both directions of Highway 12 between Fulton Road and Dutton Avenue. These closures serve to expedite construction and minimize noise disruption for nearby residents, compressing weeks of night work into a more manageable timeframe.
During the closures, drivers will face restrictions as well. Caltrans District 4 stated that between 8 PM and 8 AM each night, full closures of both directions of Highway 12 are expected, while one lane will remain open in each direction during the day, between 8 AM and 8 PM as disclosed by the agency.
Weather has been a crucial factor in the progression and scheduling of this project. Paving with asphalt and pouring concrete are best achieved under warm conditions, ensuring proper binding and hardening of the materials. The summer season has typically provided the most favorable conditions for such work. However, Caltrans District 4 understands the North Bay's susceptibility to wildfires during this time and has made provisions to open at least one lane for emergency vehicles, should the need arise. A Red Flag wind or fire warning would also prompt a delay in the weekend closure to a later date.