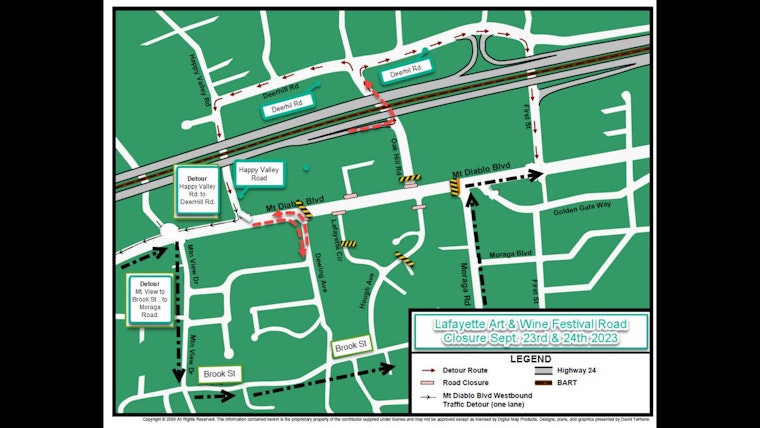 Published on September 23, 2023
Lafayette's downtown area comes alive this weekend as it plays host to the 26th Annual Lafayette Art & Wine Festival, a staple event in the community. From September 23rd to the 24th, attendees can expect a smorgasbord of over 250 arts, crafts, and fine art booths, as well as over 30 food vendors and downtown restaurants according to the event's website.
The Lafayette Police Department has announced street closures in downtown Lafayette starting from 7:00 p.m. tomorrow, lasting until 10:00 p.m. on September 24. These include the Mt. Diablo Blvd., side street closures at Oakhill Rd, N. Thompson, and Dewing Ave (East of Dewing). However, the festival provides free parking at a BART lot with a complimentary shuttle for visitors.
Exclusively for those aged 21 and above, the festival offers wine and beer glasses and drink tickets, with combination packages available at discounted prices. The event wouldn't be complete without live music, with bands playing non-stop across three stages, as well as a Community Stage per the festival website.
Amidst the excitement, it's important to consider the impact such a popular event has on the local business community. The Lafayette Art & Wine Festival's footprint encompasses numerous local merchants from various sectors, with the Lafayette Chamber's Restaurant & Gift Guide aiding as a directory for festival attendees. Local businesses frequently see a significant boost during this two-day festivity, further fueling the city's thriving economy.
For families, the festival provides Kid Zones with rides catering to all age groups, ensuring it's a well-rounded event for everyone. The combination of unique art pieces, a diverse selection of food and drink, and entertainment options fosters a continued sense of community, bringing both new and existing Lafayette residents together to enjoy a common experience.