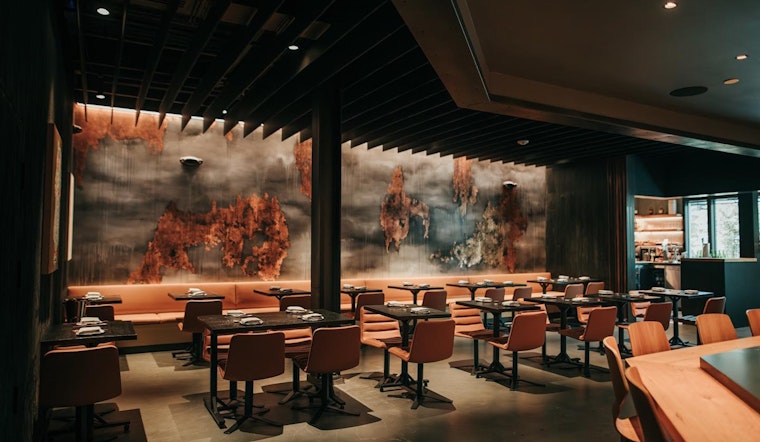 Published on September 20, 2023
San Francisco's Michelin Guide-listed Robin is making waves yet again, this time by taking its one-of-a-kind omakase dining experience down to the Peninsula. Robin Menlo Park opened its doors to the public today, presenting its patrons with a unique approach to high-quality sushi in a stylish, moody setting designed by Lundberg Design, the team behind the original Robin location in Hayes Valley, according to Eater San Francisco. The restaurant operates from Wednesday through Sunday, offering dinner between 5 and 9:30 p.m.
What sets Robin Menlo Park apart from event its San Francisco counterpart is its groundbreaking menu-less dining concept. According to Chef Adam Tortosa, the mastermind behind the original Robin that first opened its doors in 2017, the aim is to provide an approachable omakase experience for diners, regardless of whether they've tasted the pleasures of chef-driven sushi before. Rather than browsing a menu, patrons are guided through the meal based on their preferences and budget, with prices ranging from $109 to $189 per the SF Chronicle. Tortosa emphasizes that while he's not attempting to transport diners to Japan, the experience is far from what you might call a traditional omakase.
What makes this bespoke omakase approach so unique is that it is unlikely that guests will encounter the same experience twice, making each visit a distinct culinary adventure. Patrons can still expect to find signature offerings like rich saltwater-stored Japanese uni adorned with Sacramento white sturgeon caviar and unique Mt. Lassen Steelhead paired with yellow peach and local Half Moon Bay wasabi1. Seafood options for the 12 to 18 dish tasting menu are seasonal and ingredients like truffle butter, whipped tofu, and aged soy sauce make appearances in an ever-changing omakase carte.
Unlike the San Francisco outpost, the Menlo Park location boasts a full liquor license, a private dining room, and an increased capacity to accommodate future expansions such as the introduction of lunch and takeout sushi boxes. The bar highlights Japanese whiskey, including a Suntory whiskey highball machine for carbonated cold whiskey from a tap. Beer, wine, and sake are also available, with selections favoring the Bay Area, such as sake from Sequoia in San Francisco and Den in Oakland.
Art plays an essential role in creating the perfect ambiance for Robin Menlo Park, with the space designed to showcase a unique identity that still embraces the vibe of the original San Francisco venue. Local artisans were commissioned to enrich the dining room, including ceramicists Nicole Pilar and Asato Ikeda for custom dishes and sake glasses, and Caroline Lizarraga for a mural that echoes the one found in the San Francisco restaurant.
The journey to opening Robin Menlo Park began when Chef Tortosa and his business partners, Michael Huffman and Lloyd Sacks, were presented with an opportunity by the Springline development team. While not initially seeking expansion to the Peninsula, the trio recognized the potential in the area's growing energy and decided to venture towards this second project.