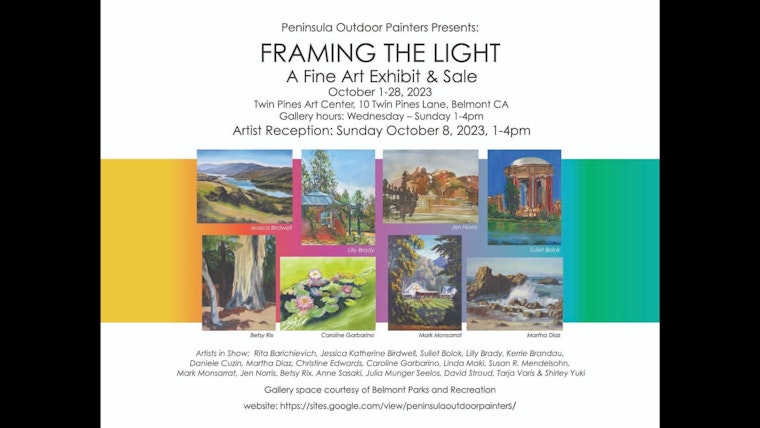 Published on October 03, 2023
The Peninsula Outdoor Painters' group has opened their new exhibit "Framing the Light,' showcasing the importance of evolving light and values in plein air artwork. The display also includes the creations of Linda Maki and Betsy Six and is on show from October 1 to October 28, at the Twin Pines Art Center in Belmont, California.
Highlighting various pieces, this exhibit delves into the manner of changing light of the day or season, together with light and shadow in a scene, sparks the artist's inspiration and affects the observer. Linda Maki's painting, "Walnut Trees in Early Spring," is among the artworks displayed. The Peninsula Outdoor Painters group continues painting outdoors and exhibiting their artwork at group shows, as demonstrated by this October exhibit.
In their platform, the Peninsula Outdoor Painters group aims to, showcase recent works painted outdoors and from studios. The exhibit focuses on numerous sub-genres such as landscapes, cityscapes, and seascapes, and sheds light on lighting's role in challenging an artist and shifting the viewer's experience. It also emphasizes the essential role of light and dark values to clarify a scene in a painting.
Twin Pines Art Center in Belmont invites art enthusiasts to visit the exhibit, which will be open from Wednesday to Sunday, from 1:00 p.m. to 4:00 p.m. The exhibit will also hold a reception on Sunday, October 8, from 1:00 p.m. to 4:00 p.m. The reception will feature light refreshments and music, setting the mood for visitors to fully immerse themselves in the world of art.