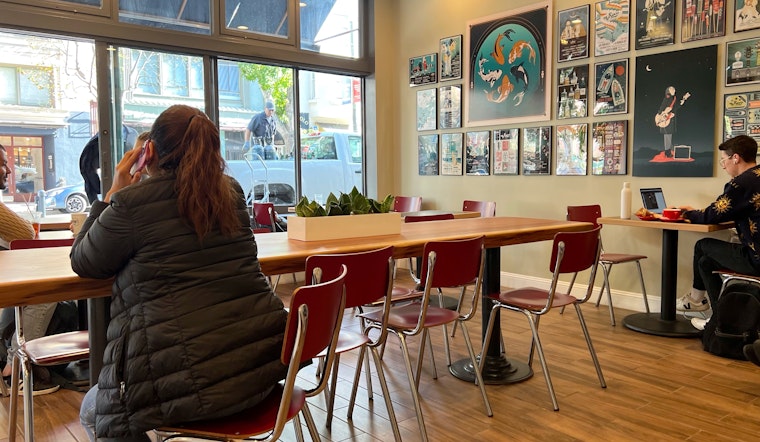 Published on November 02, 2023
After the successful mid-pandemic launch of his first Compton's Coffee House in Lower Pac Heights (1910 Fillmore Street), owner Aidan Compton recently opened a second location in North Beach (543 Columbus Avenue). He and his dad, Kelly, had been toying with the idea of opening their own coffee place before COVID struck. At the time, Compton was a manager at a local Peet's. He appreciated the family-like, supportive environment the coffee giant provided employees. But as the pandemic lingered, the corporation's priorities seemed to shift from people to profits.
"I understand companies have to survive, but that's when I started looking outward," says Compton. "I wanted to get out from underneath the heavy machinery that was a big company and create my own culture."
As he moved forward with plans to make his dream a reality, Compton knew he wanted to set up shop in an established, energetic neighborhood that not only offered plenty for residents to love but also lured visitors. With its variety of stores, restaurants and cafes, Fillmore Street in Lower Pac Heights ticked all those boxes. Of course, like other parts of San Francisco, the community lost its share of businesses during the pandemic. For the Comptons, the sudden availability of relatively affordable retail space presented a golden opportunity.
"For the first time, it actually felt achievable for a small mom-and-pop operation to move into a neighborhood that was historically so expensive, so we jumped at the chance," Compton tells Hoodline.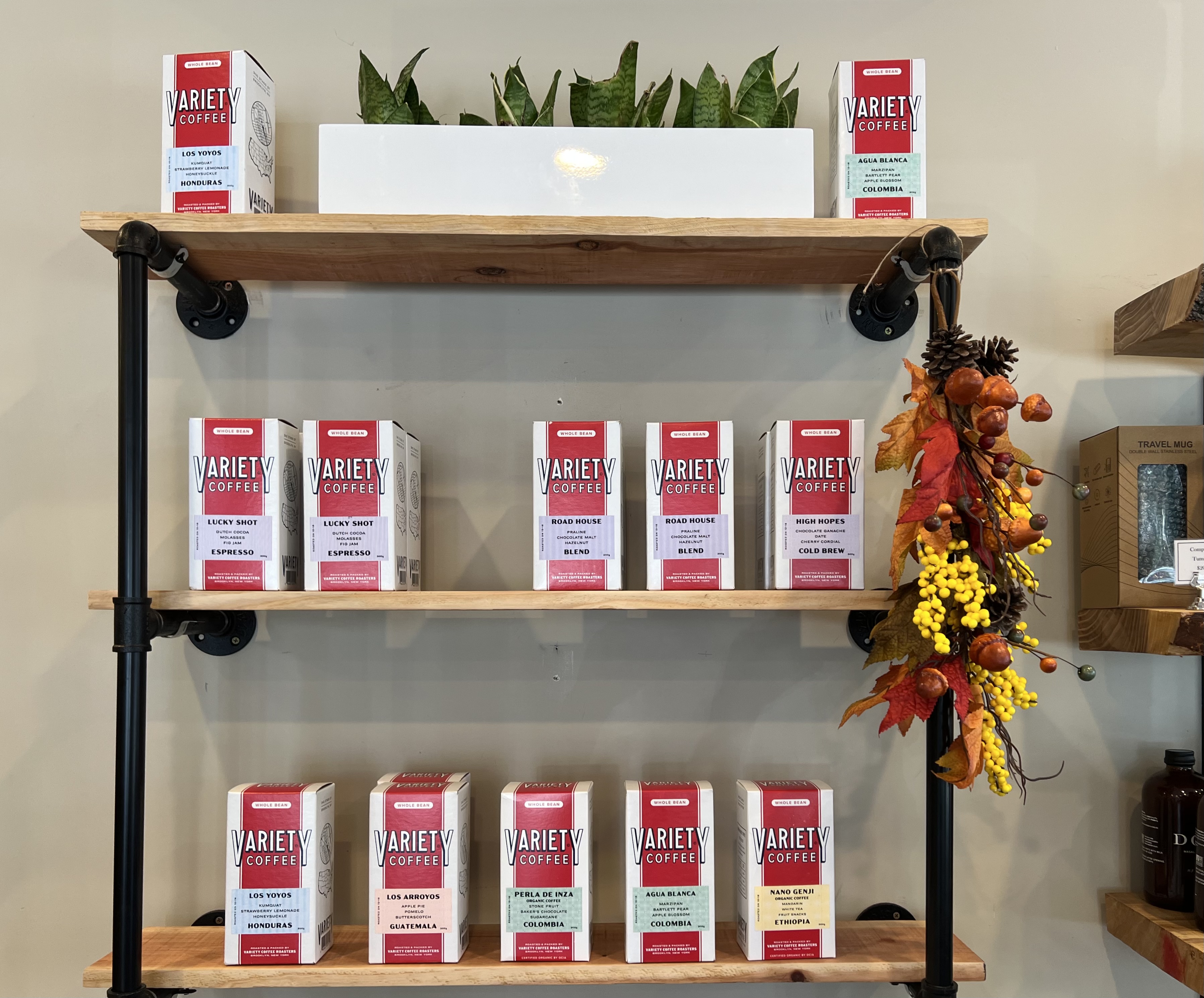 Compton's Coffee House features beans from New York-based Variety Coffee Roasters. Photo credit: Dorothy O'Donnell
He opened his Lower Pac Heights store in 2021 with help from his dad, who managed the renovation on the space, among other things. A true family affair, Compton's uses beans from New York-based Variety Coffee Roasters, founded by Aidan's cousin Gavin Compton. House-made syrups and other ingredients help the Comptons keep the quality of their specialty drinks high.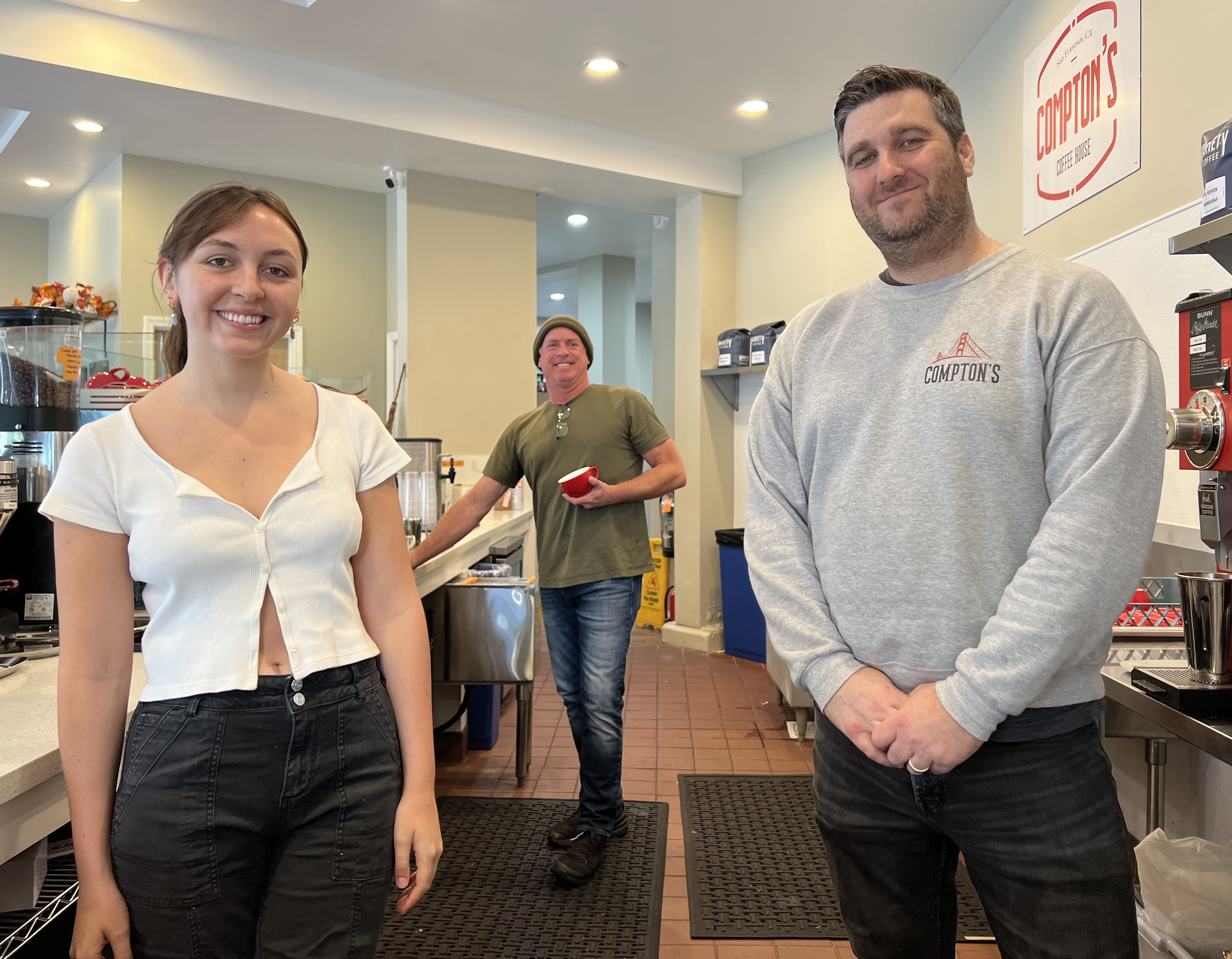 Owner Aidan Compton (right) and members of his crew at Compton's Coffee House in North Beach. Photo credit: Dorothy O'Donnell
In addition to satisfying customers with delicious craft-coffee beverages, Compton takes pride in cultivating a positive work environment for his employees. He pays above minimum wage and offers competitive benefits. And tries to be flexible with schedules and meeting the needs of his staff.
"I'm really lucky to have incredible people I trust working for me," he says. "I've learned from my own experience working for other companies, and here, that you have to take care of your employees. At our Fillmore store, the average tenure is almost two years, which is something I haven't seen before in the coffee industry."
When the father and son team started thinking about opening a second café, a vacant North Beach storefront last occupied by a La Boulange where Compton had been a manager caught their attention. North Beach's vibrant charm was obvious. But they also saw an opportunity to help the neighborhood evolve and become even more enticing.
"North Beach was in kind of a transition when we were looking at it," says Compton. "The traditional businesses were still doing their thing, but there were a lot of vacancies on this part of Columbus. As a native San Franciscan, it's important to me to contribute to the neighborhoods we're in, not try to drastically change them. Especially such a classic one like North Beach. I've been going to places like Mario's for years."
Kelly Compton worked his magic to turn the former bakery into an inviting spot that draws both locals and those passing through North Beach. Big, modular windows overlook Columbus, so customers can people-watch while savoring their coffee. With twice as much space as the Fillmore store, the North Beach Compton's Coffee House boasts a long communal table in addition to smaller tables. But be warned—seating goes fast on weekends as buzz about Compton's continues to percolate through the neighborhood.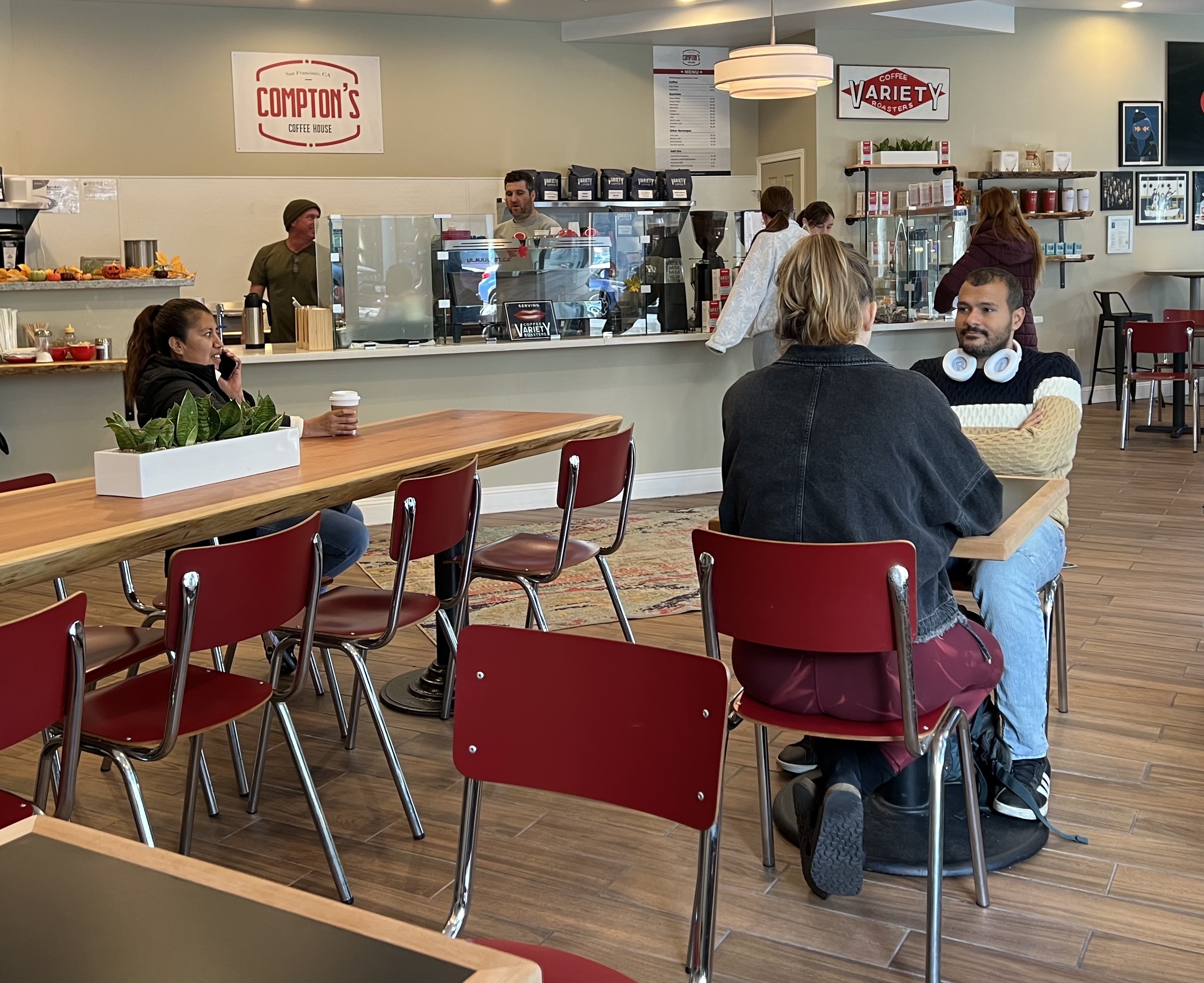 Grab a drink to go or hang out at North Beach's newest coffee spot, Compton's Coffee House. Photo credit: Dorothy O'Donnell
"The response has been great, and I love North Beach," says Compton, adding that he'd like to see a greater variety of retailers in the area, especially along Columbus. "There are lots of restaurants, but there's not a lot of day-to-day retail like you have on Fillmore. I hope we can help make North Beach more of a self-contained destination."
Compton's Coffee House is open daily from 7 a.m. to 5 p.m.