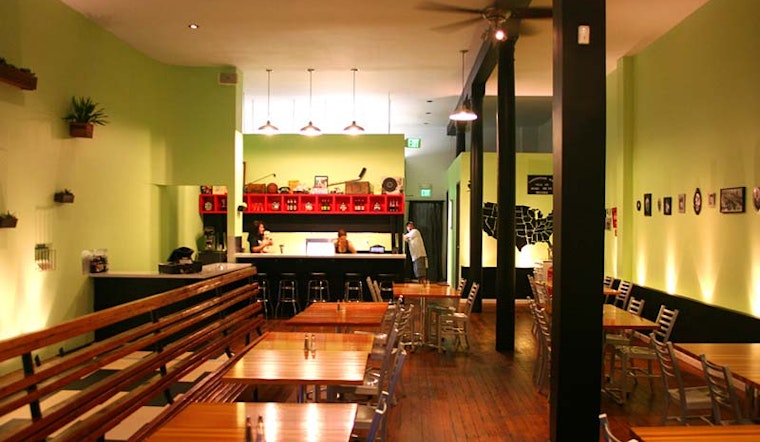 Published on March 16, 2011
We're kicking off our second year here at Haighteration with an in-depth look at the neighborhood's newest restaurant,
Greenburger's
, which officially opens at 518 Haight Street today.
Greenburger's is the brainchild of husband-and-wife team Stefanie Greenberg Nudelman, a businesswoman, and Matt Nudelman, a chef who previously worked at
Perry's On The Embarcadero
. Together, they started the plans for Greenburger's about two years ago, had the menu worked out a year later, and finally got the keys to the former Bistro St. Germain space in late December. Then the real work began. For starters, the restaurant as they obtained it was extremely dark. Nearly every surface was painted black -- the walls, the ceilings, the beams, everything. The Nudelmans knew that they wanted to create a bright, welcoming space, meaning the black had to go. It took almost a month just to repaint the expansive ceiling. The result? A bright white ceiling, light green walls, and a much cheerier atmosphere overall.
Zoe's Meats
, which donates a portion of proceeds to the school of your choice (Greenburger's chose the John Muir School at Oak and Webster). So, the menu. There are salads -- a chef, a caesar, a mixed greens. There are burgers and sandwiches, including:
The Burger
($10) Our signature Five Dot Ranch patty on a brioche roll. Add cheddar, Swiss, jack, feta or bleu cheese, sautéed mushroom or onions at no charge!
House Made Greenburger
($9) Made from organic black beans, beets, oats, brown rice, and spices on a brioche roll Add cheese, sautéed mushrooms or onions for no charge!
Cobb Burger
($9) LA's original salad made Greenburger's way Grilled organic chicken breast, bleu cheese, Zoe's bacon, avocado, lettuce, and 1000 Island dressing on a soft roll
Greenie's Turkey Club
($9) Fresh roasted Diestal turkey breast, Zoe's bacon, lettuce, tomato, and house made mayo on Texas toast
Memphis Style Pulled Pork Burger
($9) American Homestead pork shoulder braised in house made barbeque sauce topped with coleslaw on a brioche roll
Fish N' Chips Burger
($9.95) Beer battered line caught Pacific Cod piled high with French fries, lettuce, tomato, and dill tarter sauce on a soft roll
Greek Lamb Burger
($9.50) Seasoned all natural ground lamb cooked medium and topped with feta cheese, red onions and baby spinach on a French baguette