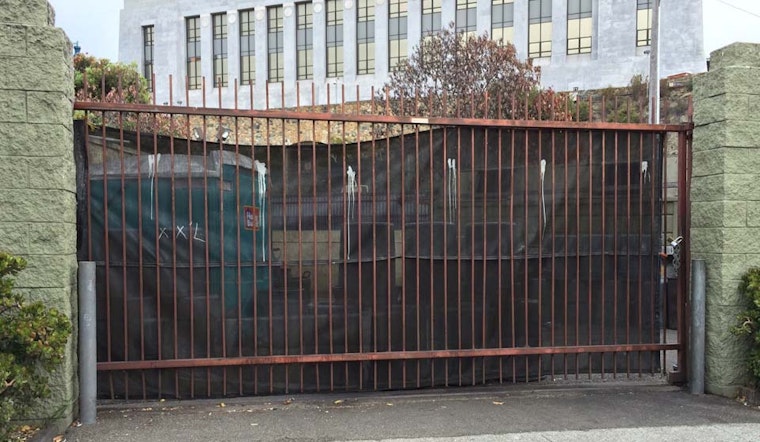 Published on July 02, 2014
The saga of the recycling center at the Church and Market Safeway took an unexpected and potentially ugly turn this week.
As we reported in August of last year, the
SF Community Recyclers
facility, which has operated in the Safeway parking lot since 1987, was
issued a notice
that it would be evicted on September 6th, 2013. When we inquired at the time, Safeway cited both the prevalence of curbside recycling and "an effort to improve parking lot conditions" as reasons for the eviction.
And then September came and went, and yet the recycling center continued operating.
A few months later, we learned that Safeway and the recycling center had
reached a settlement
, which would extend the eviction date to June 30th, 2014. As in, two days ago.
But here we are again, and the recycling center is still operating. So, yet again, we checked in with the players in this dumpster drama to find out what the heck is happening.
Safeway representative Keith Turner told us yesterday that the settlement reached last year was still valid, and the recycling center was now in violation of the agreement. "Safeway is moving ahead to enforce its rights under the agreement," Turner told us.
What does that mean, exactly?
Supervisor Scott Wiener, who supports the recycling center's eviction, told us via email this morning that he expects the San Francisco Sheriff will get involved.
"After Safeway terminated the lease last year, the recycling center refused to vacate. Safeway filed a lawsuit, and Safeway and the center then settled the lawsuit by entering into a stipulated judgment under which the center was required to vacate by June 30. The recycling center hasn't vacated and, I'm told, is refusing to do so. Safeway thus has filed with the Sheriff's Department to enforce the court judgment. (The sheriff enforces court orders.)"
We've reached out to Ed Dunn, the general manager of SF Community Recyclers, for an explanation of why the recycling center is still operating past its June 30th deadline. We will update this story if and when we hear back.
Supermarkets like Safeway are required to offer recycling redemption services under California's so-called Bottle Bill, which was enacted in 1986. When the recycling facility at Church and Market closes, Wiener tells us, the Safeway will have to offer bottle redemption inside the store. It's a tradeoff that Wiener says is worth it.
"This industrial recycling center needs to go. It's long past due. The center creates significant problems for the surrounding neighborhoods. And it's now violating a court order by remaining."
Understandably, some folks we spoke with at the recycling center this morning disagree.
"I think Wiener is selling out San Francisco to the highest bidder right out from under the people who built it," said Tristram Savage, an employee of the facility.
"He is right in the pocket of big real estate."
Tristram noted that this is the third site in four years that he's being forced out of, following similar recent closures of centers at Webster and Geary and on Frederick Street near Kezar Stadium.
Troy Perkins, who was using the facility this morning, also questioned the legality of the center's eviction.
"It's against the law," Troy said. "There's supposed to be a recycling center within a certain distance, but the law listens to money. Now I'm going to have to push my stuff down to Bayshore."
Christopher Lawson, who told us he was homeless, said he didn't know what he would do if the center were to close.
"I don't know. I have no clue. This is guaranteed to get food in your belly. I've been doing this for two years. It's the only way you can survive."
Christopher says he's studying at University of Phoenix and is five months away from earning his associates degree. He uses some of the money to pay his school expenses, and some to eat.
Several people we spoke with said that money they receive from the recycling program means that they don't have to turn to other illegal, potentially dangerous sources of income, and that the center's closure will surely lead to an increase in crime.
"If they close, people don't have money and they rob people," said Peter. "If they have no money to make a living, they do something illegal."
Peter says he uses the money to pay medical expenses.
"This right here, for us homeless people, is honest work," said a man named Lee who was redeeming bottles at the center this morning. "We can't get jobs, some of us can't read or write. And I'm just being real: this is me doing this without putting a gun in someone's face. You can't close this down. It feeds us, clothes us. I used to do some bad stuff before doing this, this is honest living to me. And I ain't the only one."
The options for Lee, Troy, Christopher, Peter, and others like them after the center's closure are unclear. Wiener tells us the city is "
moving toward a more dispersed recycling redemption model," which may include mobile redemption sites that would rotate around the city.
"That way, we aren't burdening specific residential neighborhoods with permanent industrial sites and people around the city have better access to redemption services," Wiener says.
Though the mobile redemption plan is moving forward,
it's still
in its early stages of planning by the Department of the Environment and likely won't come to
fruition
till well after this recycling center closes.
Still, that's no reason to delay the center's eviction, according to Wiener.
"The neighborhoods surrounding this center have had to put up with huge impacts for many years, and it's incredibly unfair to expect these neighborhoods to bear the brunt of the impacts of this industrial site for the rest of the city. Enough is enough."
Additional reporting by Rose Garrett.