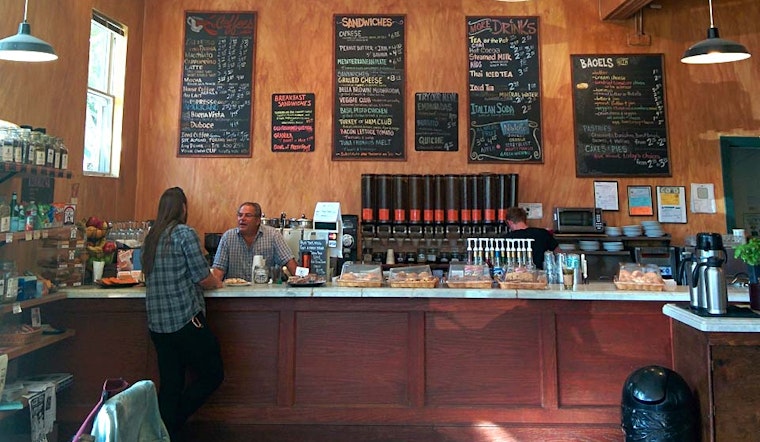 Published on October 23, 2014
Known for its outdoor seating, local art, abundant power outlets, and cheerful service,
Bean There
has been a Lower Haight institution at 201 Steiner Street for two decades.
Now, in a worldwide exclusive, the café's co-founder and co-owner, Mike Fakhoury, has revealed to Hoodline the secret to his business's longevity: "Our original plan was and still is to provide a friendly neighborhood meeting place with the best quality products at the most reasonable prices possible."
No, that's not a major scoop; Bean There probably wouldn't be in business for 20 years if it were not a "friendly neighborhood meeting place."
In fact, Fakhoury is planning a little get-together to celebrate the café's 20th anniversary on
Saturday, November 8th
starting at
3pm
. Frequent customer and R&B/jazz musician
Maestro Curtis
(who is signed to the record label owned by Maurice White of Earth, Wind & Fire) will be playing some tunes, and there will be "plenty of food and drink," according to Fakhoury.
Bean There co-owner Mike Fakhoury
With this much time spent running a business in the Lower Haight, Fakhoury has his share of stories to tell.
There are the changes he's seen in the 'hood itself, and the impacts those changes have had on the café.
"The neighborhood was a bit more raw when we first opened," he says. "Definitely more shady things were going on. But steadily, through the real estate boom years, the neighborhood has gentrified somewhat. The density has dropped quite a bit as well. Many of the flats that once housed four or five students have been sold to small families, singles or couples. Add a few years of a shaky economy, and it could be a struggle. Things are getting better now, you can see it in the streets."
Then there are the customers. In a neighborhood as colorful as the Lower Haight, Fakhoury has seen his share of eccentrics, unlikely acquaintances, and all manner of lives being lived right there in his cafe.
"We've seen a lot over the years, with customers picking up their morning coffee everyday in their PJs to having snakes around their necks and everything in between," Fakhoury says. "It wouldn't be uncommon to see a granny having a conversation with a full-on tattooed heavy-metal-looking guy in our cafe. Many books have been written and many romances have begun here. After 20 years we still have many of our first customers with us every day."
Fakhoury, who first opened Bean There with his brother Maurice but now runs it with his wife Susi, says he has plans to make some improvements to the space, but will not be straying far from his formula for success.
"We are working on plans for a remodel," he says, "but our main goal for the future is to continue to provide a place that people love to come to, meet their friends, and enjoy great food and drinks for the next 20 years!"