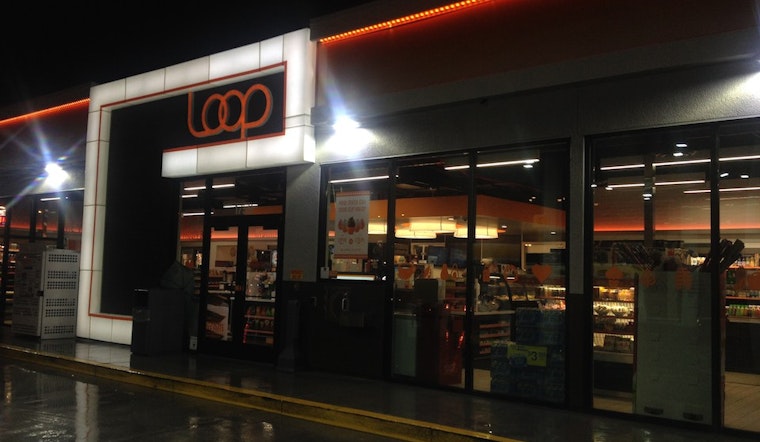 Published on December 15, 2014
Here's a pop quiz for all you Inner Sunset dwellers:
It's 4:45 am, and you forgot to buy shampoo, conditioner and sunscreen before your 7am flight out of SFO. Do you head for the
Church & Market Safeway
or the 24-hour Walgreens at 18th & Castro?
Trick question.
You can now shop at
Loop Neighborhood
, a convenience store with big dreams that operates 24 hours a day, seven days a week out of the Shell station at 19th and Lincoln.
Weary travelers in search of Flamin' Hot Cheetos and Red Bull will not be disappointed, nor will those who have hearts set on kale chips and yerba mate. Loop bills itself as "your new neighborhood market," which means sushi, gluten-free snacks and a soup and salad bar are yours to plunder.
There are plenty of locally-owned stores in the vicinity, but Loop's wide variety gives it an edge late at night and through the wee hours. While other Inner Sunset merchants are counting sheep, a clerk at Loop is wiping down its frozen yogurt machine before rearranging some fresh fruit.
The first Loop location opened in Santa Clara; there are now
10 locations
around the Bay Area, with San Francisco's other location situated at 2890 Third Street, in the Dogpatch. Loop promotes itself as a place to relax with a coffee and free WiFi, but we didn't see anyone taking advantage of those amenities early on a rainy morning.
At its heart, Loop is still a gas station convenience store: hot dogs glisten under a heat lamp and several kinds of beef jerky jockey for attention. Whether locals will gravitate there for frozen samosas, pinot noir and mochi ice cream remains to be seen.
Have you shopped at the Sunset's Loop Neighborhood yet? Tell us about it in the comments.
Loop Neighborhood is located at 1200 19th Ave. and is open 24 hours a day, 7 days a week.