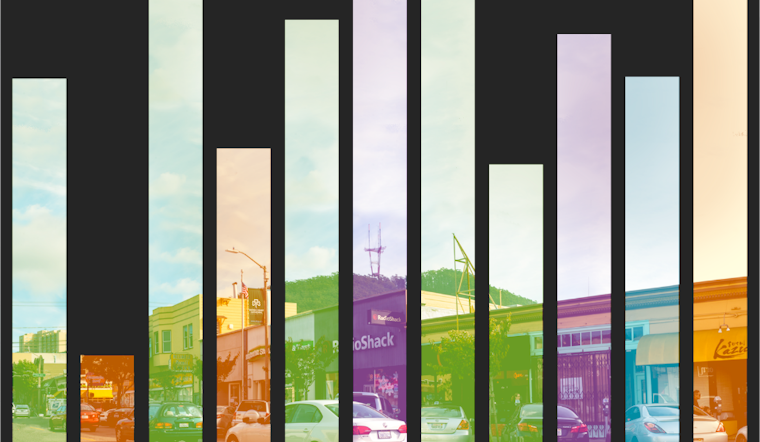 Published on December 14, 2014
Last month
we examined and compared
two neighborhood commercial corridors — the lower part of Divisadero, and the Upper Haight. Now we're holding up that same lens to Hoodline's
newest beat
, the Inner Sunset.
You might get the sense that Inner Sunset is a robust, self-contained neighborhood just by walking around, but we decided to try to prove it with an analysis of the businesses on the main stretches of Irving and 9th.
Here's what we found.
First of all, there are a lot of older businesses, especially grocery stores, liquor and hardware. Compared with Upper Haight and the southern part of Divisadero, these non-retail businesses were more than 25 percent older on average. While there may be changes happening, forces are clearly at work keeping the neighborhood something like what it has been for decades.
There's also a big presence of medical services, from dentists and doctors to alternative medicine like acupuncture. Maybe the proximity to UCSF has encouraged an extra large portion of professionals to open up practices in the neighborhood, maybe it's the location at the crossroads of western neighborhoods, or maybe it's the diverse local population? The data at least, shows that a surprising 17 percent of all businesses here are related to health, wellness or fitness in some way.
The cuisine also spans the globe, from decades-old Italian, Korean and Chinese restaurants to a notable mid-'90s surge in "American" fare that still hasn't let up. But unlike Divisadero, where we found that less expensive restaurants were getting replaced by fancier dining, Inner Sunset continues to offer something for everyone.
Let's dig into the details.
For this investigation, we again analyzed
open business location data
from the city, defining the Inner Sunset's main commercial district as its most business-dense intersecting spans — Irving Street from 5th Avenue to a bit past Funston, and 9th Avenue from Judah to Lincoln (where 9th ends at Golden Gate Park). This adds up to about three-quarters of a mile of streetscape. It's a bit longer than the Haight's half mile and Divisadero's six-tenths, but its business density is almost identical to Haight's: around 320 businesses per linear mile (Divisadero is significantly sparser at under 175 per mile).
From 10,000 feet, the composition of the Inner Sunset resembles Divisadero's, with an even more exaggerated prevalence of services and restaurants and a relative absence of retail.
But the little retail that does exist is long-lasting. Beyond business density, the main shared feature between the Inner Sunset and Upper Haight is that regiment of time-tested non-apparel retail — things like groceries, hardware, bookstores, and
magic supplies
as the case may be.
The oldest known retail in the corridor is Reliable Rexall Drug, which opened in 1932. A couple of blocks down, Eddy's Food Store dates to at least 1941 — there's a photo on the wall that shows Eddy's storefront next to a billboard suggesting "Win the war in '42!" — but it's likely even older.
A historic business at its flagship location in the Richmond, Green Apple Books is a fresh face in the Inner Sunset. It opened just a few months ago on 9th Avenue in a creative partnership with beloved and troubled video rental spot
Le Video
.
9th Avenue and the blocks of Irving on either side of that intersection are tightly packed with restaurants and the lion's share of the district's few bars and retail establishments. Those two blocks of 9th alone hold 33 restaurants. The stretches of Irving farther from center, particularly on the western side, are dominated by services like laundry and salons. The neighborhood's oldest businesses are fairly evenly dispersed — you'll run into a store or a service that predates the Reagan administration at least once per block.
Pasquale's has been making pizza at 700 Irving St. since 1959, crowning it the commercial district's oldest restaurant. Coming in second is Korean barbecue joint Hahn's Hibachi. The Hahn family opened this original location at 535 Irving St. in 1978, but there are now several other locations around San Francisco and across the bay.
The more than 70 food spots along Irving and 9th break down into a diverse range of cuisines and restaurant types.
This plot of cuisine type versus age shows not only how old each Inner Sunset restaurant is, but over what duration the current restaurants of different types were opened. Thanks to long-lived Pasquale's and newly-minted Baiano's (replacing Milano's Pizzeria), Italian and pizza places have the widest spread — 55 years. Conversely, the corridor's three Thai places all opened within seven years of each other. And the Sunset's youngest Thai spot, Baan, is already more than four years old. Has a brief moment for opening Thai restaurants already come and gone?
Other cuisines with at least a 25-year spread are Chinese, coffee shops (coffee, tea & juice), Japanese & sushi, and Korean. Each of those categories but Korean has introduced a new restaurant within just the last year. Japanese restaurant and sushi bar Ebisu opened in 1982. It's both the oldest of its category and the most trafficked on Yelp, and has over
1200 reviews
.
About a third of the commercial district's restaurants fall evenly into one of two broader categories — "Bakeries & Desserts" and "Sandwiches, Burgers & American". These categories share several attributes: there are 12 businesses in each, the oldest in each category opened in 1995, the newest opened in approximately the last year, and businesses in these categories have been opening almost constantly throughout the last 20 years.
Taking a closer look at the types of services offered in the Inner Sunset, some observations are familiar. Like Divisadero, there are quite a few hair and nail salons — a total of 9.5 percent of Inner Sunset businesses are related to beauty.
Similarly, the oldest single category in this district is that containing various repair, automotive, and construction services. In the Inner Sunset, these businesses average a mature 36.6 years (comparable to Divisadero's automotive services average). Standard Roofing Co opened in 1952, and Pierre's Auto Body started at 1223 9th Ave. in 1967, annexing another space a block away in 1989 when the previous mechanic decided to close up shop.
Out-aging every business in the district, service or otherwise, is Sunset Shoe Repair. It likely services a lot more individually-toed barefoot running shoes these days, but it claims to have been in continuous operation since the turn of the previous century, 114 years ago.
Among the newer services are a small handful of software companies and tiny startups centered near the Victorian home that served as Craigslist HQ until 2010. Sutro Software's 9th Avenue office is eye-catching from the street because its balcony boasts one of
these
.
Unlike other neighborhoods we've looked at so far, the Inner Sunset has turned itself into something of a center for health and wellness. Between medical offices (like dentists and optometrists), mental health and counseling professionals, and wellness and alternative medical services like an abundance of chiropractic, massage, nutrition, acupuncture, and Chinese medicine practitioners, health-related services make up 15 percent of the total businesses in this district.
These para-medical services range in age from the older cohort — Sunset Dentistry and psychologist Janet Endelman started in 1994, Irving St. Chiropractic in 1991, and Pacific Rims Optometry in 1989 — to the very new crop — like Park Smile and Helix Acupuncture from 2012, Liam Tarpey Massage from 2013, and Olga Rocklin Psychotherapy this year.
If you include fitness under that umbrella of health and wellness, then gyms, yoga and pilates studios, and personal trainers bump the percentage up to 17 percent of the total businesses in the area (and 34 percent of service businesses). Moreover, these numbers are likely underestimates. Our standard for inclusion in this storefront investigation requires that the business be apparent in some way from the public street, but many of the health and wellness practitioners leave their businesses completely unmarked for privacy's sake.
Why might this health emphasis arise? Perhaps it's thanks to the neighborhood's position at the foot of UCSF's Parnassus campus and Medical Center. UCSF Parnassus opened in 1898 and became well-known after caring for many victims of the 1906 earthquake. Here's
what it looked like
in 1908 (pre-
Sunset Tunnel
).
Perhaps drawn in first by the hospital, medical offices in the neighborhood are an older bunch, averaging about two decades of operation. Most of their alternative medicine neighbors, as well as therapists and fitness services, arrived much later to flesh out and diversify the burgeoning health and wellness scene. On average, those businesses are only half the age of the medical offices, but three times as plentiful.
So how has this commercial corridor changed over time? It's hard to say with certainty when we only have access to complete data on what's here right now. But breaking the current businesses into cohorts by age and examining the composition of each age group, we can shed a little more light.
As it turns out, the lasting businesses from before 1995 look a lot like the ones from the past three years (and also the ones from middle cohort, 1996 to 2011). It appears that there was a small shift two decades ago toward more restaurants and fewer services and non-apparel retail. The (tiny) share of apparel retail is slowly increasing — but whether that indicates a real shift toward more clothing stores as in some parts of town, or simply the shorter relative lifespan of fashion, is up for debate and further study.
The consistency of these age cohort snapshots suggests an inertia to the make-up of the Inner Sunset. Whether geography, topography or demography is most responsible, there's a sense that this neighborhood has been independent — largely self-contained and self-sufficient — in meaningful and measurable ways throughout its lifespan.
We'll be doing more analysis of our neighborhoods in the coming months, and using this research to inform our daily coverage. Please let us know in comments if you have ideas.