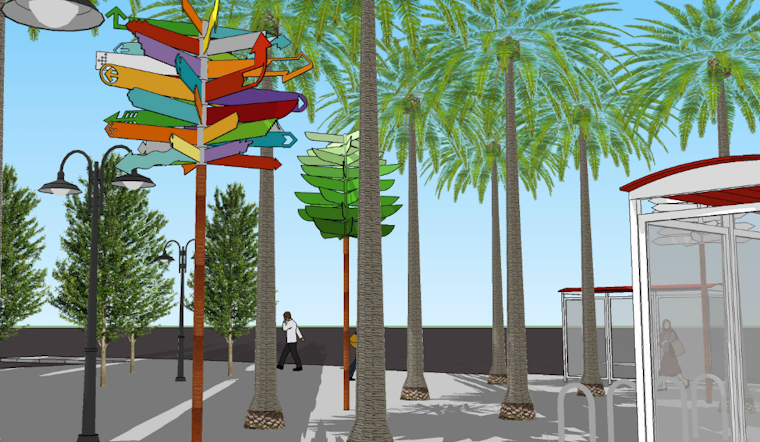 Published on December 12, 2014
You may or may not know it, but Masonic Avenue
is about to get
a major facelift. The
Masonic Avenue Streetscape Improvements Project
, set to be completed in summer 2016, aims to improve pedestrian and commuter experiences through the addition of a median and a bike lane, wider sidewalks, and various other bonuses.
Among these improvements is a public art installation by Bay Area artist Scott Oliver at the intersection of Masonic and Geary, which will become a new plaza as part of the improvement project. Endowed by the SF Arts Commission, the piece hopes to breathe life into a space that has historically been little more than an intersection of two major transit arteries.
"I'm trying to make something that people using this space can connect with on some level," Oliver told us. "The place isn't really connected to a neighborhood. It's a transitory spot that people use to get elsewhere. I wanted to bring form to that. The significance of the space right now is where you are headed next, not the spot itself."
In an effort to redefine the space, Oliver plans to install three 7.5-foot signposts pointing to places submitted by actual residents of the area via a
questionnaire
asking the following questions:
Where were you born, and when?

Where do you want to go that you have never been?

For the third signpost, Oliver will be on-site in person on the week of March 9th, 2015, asking the simple question, "Where are you going right now?"
Oliver hopes to get over 500 responses, so that he may edit them down to roughly 120 signs, taking into account directional limitations, since only so many signs can point in each direction.
He is only now starting to submit prototypes of the sculptures to SF-based fabrication and installation firm
Gizmo
. The actual fabrication of the signs and posts will take place from May to December 2015 and the actual installation of the piece won't happen until the Masonic Streetscape project is completed in summer 2016.
In the meantime, Oliver will be updating the project's
Facebook page
and is encouraging people to fill out the questionnaire so that the signposts' destinations are derived from actual users of the plaza.
Here's the link again
, and it will be open until March 9th, 2015.
"Without [peoples' responses] the project is incomplete, or rather, the project cannot be completed," said Oliver. "I'm trying to make something that people using the space can connect with on some level. Though the place names might not be one person's particular response, I hope that someone at the plaza looking at these things would have places in their own lives that they can connect to."
We'll keep you posted with further updates as the project comes to fruition.