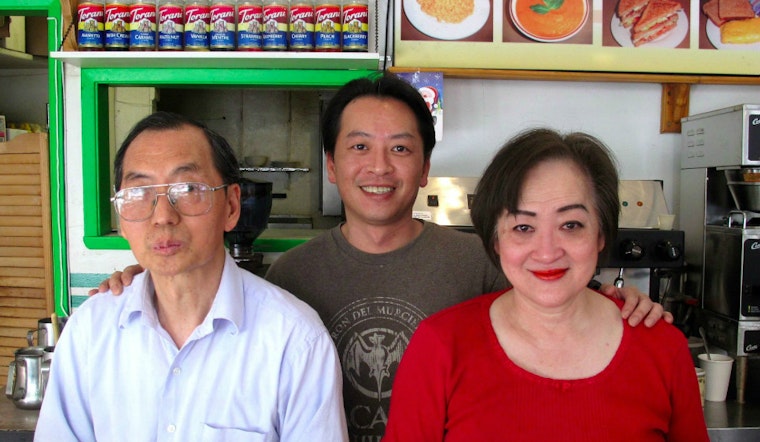 Published on January 20, 2015
With a
Kickstarter campaign
launching today, the Internet is poised to help resurrect a recently shuttered family-owned business that San Francisco's tech boom and attendant rent hikes helped doom.
After 24 years near the corner of Haight and Divisadero, the popular KK Cafe
closed its physical doors for good
on January 13th. But former proprietors Jack and Margaret Chang, and their son Jon, plan to mass-produce and distribute their signature and 'hood-famous KK offering "Signs and Wonders Peanutmilk" with the help of crowdfunding.

The idea for the new business was born of an urgent need – not the Chang's but their devoted customers'. Although Peanutmilk's health claims haven't been scientifically verified, customers have known where to go to get relief for a variety of ailments since the Changs started making their peanut brew in 1999. On KK's last day, more than a few of them said they would miss their go-to hangover remedy.
Photo: Stephen Jackson/Hoodline
Before it closed, KK's walls were filled with more serious testimonials. One customer wrote that Peanutmilk helped him cope with the nausea and other side effects of anti-AIDS drugs; another called Peanutmilk "a gift of love from Margaret and Jack" that helped him "create a healthier life" and wean him from anti-anxiety medications.

A few days before the Changs said their final good bye to the neighborhood, they received an email from a customer that began: "I heard about the closing of your cafe and feel terrible about [it]. Your peanut milk helped me get out of the hospital when I had cancer..."

"I couldn't sleep the night after I read that email," said Margaret, 64. "I couldn't stop thinking about him. So many people are suffering. Maybe we helped. I worry what will happen if we stop trying."

Jack Chang, 67, hit upon the Peanutmilk recipe by accident. He suffered from gum disease and was experimenting with ways to enjoy his favorite snack that didn't cause him pain. Jack said he loves the way his discovery has helped others but laments that he didn't figure it out in time to help his brother, Robert, who died of AIDS in 1993.
Jack Chang at KK Cafe (Marilyn Berlin Snell/Hoodline)
Robert Chang was a family touchstone. His love of his adopted country helped convince Jack to immigrate with his family to the United States in 1984 from Taiwan. Yet Robert's bad fortune would also be the Chang family's: before their court dates and paperwork were completed, Robert, a US citizen and the Chang's sponsor for citizenship, died.

Another setback occurred when President Reagan granted amnesty to undocumented immigrants who arrived prior to 1983. The Changs just missed the cut-off date and were again sent to the back of the line. Jon finally got his green card and became his parents' sponsor, but the elder Changs were only awarded citizenship in 2013.
"You wouldn't believe what we've been through," Jon, 41, said with his signature laugh.

The Changs hope the Kickstarter campaign will give them a leg up to buy the pricey machine that produces and packages their product while maintaining sterility. The Kickstarter goal is $100,000; the aseptic machine costs $200,000. "Unless we reach the full goal, we get nothing from Kickstarter," said Jon. "That's why we set it low ... we hope to blow by that."
Jon, a graduate of San Francisco's Le Cordon Bleu College of Culinary Arts, knows the details of manufacturing on a large scale. He and his parents successfully mass-produced and distributed Peanutmilk from 2004-2007, delivering 25,000 gallons a week to Whole Foods, Mollie Stone's Markets, and Rainbow Grocery, among other outlets.
The Changs did not own the means of production then, however, and a disagreement with their corporate partner over what Jon called "greed issues" led to a parting of ways. The endeavor imploded because the Changs had managed to hold onto their secret recipe, and the former partner could not figure out how to crack the code and keep the business going without them.
The Chang family (Marilyn Berlin Snell/Hoodline)
When Jack and Margaret leased their 627-square-foot space in 1990, the rent was $600 per month, raised 2 percent annually. They inherited the name "KK Cafe" from the previous lease holder and never knew what it stood for. They didn't have time to think about such things: the family put in 12-hour days, 7 days a week, 363 days a year save Thanksgiving and Christmas. Margaret knew her regular customers by name and often asked after their family members as well, sometimes in Spanish.
The new owner of the building boosted rent to $8 per square foot, from $6, and thereby sealed KK Cafe's fate. Nonetheless, the Changs hope to continue serving their loyal customers.
Check out their
Kickstarter project
, which includes tiered rewards such as t-shirts, a recipe for KK Cafe's famous veggie burger, and of course plenty of Peanutmilk,
here
.