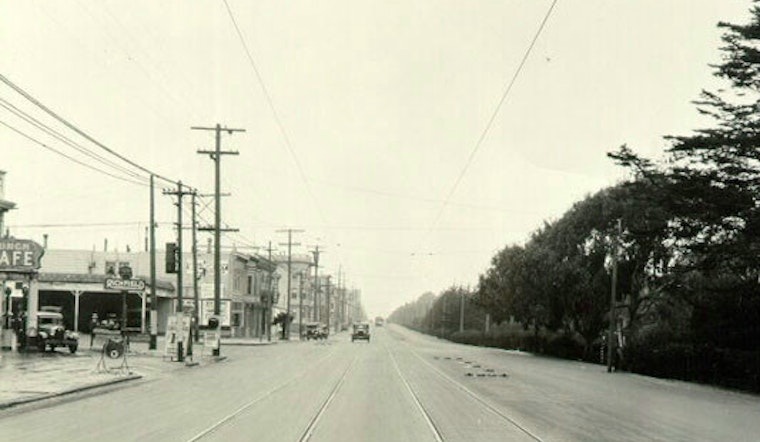 Published on March 14, 2015
Even a century ago, the Inner Sunset was regarded as a generally quiet neighborhood where crimes were more likely to committed against property than people. As seen in the 1929 photo of Lincoln Way and 9th Avenue above, the area saw relatively little through traffic, and was a sleepy hamlet compared to the city's hustle and bustle to the east.
But in 1913, one of the area's goriest homicides occurred when a butcher was savagely murdered in his shop at 1254 9th Ave.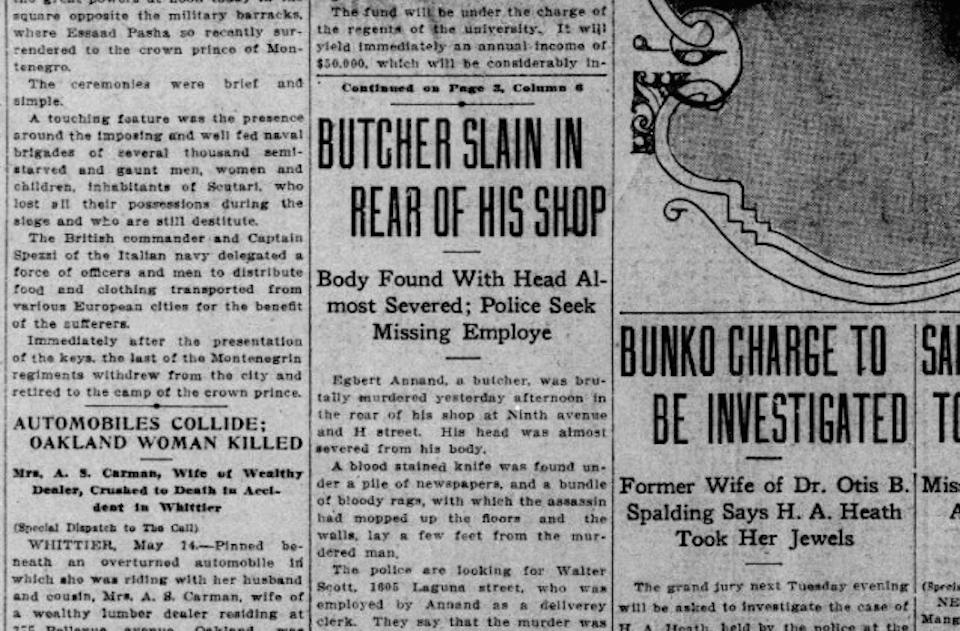 San Francisco Call, 5/17/13
On the evening of May 14th, the wife of butcher Egbert Annand brought her baby along to visit Clancy & Mueller, the grocery next to her husband's shop on 9th between H and I Streets (later Lincoln Way and Irving Street). According to the San Francisco Call, Annand had come home for lunch and left "in his usual good spirits," so when he failed to return for dinner, Mrs. Annand visited Mr. and Mrs. Clancy, "who sought to allay the distracted wife's fears."

At 8pm, Eugene Mueller, co-owner of the grocery store, entered the butcher shop after finding the door ajar. At the rear of the store, Mueller and friends came across Annand, whose "head was almost severed from his body," reported the Call. About $275 in cash was missing, and a bloody knife was discovered under newspapers and bloody rags. Investigators determined that the door that separated the back room from the front of the shop had been "taken from its hinges and washed."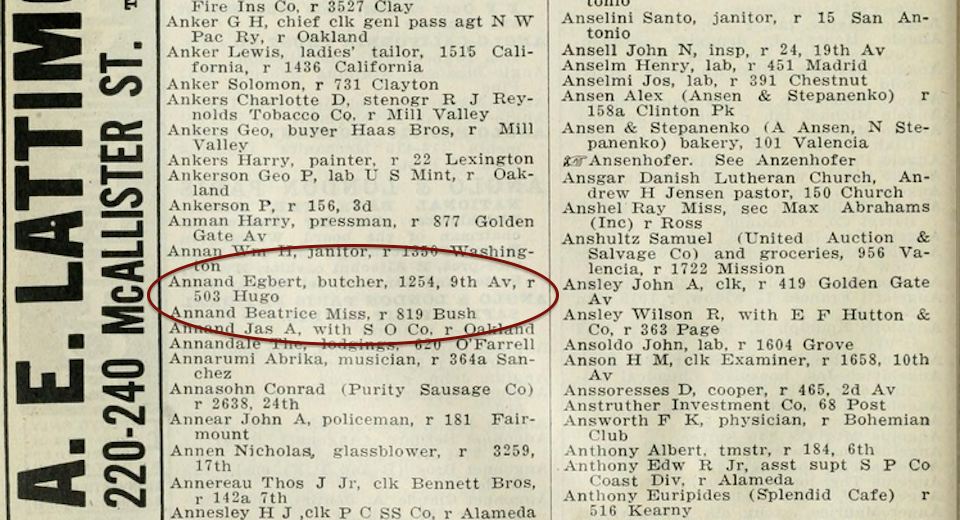 1913 telephone directory
Suspicion fell immediately on Walter Scott, Annand's 22-year-old delivery boy.
According to Louis Walters, a 15-year-old who also made butcher deliveries, Annand hadn't been seen since lunchtime. At 5:30pm, Scott and Walters "took Annand's machine" to Lincoln and 3rd for a delivery. At that point, Scott left Walters alone; when he returned, he "gave the youngster a dime and disappeared."
When Scott was arrested and police discovered his bloody clothes in a garbage can, he gave officials "many conflicting stories." Scott said he witnessed Annand's suicide but chose not to report it for fear that he would be accused. During his July trial, Scott "was unable to explain ... a number of inconsistencies."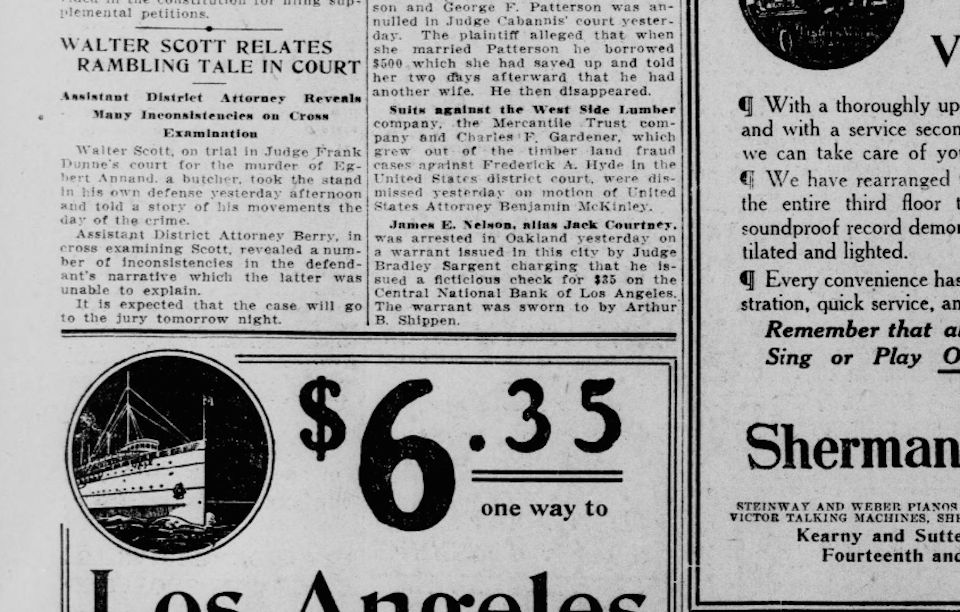 San Francisco Call, 7/17/13
The defense argued that Annand committed suicide because he was despondent over his failing new business. Unfortunately for Scott, the butcher shop had been "prosperous" since it opened, the victim suffered stab wounds to the back and "the palms of his hands were slashed to the bone," suggesting defensive wounds.
On July 23rd, it took the jury a little more than an hour to return a guilty verdict of murder in the first degree. Scott was sentenced to a life term in San Quentin on July 25th.
The butcher shop appears to have closed, as it doesn't appear in any phone directories in 1914.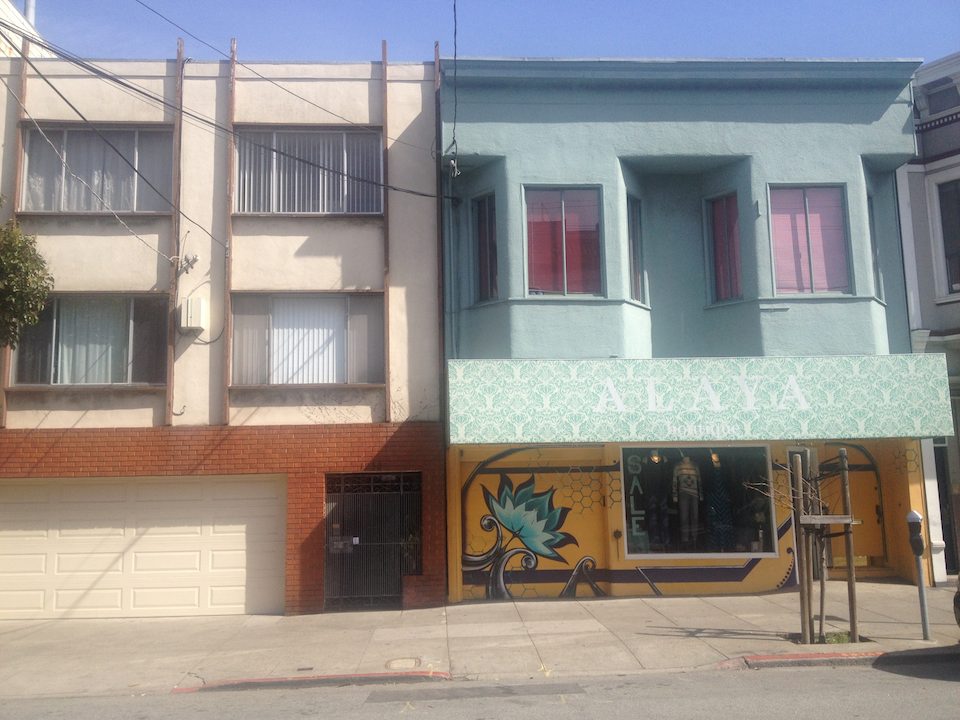 Today, Annand's butcher shop would occupy a space between a 3-story apartment building at number 1250 and Alaya Boutique at 1256 9th Ave.