Over the past few weeks, we've received several tips from readers and friends indicating that Cafe Abir, the 20-year-old coffee shop at Divisadero and Fulton, was going to close its doors.
"Seems Cafe Abir, by far my favorite and most comfortable coffee shop, the OG, might be done. They're closing for remodel Sunday with the intention of expanding the sushi/sake/wine offering into the existing Abir space," said one anonymous tipster. 
We found our answers with Corkage manager Todd Eng, who confirmed that both Corkage and Cafe Abir, which was established in 1994, would be shutting down for good this coming Sunday.
The reasons behind the closures are unclear. On any day of the week, Cafe Abir is filled with people grabbing coffee, working on their laptops, or getting brunch on the weekends. Corkage, Cafe Abir's linked sake, wine and Japanese beer bar, offers a popular Happy Hour despite its small space, serving up appetizers from sushi restaurant Tsunami next door.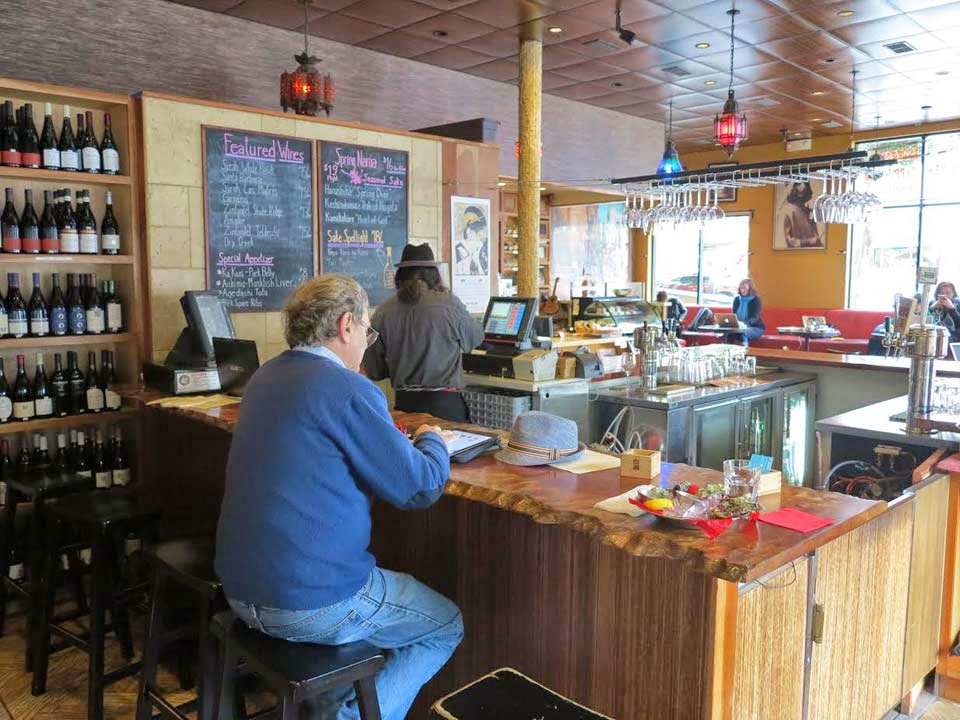 (Corkage. Photo: Stephen Jackson / Hoodine)
Corkage's inventory is already obviously dwindling, and the fridges storing white wine and sake are almost empty, as are the bar's numerous wine racks.
Cafe Abir, Tsunami Sushi and Corkage are all owned by Dajani Group, which also owns nearby Bar 821 (which recently underwent a renovation), and the currently empty address at 803 Divisadero St. (former home of the psychic shop). Yesterday, Cafe Abir was removed from Dajani Group's list of businesses on its website. 
As for what the large space on Divisadero and Fulton streets might become, rumors abound. The most likely answer is one that Todd gave us, which is that it'll be converted into a Japanese restaurant with expanded sake and wine offerings. 
There are no signs of Tsunami closing in the near future, and it's unclear if the sushi restaurant will be expanding into the larger space. 
We reached out to Dajani Group for comment but have yet to hear back about their plans. The news comes as longtime Divisadero businesses KK Cafe and Ziryab have shut down or will close in the near future.
In the meantime, swing by Cafe Abir for that last cup of joe this week, and go wish Todd luck on his journey as a bonafide Japanese sake, wine and beer expert. 
Update: Todd chimed in in the comments with the following farewell to the neighborhood:
"Thanks Divis / Western Addition / Nopa folks over the years for all the support and fun times. This was my first neighborhood in the City, and this is where I met my wife, so this place has a lot of great memories for me. I'll miss the every-changing culture here, all the funky regulars ...the future will surely be something tasty and interesting, but stop by Cafe Abir or Corkage before this Sunday (our last day) for a farewell Cheers!"