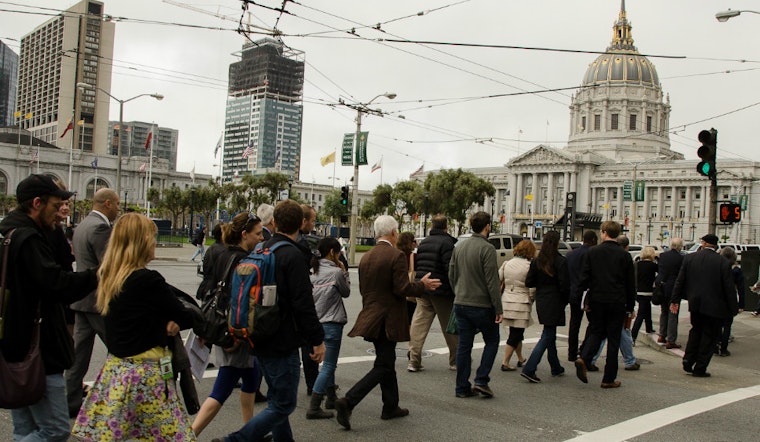 Published on April 08, 2015
Walking can benefit your health and the health of the environment, but for added motivation, you can snag deals and goodies if you do it on Walk to Work Day tomorrow.
Walk to Work Day is a national effort, but San Francisco is "the first and only city to celebrate it on a citywide level," said Nicole Ferrara, executive director of Walk San Francisco. "The goal of Walk to Work day is to encourage people to integrate walking as part of their daily trip and to show people how fun and easy it is to walk 15 minutes as part of your commute."
This is the third year the nonprofit group has organized 15 "hubs" and social media campaigns on Facebook, Twitter and Instagram to promote Walk to Work Day. Many hubs are in and around downtown, and include the Financial District, Chinatown, Civic Center, Hayes Valley, Mid-Market, SoMa and the Tenderloin, but some are as far as Merced Heights and Bayview.
The hubs will have handouts such as free coffee, snacks and Clipper cards, and the social media campaigns will offer chances to win prizes from the likes of indosole, Public Bikes, Rickshaw Bagworks, Sports Basement, Whistle and Whole Foods Market. (For more on each hub and what will be offered, check out the interactive map.)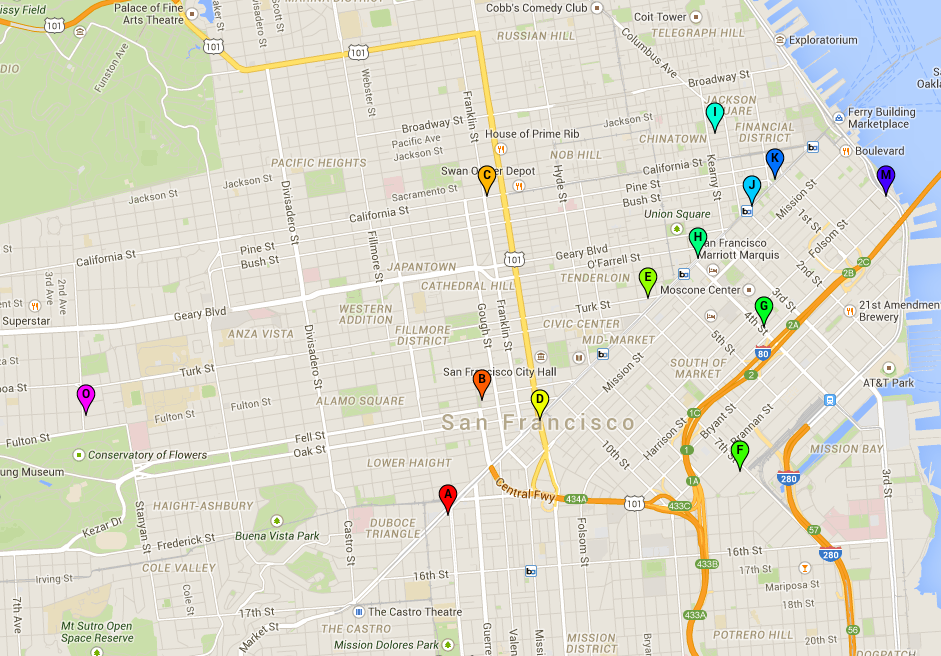 Map of the central hubs, via WalkSF
Rewards will be doled out for best shoe bling, longest walk and most interesting sights. Follow WalkSF on one or all of those sites, and post photos using the #walk2work hashtag to enter. You can also fill out postcards at each hub to enter to win. The company with the largest number of employees walking will earn the coveted Golden Millipede Award.
"Leave your car at home, hop on a bus, head to the sidewalk and help contribute to a healthier San Francisco, both in terms of climate and your own physical health," Ferrara said.
Need proof? According to the EPA, walking instead of driving saves one pound carbon dioxide emissions for every mile traveled. That's particularly important for those of us living in a densely populated city like San Francisco, and especially in high traffic zones in the heart of town.
But let's say you couldn't care less about your fellow citizens (though we hope you do care): "Every adult should get 30 minutes of physical activity every day," Ferrara said, "and this is the perfect way to integrate this into your lifestyle. Instead of heading to the gym you can walk." It helps stave off everything from Alzheimer's disease to heart disease to stress, she added.
District 3 Supervisor Julie Christensen is taking the "shoe leather express" from a hub at Chinatown Community Development Center (CCDC) at 663 Clay St. to a meeting on the Embarcadero. She'll be there by 8am and head out by 8:30am to walk to the Market Street Prototyping Festival Kickoff Breakfast at 1 Market St.
 Last year, nine of the city's 11 supervisors walked in the event and more than 5,800 others participated—up from 2,700 the first year. "We're hoping for an even bigger turnout in year three," Ferrara said.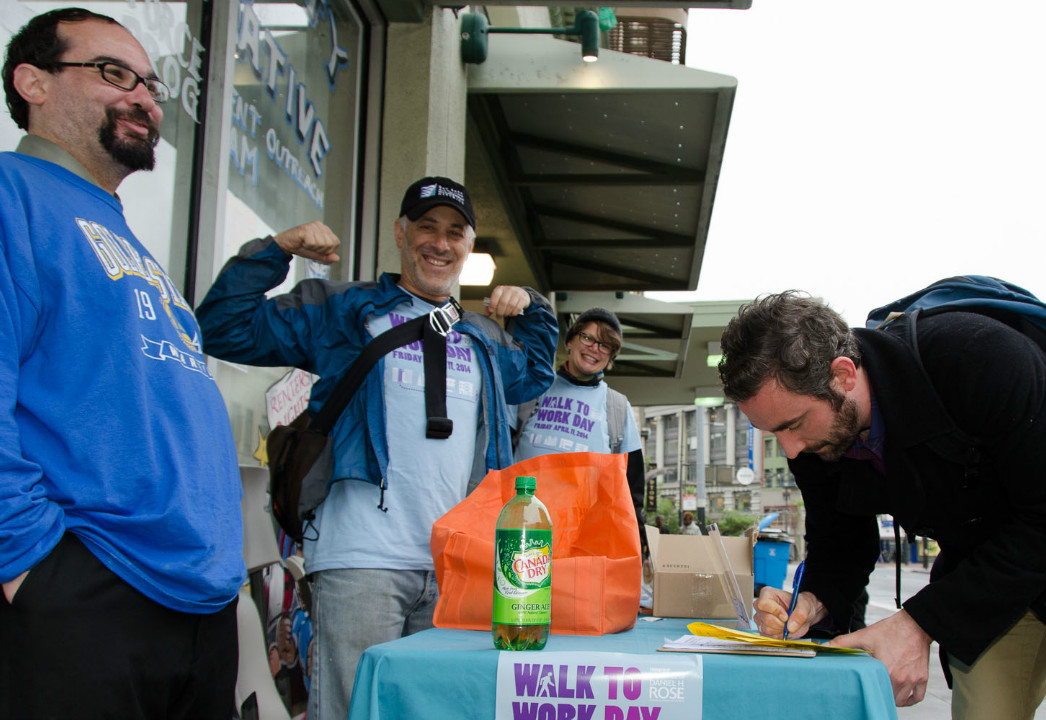 Photo: Robin Allen, via WalkSF
"While we are organizing Walk to Work Day to highlight the benefits and possibilities of walking en route to work," said Angelina Yu, who is coordinating Walk to Work Day efforts for CCDC, "it's also an opportunity to engage in conversations about the need to make SF's streets safe enough so that we are able to walk about our communities." 
Pedestrian safety has been a major cause of concern in Chinatown, which has some of the most dangerous areas in the city for injuries and fatalities. WalkSF is a huge advocate for Vision Zero, which aims to reduced traffic deaths and serious injuries to zero. In 2014, 18 people were killed in the city while walking.
But back the the fun stuff. As a bonus, if you pay $25 to join WalkSF tomorrow at a hub, you'll get a free T-shirt (a basic membership is normally $35), and snacks, beverages and giveaways will be on offer.
There will be a press conference at 9:30am Thursday at City Hall featuring a couple who plan to walk 30 miles a day from San Francisco to New York City. "They're both urban planners," Ferrara said, "so they're doing it to experience the most basic form of transportation in a really big way, and raising money for a family member who suffered a spinal cord injury."
She added, "It really is a wonder drug to be able to walk, and we have a beautiful climate and city for it."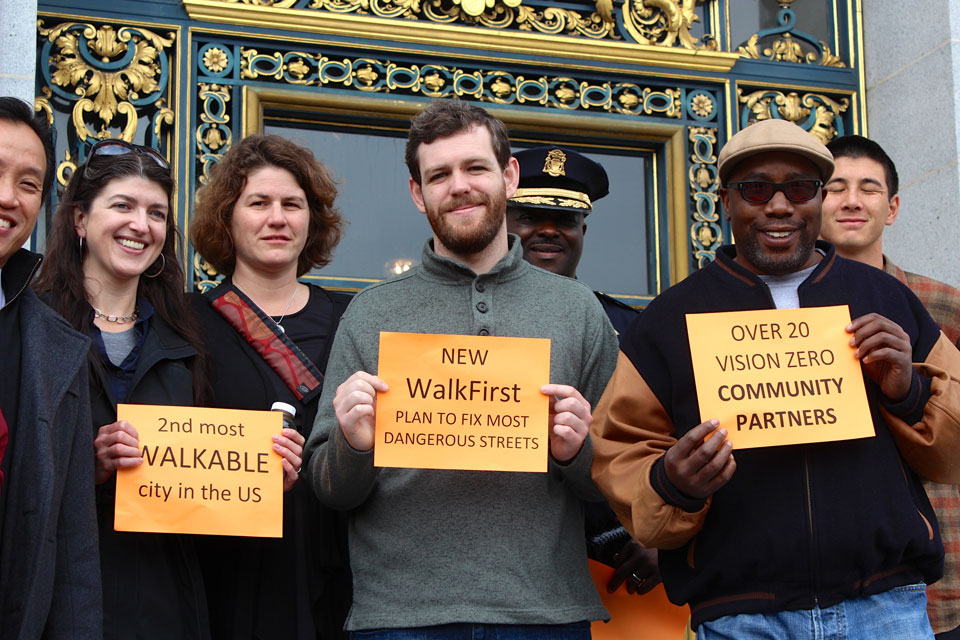 Citizens celebrating last year's Walk To Walk Day (Photo: Thomas Rogers)