On Saturday, April 25th, the Muni line changes we've been telling you about will go into effect in the Upper Haight as part of SFMTA's Muni Forward. Here's what you can look forward to.
First off, remember that the 71-Haight/Noriega will transform into the 7-Haight/Noriega. Nothing will change about the route itself. Similarly, the 33-Stanyan will become the 33-Ashbury/18th, with no route change. And the old "L" for Limited moniker will change to "R", for Rapid, meaning that the bus formerly known as the 71L will now be called the 7R.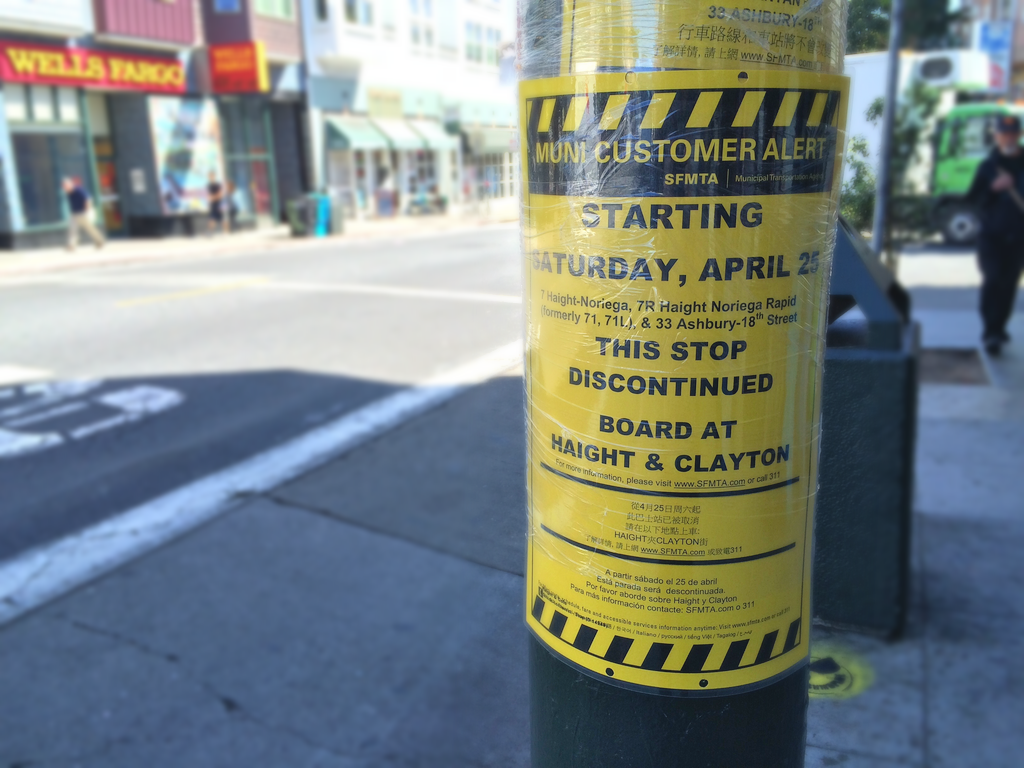 Photo: Andrew Dudley / Hoodline
As part of an effort to speed up service, some Haight Street bus stops will be discontinued as of this weekend. These will include:
The inbound stop at Buena Vista West
The outbound stop at Central
Both inbound and outbound stops at Cole
Yes, that means that the stops at Cole Street on both the north and south side of Haight will be eliminated. You may have noticed that signs at the soon-to-be-defunct stops tell passengers to "board at Clayton." That's because there will no longer be any bus stops on Haight between Clayton and Stanyan streets.
We wondered how it might affect businesses at the corners where the stops will be removed. Here's what Bruce Becker, owner of Earthsong on the corner of Haight & Cole, told Hoodline:
"Yes, sure, we will lose some business with the bus stop gone. But this bus stop change will be a drop in the bucket compared to all the upcoming major disruptive construction, repairs, digging and jackhammering that will be done on the street by the City for an entire year ... I doubt I or anyone could successfully object to this bus change ... or the massive City projects being planned for Haight, which, based on other neighborhoods where similar major construction has been done, I'm sure many merchants will go out of business."
Becker is referring, of course, to the upcoming infrastructure project set to break ground soon. 
On the north side of the street, the businesses that could be impacted by the removal of the bus stop are Buyer's Best Friend, which will close at the end of the month, and Hyperoptics, which has yet to open.
Up in NoPa, the proposed removal of two bus stops along the 21-Hayes line met resistance from Central Coffee, which feared that business would be impacted by the change.
The Haight Street project, which is intended to reduce Muni delays, is supposed to shave off three minutes, or about 20 percent off the time it takes buses to get from Stanyan to Laguna. 
What do you think about the changes? Are they an inconvenience, or will they reduce traffic on the street (or both)?