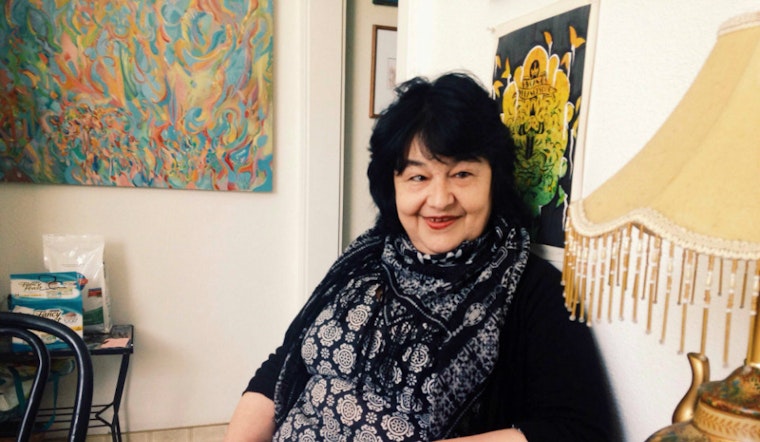 Published on April 23, 2015
If you've lived in San Francisco for a while, chances are you know about P Segal. She's been here forever (born and raised), and she used to hang with the Cacophany Society, a local anarchist group who organized big parties and public pranks (Cacophoners were the first to dress up like salmon at Bay to Breakers). The group invented Burning Man in Segal's living room, and she was the festival's first hostess.
But in the last few years, Segal has begun to feel differently about the city, and particularly the Western Addition where she has lived for more than two decades.
"I looked around and saw people buying designer cocktails and $4 toast, and I said, 'I don't belong here anymore. This is not my city anymore.'"
Everyone she knew had been priced out of their home—herself included (Segal has relocated twice because of owner move-ins). And she sensed that everyone forgot the social fabric that artists bring to a community. "If the city has a reputation of being a creative place, it's the writers, artists, cultural visionaries, and musicians who made it so," Segal wrote in her blog.
So she came up with a plan: to transform all of the city's vacant but habitable properties (there are about 18,000, according to SPUR) into live/work spaces for artists. Segal hopes to do this by convincing real estate investors to buy up properties and hand them over to her nonprofit, which would, in turn, rent the units to creative professionals.
She calls this Bohemia Redux. It's a win for everyone: artists live affordably, space doesn't go unused and property owners get the same tax write-offs they would from an empty building.
P at the first Burning Man (courtesy P Segal)
To celebrate Bohemia Redux's launch, Segal is hosting a fundraising party tonight, with all proceeds to benefit her cause. Tickets start at $25, and $100 "Patron of the Arts" tickets will get you access to the special "Art Surprise."
"When you enter the manor you will see a pile of wrapped pieces of art. You can examine the packages and decide which one has your name on it, but you can't look inside. At 9pm, guests with Patron of the Arts tickets can take whichever package they want. People are encouraged to unwrap them immediately, and then check among your fellow patrons for potential swaps—until everyone leaves with something they love."
The event will take place at the "Love Manor" at 451 Burnett St., under Sutro Tower, from 7pm-11pm tonight.
"This is a city where people start things, which is why I started a non-profit," Segal said. "Bohemia Redux stands the chance to bring back to this city the most wonderful part of it that has been lost."